University of Michigan School of Information
Faces of UMSI: JoAnna Lincoln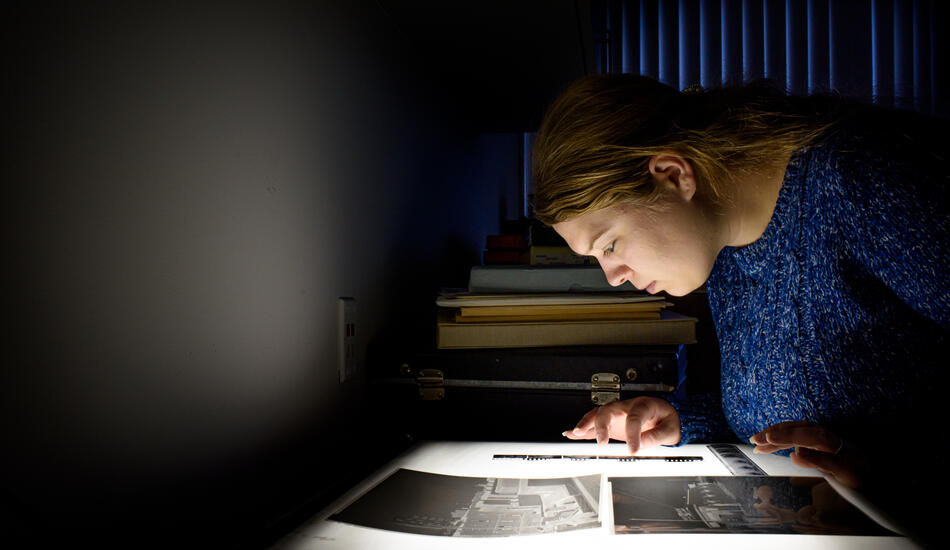 JoAnna Lincoln is a first responder when it comes to heavily damaged archival materials -- fire, smoke, water, mold, mildew, pests.
Archivist and second-year MSI student JoAnna Lincoln is a first responder when it comes to heavily damaged materials. Her training has taught her how to deal with fire, smoke, water, mold, mildew, pests ⁠— anything and everything that threatens to wipe out evidence of humanity's past.  
"My passion is community archives," said JoAnna. "Community histories, organizing, digitizing information. My real passion is preservation." Currently finishing up her degree with a focus in libraries, archives and digital preservation, JoAnna believes she was destined to work as an archivist. Arriving at that destiny, though, required breaking the mold. 
JoAnna's path to archives began in elementary school. She and her classmates in the small town of Corunna, MI were administered a career aptitude test routinely over the course of years. "Number one on my list the first time I took the test was archivist, and it always stayed in the top five," said JoAnna. "It was always archivist, librarian, records management." Through to high school, JoAnna was a meticulously organized student with a strong interest in science and history; however, she was dissuaded from the kinds of careers she'd always shown aptitude for. "Everyone was like, 'there's no money in that.'" 
"It always seemed like the options we could do were really small," JoAnna said. Feeling pressured to take a common path, she chose to attend Central Michigan University to study secondary education. Nonetheless, JoAnna, a first generation student, was excited to pursue her degree and take advantage of all the campus had to offer.
JoAnna immersed herself in CMU's community culture by becoming involved in mentorship and volunteer opportunities. Her initial interest for teaching waned, though, as she began to take classes in English and history, which reverberated more with her long-standing passions. "I got into public history, and that got me into museum studies," she said. "I took an anthropology course and loved it. When I got back into archives, museums, those kinds of things, there was nothing else. There was no way I could be a high school teacher after learning what I could do with history." 
A museum studies class introduced JoAnna to the thrill of preservation, and she sought out opportunities to learn more. With the museum studies club, she worked with the Bay County Historical Society to recover letters from a 1965 time capsule. The "Letters to the Future" inside the lead-lined capsule were found completely waterlogged, and they had been stored in a deep freezer for three years to draw out moisture before JoAnna and her peers got to them. However, the letters had originally been packed in foil, which decomposed and left aluminum salts coating the paper. JoAnna recalled donning protective gear and carefully separating the salt-hardened pages, getting the letters to open, and reading the messages from half a century ago. "We're first responders," she said. "Those rescue projects are what really excites me." 
Exposed to the fascinating work of professional archivists, JoAnna had found what she wanted to do for the rest of her life. However, there was a small catch. "I knew if I wanted to do archives, I would have to get a master's degree for it," she said. She was unsure if grad school was a viable option but decided to run with her advisor's encouragement and apply to U-M. "The decision only got harder once I was accepted," she said. Despite having some trepidation, JoAnna bet on her passions. "U-M is ranked number one in the nation for digital libraries and archives," she said. "That's why I'm here." 
Though she felt secure in her path to becoming an archivist, JoAnna encountered challenges during her first year at UMSI. "As a first generation student, it was kind of a big deal for me to go to college at all, so grad school was never really in the picture for me," she said. Struggling to adapt and overwhelmed with programming coursework, JoAnna said she wouldn't have made it without help from her peers. As a result, she brings empathy to her roles as information mentor and peer coach to prospective and current students who may be similarly confused or overwhelmed. Connecting these students with university resources and members of the UMSI community, JoAnna helps people find pathways when they can't see one themselves.
Now that she's found a groove in her second year, there's no looking back. Happy with her academic and career choices, JoAnna wants more people to recognize there's greater value to being an archivist than money can bring. "It's legacy," she said. "The legacy of the human experience and what it means to be human. We're cataloguing the human experience and everything that that entails." 
"People always talk about historians as storytellers. It matters how you frame those stories, but archivists are the ones granting access to them. Access is everything. If you aren't able to attain these things and view them, then it's as if they don't exist at all."