University of Michigan School of Information
Faces of UMSI: Jason Smith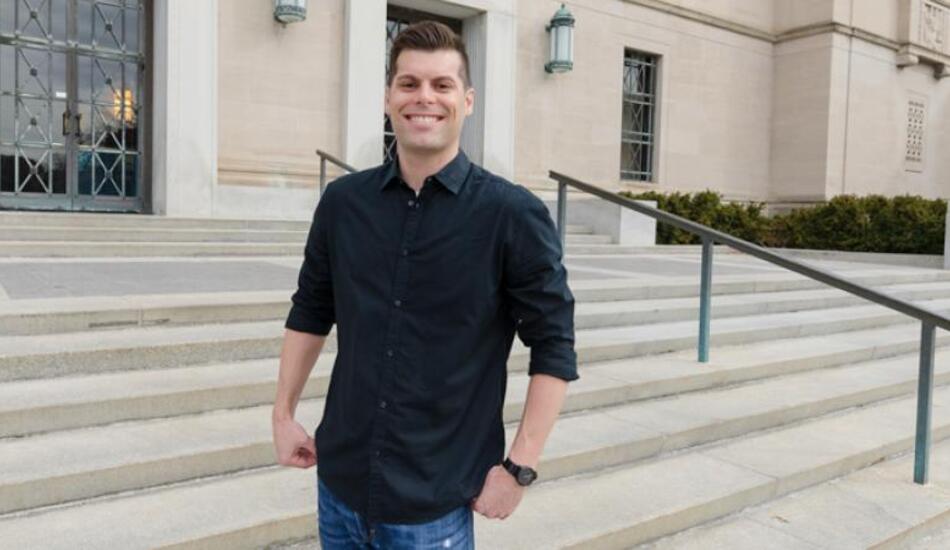 MSI student Jason Smith left architecture and California for an opportunity to reinvent himself and his career.
"It was daunting, but it was the best thing I could have done for myself," reflects Jason.
Jason, who graduated with an architecture degree from Iowa State University, admits feeling confined to a fragment of the design process in his former role with an architecture firm.
In a down economy, Jason decided to establish his own business, JMS Design, and completed several projects over the next few years.
"It was much more rewarding in that I was dealing directly with stakeholders and I was involved in the entire process of designing and building a project."
One of those projects was the design for a private medical practice that would evolve into a new perception of his own potential. As the project was nearing completion, Jason's client discussed a desire to implement EHR (electronic health records) software into his office. Jason was interested in a new kind of challenge, and nominated himself to manage the implementation. His client agreed.
"I was already very familiar with the [medical] practice; the needs of the staff and their office procedures. I had done a kind of 'contextual inquiry' during the process of designing the new office, and working for myself gave me the freedom to try something new."
After six months of streamlining workflows and training staff, the implementation was complete.
"I had overseen this major transformation in the way the practice operated, first through architecture, and then through software," says Jason. "I discovered this potential to have an impact in a different way."
Jason had been thinking of a career change, and the experience inspired him to forge a new career in the tech industry. He completed a computer science certification at Santa Monica College with the intent of pursuing a graduate degree in computer science. But when he discovered HCI, Jason shifted his focus and came across UMSI.
"The more I looked into it, the more I felt SI was a perfect fit. It seemed like a great way to apply my design experience to the tech industry. HCI allows me to use those 'soft skills' like critical thinking and empathy."
As a first-year student, Jason says he has been able to apply his background in architecture and computer science to much of his coursework. He says being a student has also helped him improve his research skills.
"Being at SI has validated some common threads I saw between architecture and UX design," he says.
"In both cases, you're balancing aesthetics with usability—you're dealing with client wish lists and turning concepts into reality."
Jason explains that in architecture and UX design, one still has to convince a client that a project is worth doing. Being able to convince a client to invest in a design or product is what most appeals to him.
"In architecture, you're often dealing with a [real estate] developer or owner who has already decided what the project is, and they want your version of how to achieve it. In user experience and product development, you have the opportunity to offer a client the what and the why, in addition to the how."
Jason plans to find a UX summer internship in California. For now, the Iowa native is relishing his time as a student and says his experience as a sole proprietor was invaluable.
"Working for myself was a great learning experience. I realized how broadly applicable my skill set was. Becoming a student again and choosing a new career path has been liberating, and I'm ready for what's next."