University of Michigan School of Information
Faces of UMSI: Rohit Mogalayapalli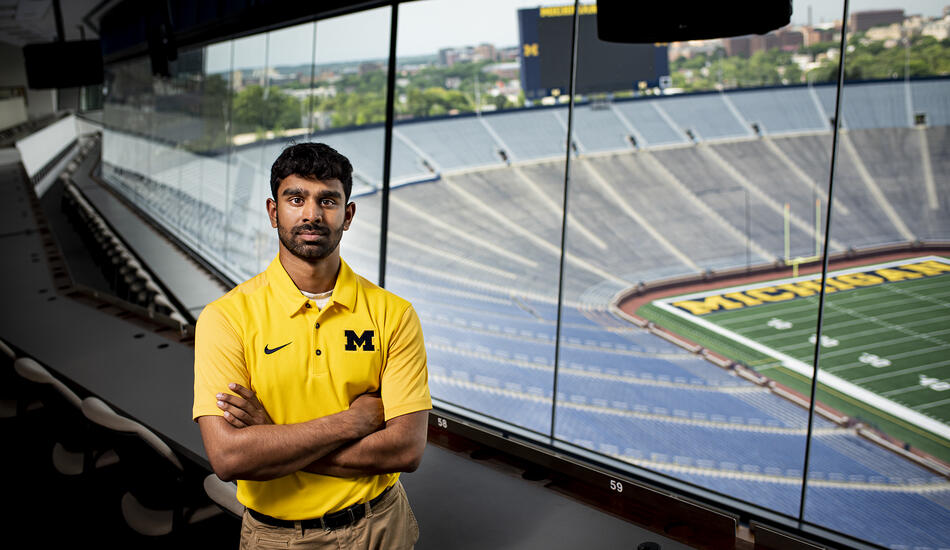 Rohit Mogalayapalli is harnessing the power of analytics to improve Michigan Athletics as the founder of the Michigan Sports Analytics Society.
Incoming MSI student Rohit Mogalayapalli founded the Michigan Sports Analytics Society as a University of Michigan sophomore. In doing so, he captured the attention of Dean Tom Finholt and set his trajectory towards UMSI.
Rohit grew up in Novi, Michigan and always had a knack for math. "It was just one of those things that came naturally to me; I try to solve problems," Rohit said. 
In high school Rohit played football and basketball at the varsity level until he tore his ACL. He had two knee surgeries and wasn't able to participate in sports as a player afterwards. Still, he devised a way to combine his passion for sports and his acumen as a problem solver. 
Rohit came to the University of Michigan because he wanted to stay in state and go to a school that would nurture his engineering and mathematic interests. He majored in Computer Science, inspired by his parents who both enjoy their careers as computer architects.  
After Rohit founded the Michigan Sports Analytics Society, Tom Finholt reached out and connected the Society to Michigan Athletics so that the insights members glean from sports data can be used to make real decisions about various Michigan teams including the football team, both basketball teams, and the field hockey team. "We've accomplished a lot in the last two years, probably more than we expected when we first met," Rohit said. 
Members of the Michigan Sports Analytics Society attend the practices of the teams they work with to collect data. Then, they render the data useful to trainers and coaches through analysis. 
As founder, Rohit's responsibilities were nebulous. He communicated with Michigan Athletics, hosted events, and organized projects. Rohit prioritized ensuring the Society's longevity by recruiting great students. "I wanted to build some foundation so the students could stand on their own," Rohit said. 
Working with Michigan Athletics through a fledgling campus organization taught Rohit how to be flexible, how to build trust, and how to foster a positive culture. "I made mistakes early on, and only after I learned from them did I truly understand what worked and what didn't," Rohit said. 
Rohit imagined applying to a lot of jobs in the sports industry during his senior year at the University of Michigan, but ultimately decided to continue his education because he wants to be a part of sports analytics at the University of Michigan. "I think the growth of sports analytics here over the past two years, there's more to be had that I want to be a part of," Rohit said. "I want to grow my portfolio. I want to become a better student." 
This summer, Rohit is helping Chris Brooks build his portion of a Coursera course on Sports Analytics. UMSI, the School of Kinesiology and Academic Innovation are collaborating to create the course, which is in the infant stages of development. "I get to touch up my teaching skills a bit and I'm always trying to be a better teacher," Rohit said. 
After he's done working on the Coursera course, Rohit will work for the Baltimore Ravens as Performance Analytics Intern to enhance the use of performance data during training camp. "Getting into NFL circles is really difficult so I'm certainly excited about that and about getting to meet new people," Rohit said.
Rohit hopes to recruit UMSI students to join the Michigan Sports Analytics Society once he begins the MSI program in the fall. His experience as an undergrad taught him that he's looking for students who are curious, willing to communicate, and committed to the Society. He's sure to find them here. 
Next year, your profile could be here! Sign up for our interest list to receive:
Invitations to exclusive information sessions and events 
The opportunity to chat with current students 
More in-depth information about our degree programs
Tips and advice for creating a successful application 
Reminders for important deadlines