University of Michigan School of Information
Faces of UMSI: Aaron Kosel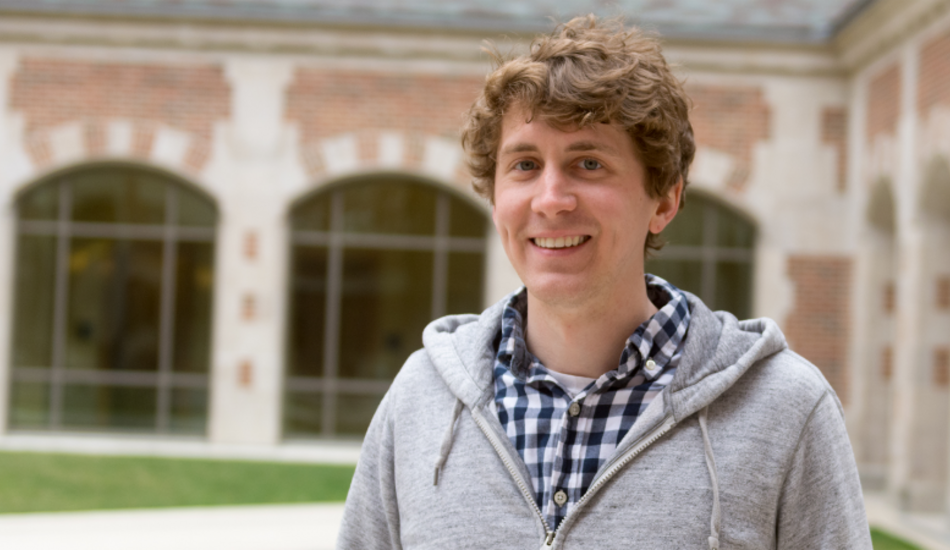 Visitors to Aaron Kosel's website, aaronkosel.com, can not only learn about the second-year human-computer interaction student's background, but also check out a number of projects that he has developed either for classes or in his spare time. 
There's a forms library prototype designed to provide a more enjoyable and interactive experience for users filling out tedious online forms. There's the Good Choices demo, which allows users to weigh options and helps them to reach an optimal decision. And there's the Raspberry Pi web application that connects to the Ann Arbor Area Transportation Authority's bus tracker and provides users with a visual alert to let them know when to leave for the bus.
All these projects share a similar theme, as they are designed to make processes, websites, applications and other technologies more streamlined and user-friendly. 
Aaron's interest in user experience and design was piqued after he graduated from Mercer University in Georgia with a bachelor's degree in economics. He had returned to his hometown of Ann Arbor unsure if he wanted to pursue a career in that field, and as an avid runner who has qualified and run in the Boston Marathon, Aaron took a job in a running store where he soon found himself analyzing data and developing a dashboard for sales metrics.
After realizing that creating a dashboard or website that is intuitive and user-friendly isn't something that happens naturally in the development process, he became interested in the HCI program at UMSI.
"Going into the program, I wanted to learn more about the best principles in making a website or dashboard that people can easily use and not get bogged down by all the details," Aaron says. 
His time at UMSI has also given Aaron the opportunity to pursue another one of his interests: entrepreneurship. By adding a cognate in the Ross Business School, Aaron was able to learn more about entrepreneurship through his coursework, and also gained further experience by participating in MHacks, the 36-hour hackathon that challenges students to develop their ideas and gives them the chance to network with other contributors and companies that might be interested in the students' skillsets. 
Aaron participated in MHacks during the competition's first two years, building a demo version of a website called Peer-Cruiter with a team of other students for one of the hackathons. The idea behind the project was to develop a platform that would serve as an alternative to general listserv and email blasts, allowing users to connect with volunteers and interested parties for things like surveys and usability studies.
"As a person potentially interested in entrepreneurship, it was very valuable to be part of MHacks and go through the process of creating something that can be made into a demo and presented in a short period of time," Aaron says. 
Currently, Aaron is working at Deepfield, a growing software startup in Ann Arbor, where he writes code on the UI/UX team and is looking to get more involved in the design process. The firm gives Aaron a glimpse of the entrepreneurial and startup experience he is looking for. 
"The difference between working at a large company and working at Deepfield is that I know everyone there and know what we're doing as a cohesive whole," Aaron says. "Even though a certain task might not be the most exciting thing, it is still meaningful and it's easy to see how it fits into the bigger picture, which doesn't necessarily happen at larger companies."
Once he graduates in April, Aaron plans to continue working with Deepfield and would like to travel and experience different cultures, with a particular interest in heading to Southeast Asia. 
He is also pursuing another project mentioned on his website—brewing his third batch of hard cider with a friend who helped him craft batches each of the past two years.
"We're very scientific about it and it's been a fun little project. Both batches have been drinkable, but I think this is going to be our year for brewing the perfect cider," Aaron laughs. "But we'll see."
You can do what they're doing! Sign up for our interest list to receive:
Invitations to exclusive information sessions and events 
The opportunity to chat with current students 
More in-depth information about our degree programs
Tips and advice for creating a successful application 
Reminders for important deadlines