University of Michigan School of Information
Faces of UMSI: Elyse Guilfoyle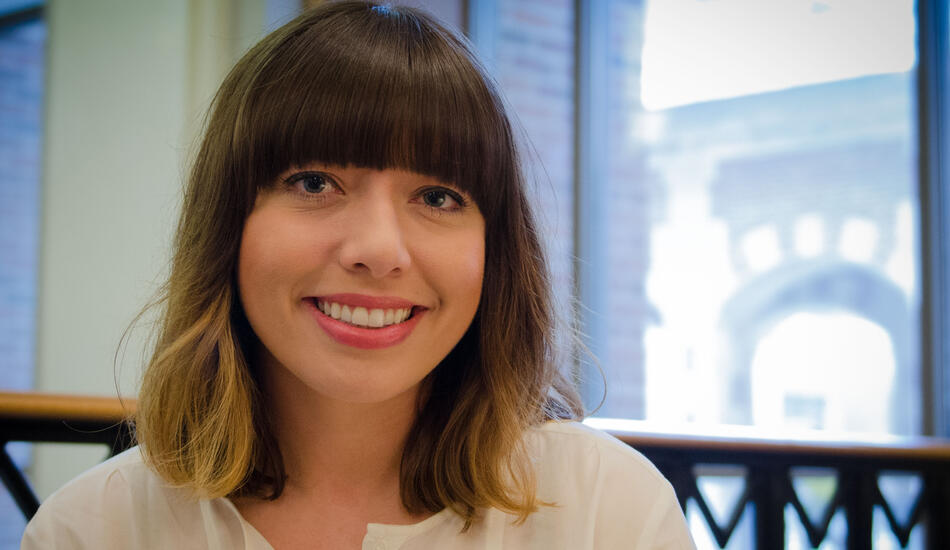 Working right around the block at Google Ann Arbor, Elyse Guilfoyle said UMSI was the perfect fit for going back to school part-time to obtain her master's degree.
"It's so convenient to leave work and come here," said Elyse, who works full-time as an account planner.
Elyse chose UMSI for her graduate studies because she was impressed by friends and co-workers who spoke highly of their education at the School of Information. "U-M has an amazing reputation," she said, "I really got interested in the Information Policy program because of Google.
"There are certainly a lot of benefits we get from sharing our personal data," continued Elyse. "It can improve products to make our lives easier."
However, Elyse said, companies that gather this type of information have a responsibility to keep it private. As a certified information privacy professional, Elyse is able to handle personal data on behalf of businesses.
Employed at Google since 2007, Elyse took leaves from work to complete her graduate program. She completed an internship position in Ottawa, Canada on the Policy and Government Relations Team at Google.  She took a second leave of absence to travel to Trivandrum, Kerala in India to participate in the Global Information Exchange Project. Elyse was part of a team of graduate students building a website for the National Institute of Speech and Hearing in Kerala. "We [were] on-site May through July," Elyse said. "[We did] development and then we [presented] the site."
The website had three components based on India's updated disabilities laws. "The new policies are more inclusive and accommodating," she said. "We tagged a searchable database of all the disability policies, provided a space for questions with answers from experts, and a localized database of disability services within India."
Elyse graduated with her BA in Communications Studies and English Language and Literature from U-M in 2006. The flexibility of UMSI's master's program allowed Elyse to start her graduate education in 2010. She officially received her diploma this past summer after returning from India.
Elyse is seeking a position in privacy and policy.