University of Michigan School of Information
Faces of UMSI: Brandon Patterson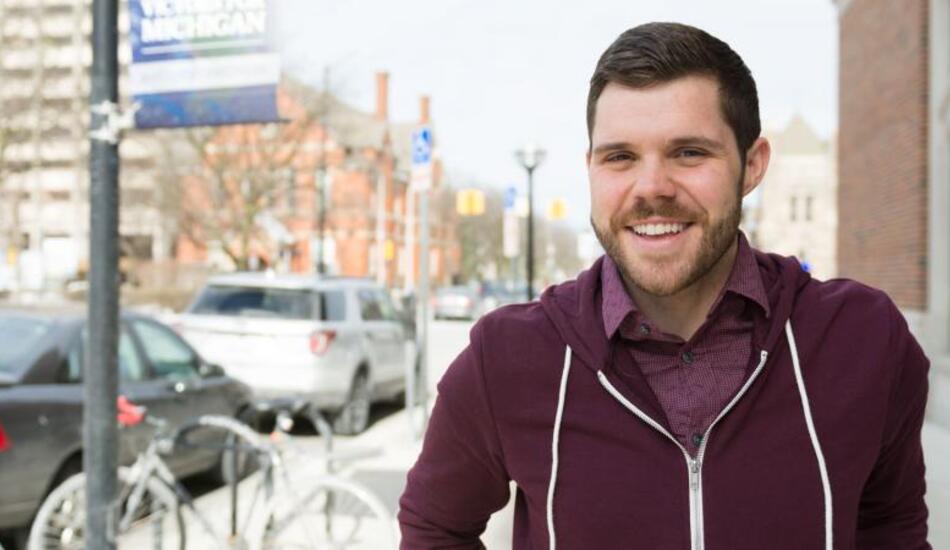 Hailing from Salt Lake City, Utah, Brandon Patterson has traveled the world and back, seeking ways to integrate his passion for service and global adventure. Now he is helping others to do the same through education and technology at the University of Michigan, where he is pursuing a dual master's degree in Higher Education and Information Technology.
Brandon graduated from the University of Utah with a bachelor's degree in International Studies and Interpersonal Communication. 
"It stemmed from a desire to serve others in different capacities," Brandon explains. "International Studies allowed me to see different problems around the world and how different countries are solving these problems, and Communication helped me find ways to connect with people one-on-one or in small groups." 
As an undergraduate, Brandon was a program coordinator and peer leader for his university's orientation program. He also served as a Resident Advisor for a humanities-based upperclassman dorm and led a program which strives to inspire 6,000+ youth attendees to be the first in their families to pursue a college education.
Follow graduation, Brandon worked as a legal assistant with the American Civil Liberties Union (ACLU) in Washington D.C., where he examined issues surrounding taser guns and LGBT rights, as well as statehood concerns for the District. Brandon will return to Washington D.C. for Alternative Spring Break as a second-year MSI student, where he will be working with a group to create research tools for teachers.
"It's great that I'm able to connect back to Washington D.C.," Brandon said. "It's a space where a lot of young people go to inspire change and develop their leadership abilities, and I remember having the opportunity to do that while I was there."
After five months at ACLU, Brandon took an opportunity to move to Fengyuan, Taiwan, where he worked as an English instructor for elementary school and junior high school students. Among the highlights of his experience, Brandon describes the friendship he developed with his "Taiwan BaBa (which means father in Chinese)," a 50-year-old gentleman whom Brandon met through his roommate at the time.  
"He and I just clicked," Brandon recalls. "I loved to bike ride, and he loved to bike ride. We would go on these bike rides every other day and do English-Chinese conversation hour during the other days. His wife didn't speak any English, but towards the end of my time there I was able to converse a bit in Chinese with her as well."
After eight months in Taiwan, Brandon needed to renew his visa in Thailand if he wanted to continue teaching abroad. Rather than heading straight to Thailand, he cycled his way through Southeast Asia, beginning in Ho Chi Minh City, Vietnam and cycling more than 2,000 km through Laos and Cambodia before reaching Bangkok, Thailand.
At the end of his bicycling journey, Brandon decided it was time to move back to the States.
"Moving to Taiwan not only helped me develop my independence, but it also helped me concentrate on my journey up to that point," Brandon said. "I was able to reflect on what I had studied and ways in which I was serving, building leadership and connecting with people on a personal level. I was able to do a lot of that while I was there." 
Back in the States, Brandon began spending more time with his grandparents in Mt. Pleasant, a secluded community in rural Utah, surrounded by farms and areas for camping, hiking, and driving around in a four-wheeler ATV.
"While the Taiwan experience helped me gain a lot of independence, this experience helped me develop a deep-seated family bond," Brandon explains. "I developed a deep connection with my grandparents and was able to learn a lot about myself through them." 
During this time, Brandon began tutoring students at a nearby private high school. Soon he transitioned to Snow College, where he became a Student Coordinator for their Service Learning Center. 
"This position connected me back to what I was involved in as an undergrad in terms of service," Brandon said, describing his role in organizing alternative spring break programs and leadership retreats for students.
Brandon's story came full circle when he returned to the University of Utah as a professional, working within the International Center and utilizing his experience abroad to advise international students about visa matters and U.S. culture and customs.
Around this time, Brandon reconnected with a college classmate, his soon-to-be wife, with whom he was coincidentally paired as the University of Utah's Homecoming King and Queen one year.
The newlyweds soon moved to Michigan, where Brandon began working on educational efforts for the National Energy Foundation and his wife started her internal medicine-pediatrics residency at U-M. 
Within two years, Brandon joined the U-M School of Education as a master's student, initially interested in integrating education and public policy. However, he recalls taking a joint SI and Education class, which sparked his interest in information. This led him to pursue a dual master's in Education and Information, a three-year program in which Brandon is currently finishing up his second year. 
During his first year as an MSI student, Brandon was a fellow for UMSI's Global Information Engagement Program (GIEP). As part of an interdisciplinary team of students in social work, education and information, Brandon spent his winter semester developing an online learning environment for the Center for Internet & Society, and he spent the following summer testing their prototype in Bangalore, India.
"We called it 'Edu-kitchen,'" Brandon says, describing a learning environment that would allow students in India – who are strongly urged to pursue the more prestigious STEM fields – to investigate fields of interest outside their own. "The whole idea was that if you know your way around a kitchen, you can be very flexible in picking ingredients – meaning you don't necessarily have to go from step A, to step B, to step C. We wanted to apply this whole idea of being flexible toward learning."
Now a second-year MSI student, Brandon is involved in two internships outside of school. He works with the School of Social Work's Office of Global Activities, where he is helping students organize international social work projects and advising students on international travel. He has contributed to the website project Resilient Traveling which helps students develop travel resiliency (i.e., the ability to cope with difficult situations abroad).
He also interns with the U-M Library on their MPortfolio Initiative, which helps students build online portfolios to market themselves to potential employers and to document their learning for personal development.
"I think what's great about Michigan is that it attracts people who are very passionate, so you see people extending themselves to all these areas that they're passionate about," Brandon says. 
"It's a great way to practice what you want to do. Part of why I'm doing the international piece and the portfolio/electronic learning piece is that I want to find ways in which I can incorporate both of these into a career. Finding ways to work with that international experience, and encompassing that in an online environment – that's very interesting to me, and it's knowledge that I am able to extract from my internships."
Brandon serves on the student advisory board for the Digital Education and Innovation Office, which approves all Coursera and other MOOC (massive open online) courses that come out of U-M. Additionally, he is an officer for the Learning and Education Technology Student (LETSi) group and a member of the UMSI Leadership Series.
You can do what they're doing! Sign up for our interest list to receive:
Invitations to exclusive information sessions and events 
The opportunity to chat with current students 
More in-depth information about our degree programs
Tips and advice for creating a successful application 
Reminders for important deadlines