University of Michigan School of Information
Faces of UMSI: Chloe Preble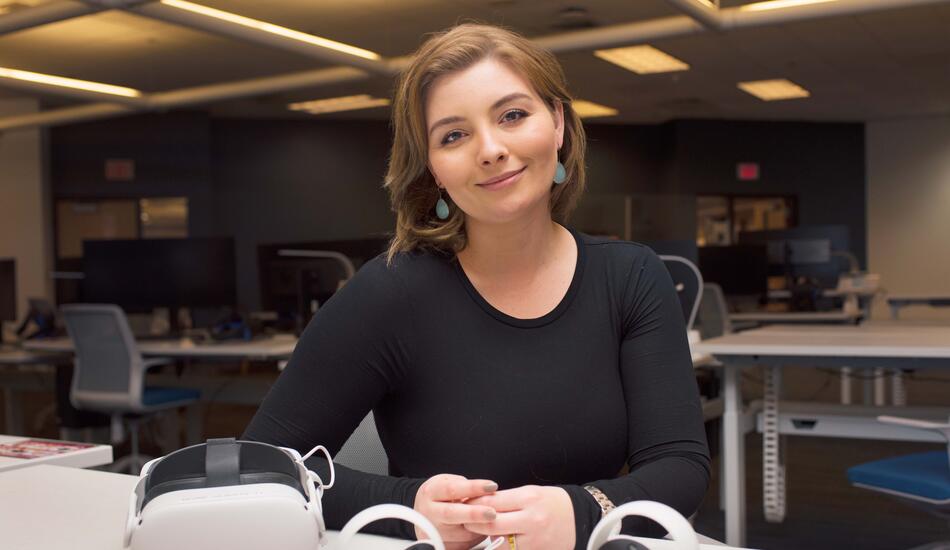 Chloe Preble is a Master of Science in Information student at the University of Michigan School of Information (UMSI), where she channels her user experience expertise into developing intuitive learning experiences that leverage new immersive technologies. 
Chloe grew up in an academic family. Her parents began pursuing their undergraduate and then graduate degrees soon after she was born, raising her amidst many different ideas, cultures and institutions. Her upbringing instilled value in education. "I knew I was always destined for grad school," she says. 
Chloe enrolled in the Fashion Institute of Technology after high school. But with strong interests in writing and psychology, she soon felt an academic and interactive slant missing in her design studies. So she applied a lesson from her upbringing: Never be afraid to try something new. 
Chloe moved on to the University of Utah and earned her BS in psychology and sociology. She stayed on after graduation as a research assistant working on the Innocence Project, an effort to exonerate the wrongly convicted through DNA testing and reform the criminal justice system. For Chloe, examining the validity of facial recognition studies affirmed a dedication to quality research data and an investment in information science.
After spending some time in the workforce as an analyst at Western Governors University, a simple Google search for "psychology jobs" revealed to Chloe an unfamiliar and exciting career path: user experience. 
Fascinated by the combination of user- and data-centered design, Chloe knew her training had been leading to a graduate degree in user experience (UX). But at which institution? 
"I knew that when it comes to grad school, you go to the best program you can," Chloe says. "It makes an enormous amount of difference in your career trajectory." She says the University of Michigan immediately rose to the top because of UMSI's highly ranked UX curriculum.
One of the highlights she's experienced at the school has been her master's thesis work with UMSI clinical associate professor Michelle Aebersold.
Aebersold's team developed "Under the Skin," a virtual reality simulation that trains nurses and pharmacists in chemotherapy safety. The simulation visualizes for users how the medication interacts with cells and what happens when things go wrong. 
That same virtual reality simulation is at the center of Chloe's master's thesis, which focuses on the user experience of learning in virtual reality. Under Aebersold's guidance, Chloe studies how nurses and pharmacists interact with the tool, with the overall goal of making the experience as intuitive as possible so users can focus on learning. 
"If I had gone to any other school, I can't imagine that I would have had such a sweet opportunity," Chloe says. "It's empowering to have someone to mentor me and collaborate with in the research process, and to be able to take on higher impact pieces of the research like writing the protocol." 
Aebersold also encouraged Chloe to present "Under the Skin" at the Fall 2021 UMSI Student Project Showcase. Chloe will present updates on their research at the first UX @ UM Conference Friday, April 1, as well as at Health Professions Education Day on Tuesday, April 5 and the XR at Michigan Summit on Wednesday, April 20. 
These events will cap Chloe's Master of Science in Information journey, where she's cultivated specialized, in-demand skills by combining UMSI's curriculum with Rackham's Graduate Certificate in Extended Reality.
"As soon as I started grad school, I knew I wanted extended reality to be part of my thesis because when you're writing a thesis you don't go into it an expert — it makes you an expert," Chloe says. "Extended reality was a topic I didn't know a lot about, but I wanted the expertise because it's the Wild West of tech. This is something I have to be a part of." 
Chloe plans to graduate in May 2022. 
Learn more about UMSI's Master of Science in Information (MSI) program and how to apply.
Learn about MSI graduates' outstanding career outcomes in the 2021 MSI Employment Report.