University of Michigan School of Information
Faces of UMSI: Kathy Kosinski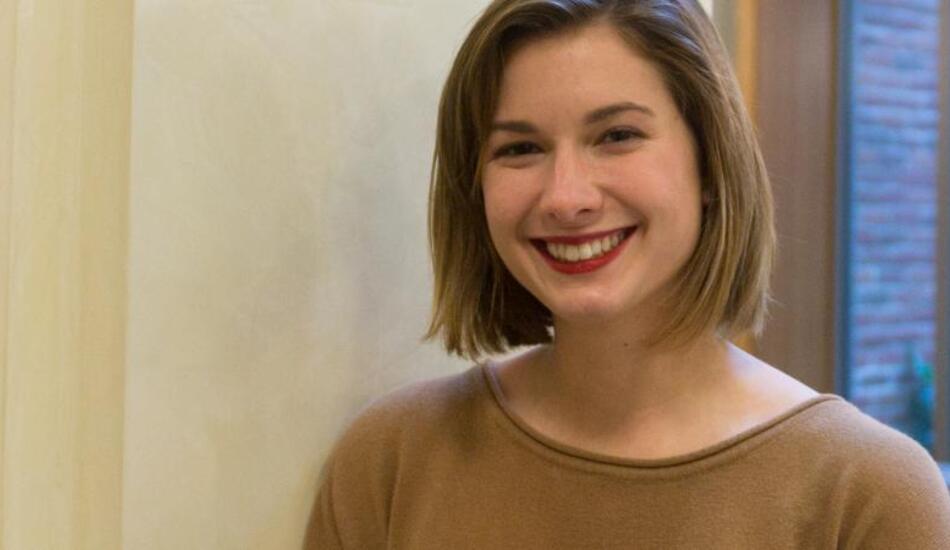 While attending a library conference in Texas, first-year MSI student Kathy Kosinski looked around and said to herself, "These are my people. This is what I want to do."
At the time, she was exploring a career in book publishing. She had earned a certificate from the University of Denver Publishing Institute and was working as a marketing and publicity intern at a publishing house in Dallas. 
The experience kept her close to the library world and since she was working with a smaller organization, Kathy was able to get involved in a number of different areas and learn about a wide range of topics, which she credits in helping her prepare for some of the diverse themes she has encountered at UMSI.
"It showed me a little bit about very different worlds," Kathy says of her internship. "Ultimately, I decided the business aspect of publishing didn't suit me, but I still loved books, so I started looking into library programs."
Kathy earned bachelor's degrees from U-M in English language and literature, and Spanish language and literature. Her time as an undergrad in Ann Arbor helped her to not only get accustomed to the campus and various University programs, but with the library system as well.
While writing her honors thesis on the contemporary small publishing industry and its interactions with local communities, Kathy became very acquainted with the libraries and special collections available at U-M. This familiarity led her to look into what the University had to offer in graduate library programs, but it was the far-reaching information curriculum that brought her to UMSI. 
 "I liked that it wasn't just library science," Kathy says. "You have the whole other aspect that involves programming, which allows you to really become a jack of all trades. I love the all-inclusive information aspect."
Originally interested in archives in records management, she decided that being able to add a human-computer interaction focus to her library and information science specialization would be the best fit for her.
And in her time at UMSI, it hasn't been just the comprehensive nature of the program that has impressed Kathy, but the inclusive atmosphere she has encountered while interacting with other students and the groups at the school. She is currently a member of the American Library Association chapter at U-M and is becoming more involved in the School of Information Social Justice (SISJ) group.
In the near future, the Grosse Pointe native hopes to participate in the next Alternative Spring Break program, preferably helping an organization in Detroit since she would like to explore ways she can help revitalize and effect change in the city near her hometown.
Beyond that, she still wants to pursue a career in libraries, although she now sees herself in a user-experience librarian role that manages resource access, websites, collection layouts, and other technical aspects that shape modern libraries.
"It has been real interesting to see how information and how my degree can help people," Kathy says. "Often, you hear people talk about how great their next app or program will be, but here, you actually get to see how it can affect others and do good in the world."