University of Michigan School of Information
Faces of UMSI: Jola Bolaji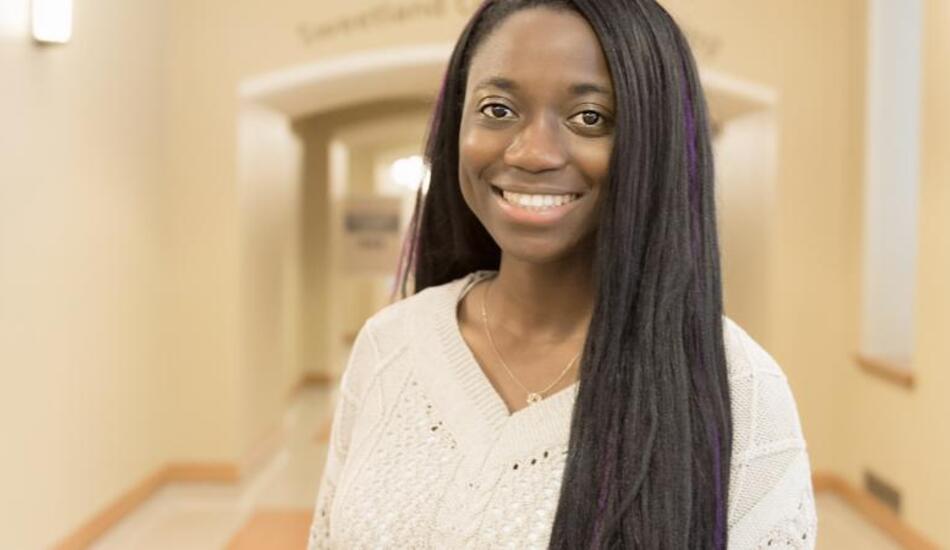 At first glance, Jola's email signature occupies seven lines of text – six lines describing her current involvement at the University of Michigan, and one line with several links to her online profiles. 
"I'm a smorgasbord of things," Jola laughs. "That's how I always describe myself. My mom is a nurse with all these abbreviations after her name, so anytime I email her something, she always tries to abbreviate my signature line for me."
Jola's involvement, upon closer inspection, seems to have a common thread which reflects her passion for teaching and mentorship.
Growing up in a suburb of LA County, Jola used to take care of her younger cousins after school and provide help with their homework. "That's how I got into teaching," Jola explains. Beginning in eighth grade and throughout high school, she worked as a secretary for a summer school program, before starting college at the University of California – Irvine to study Human-Computer Interaction.
Following graduation, Jola took a gap year to continue working in an educational environment by providing administrative support for a school district in LA County. 
During that time, Jola was introduced to the MSI program through her mentor at UC-Irvine, a previous faculty member at UMSI who encouraged her to pursue a graduate degree at Michigan. 
"I came to Visiting Days and had a great experience," Jola said. "All the people here were awesome, so when I landed back in LA after Visiting Days, I accepted my offer of admission."
Now a second year MSI student, Jola provides that same experience for prospective students as an Information Mentor. She helps organize and speak at recruitment events, providing her perspective as a current student. 
In addition to her mentorship role, Jola is also a GSI for SI 110 (Introduction to Information Studies), which introduces prospective BSI students and students in other concentrations to the field of information. 
"I really enjoy teaching, and one of the reasons I'm excited to be a GSI is having the opportunity to lead discussion sections," Jola says. "I can engage students in topics that I'm passionate about, and I can try and spark that passion in other people."
For now, Jola is specializing in Human-Computer Interaction within the MSI program. She describes a project she completed for SI 622 (Needs assessment and Usability Evaluation), in which her team was tasked to help The Food Network to improve online video engagement.
"It was a really great project to gain experience in a variety of usability methods," Jola says. "As someone with an HCI background, I've worked with different usability methods before but only through course projects. The difference between a course project in my undergrad and a course project here is that here, they connect you with real clients, in this case The Food Network. They have this issue they want you to solve and they want your input."
Jola also describes taking SI 501 (Contextual Inquiry and Project Management), where she had the opportunity to work with the UMSI's Citizen Interaction Design (CID) initiative, partnering with the U-M Law Schools' Human Trafficking Law Clinic to help improve their case management system. "Any class that gives me a real project like that, I enjoy," Jola says.
The summer between her first and second year, Jola interned with Interpreta, a healthcare startup in San Diego, to help develop the organization's flagship product.
"I was working on my project with the UX architect, my immediate supervisor, but also the CEO was right there," Jola explains. "I was their first intern ever, and being able to watch the company grow – it was just an overall great experience to have." 
Beyond academics, Jola shares her interest in providing mentorship and education for underrepresented minority groups in tech. 
"Event before I came here, there's an organization I follow on Twitter called Black Girls Code, which hosts workshops for young girls to get coding experience," Jola says. "Getting involved with groups like that is important to me because even if you do get girls interested in programming at a young age, when they get to the workforce they often leave, whether it's because of low pay, no maternity leave or lack of mentorship. Also, if you don't see someone that looks like you that you can look up to, it's really hard to be in that space."
"I think it's important to provide mentorship across the spectrum," Jola adds. "I think mentoring young kids is important, but mentoring in an organization is important as well. There are a lot of organizations that have special interest, like Women at Twitter – support groups where you can get that sort of mentorship from people who are in similar positions to you, and I think that's really important."