University of Michigan School of Information
Faces of UMSI: Nick Murray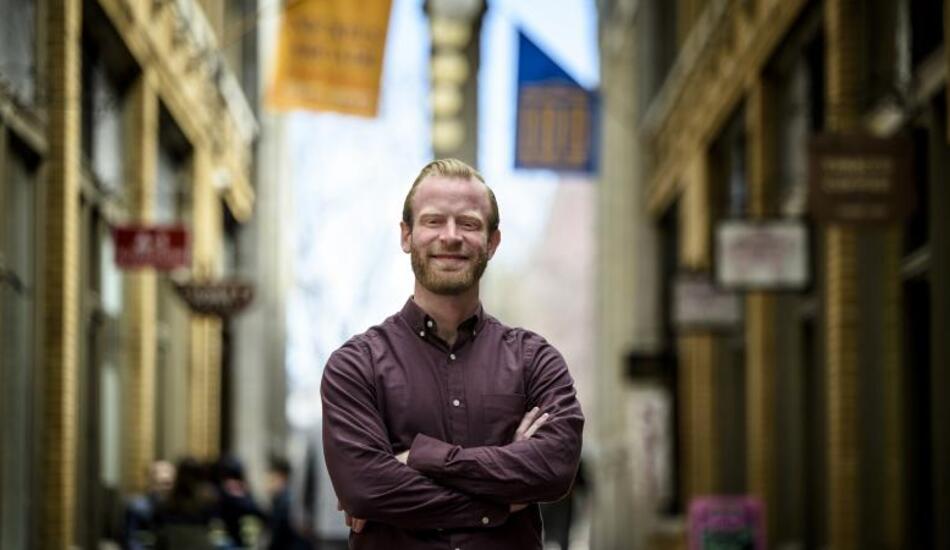 Like many college-bound students, Nick Murray pursued academic studies with an eye on making a difference in the world.
Initially, he hoped to help address climate change so he pursued a bachelor's degree in the School of Earth Sciences at Stanford University, where he minored in Latin American Studies. During college, the Brooklyn, New York, native spent an academic year as a field researcher in Brazil, where he investigated agroforestry adoption among small farmers in the eastern Amazon. The project was supported by the Center for Research on Familial Agriculture at the Federal University of Para in Belem, Brazil.
"I wanted to make a difference," he recalls. "I was interested in agriculture. I found there was a lot of room to make an impact in the field of conservation and agricultural work in Latin America. There was a lot that could be done to improve the livelihood of farmers while combating climate change, especially in the Amazon."
But after spending time as a senior data visualization specialist at Abt Associates, where he designed and developed interactive data visualization products, Nick found a very 21st century way of making a difference in the world -- through technology. He and his colleagues worked with governments to improve their impact and efficiency with lean technology solutions in various endeavors, including public health and education.
"In my experience at Abt Associates, I realized the importance of user experience design," he explains. "I found a way to more effectively pursue social impact. I am very, very lucky."
That path led him to UMSI, where Nick has just finished first year as a graduate student. He is pursuing a master's in Human Computer Interaction, specializing in UX design and data visualization. His post-graduate goal is to start his own company and build a platform that will enable people to easily visualize and communicate their data.
He chose UMSI because he wanted more formal training in approaches to user-centered design. He was impressed with the school's industry focus. He found other worthy academic programs across the country but they lacked the industry connection, he notes.
"I  (also) thought it was important that we are given the opportunity to intern," he says. "It lets you feel out different organizations. You don't often get to try things like this in the real world. UMSI also has a great reputation."
He also liked the broader perspective U-M affords.
"Ann Arbor has great programs across many disciplines," he says. "I also wanted to be exposed to good, forward-thinking people. At UMSI, you're not just hanging around the school, you're exposed to other parts of the university as well."
Nick is a fellow in the Professional Practice Fellows Program, a highly selective program that allows UMSI students to gain hands-on experience and training while pursuing academic studies. Nick is UX design fellow at ForeSee, a marketing consultant in Ann Arbor.
It's not all technology all the time for Nick, however.
His personal interests are broad. He likes to cook -- Italian and French cuisine are favorites -- mix cocktails and entertain friends with dinner and drinks. He reads, runs and meditates, as well.
"One of the most important things I do outside of work is meditate," he says, citing its many benefits, which include clarity, connectedness, empathy and grounding. "Meditation makes things easier to deal with. Your problems don't go away with meditation, it's just they somehow get more manageable. I think the analogy of your problems being salt dropped in a glass of water. Mediation helps you build a bigger glass, with more water in it."
You can do what they're doing! Sign up for our interest list to receive:
Invitations to exclusive information sessions and events 
The opportunity to chat with current students 
More in-depth information about our degree programs
Tips and advice for creating a successful application 
Reminders for important deadlines