University of Michigan School of Information
Faces of UMSI: Andrea Cluck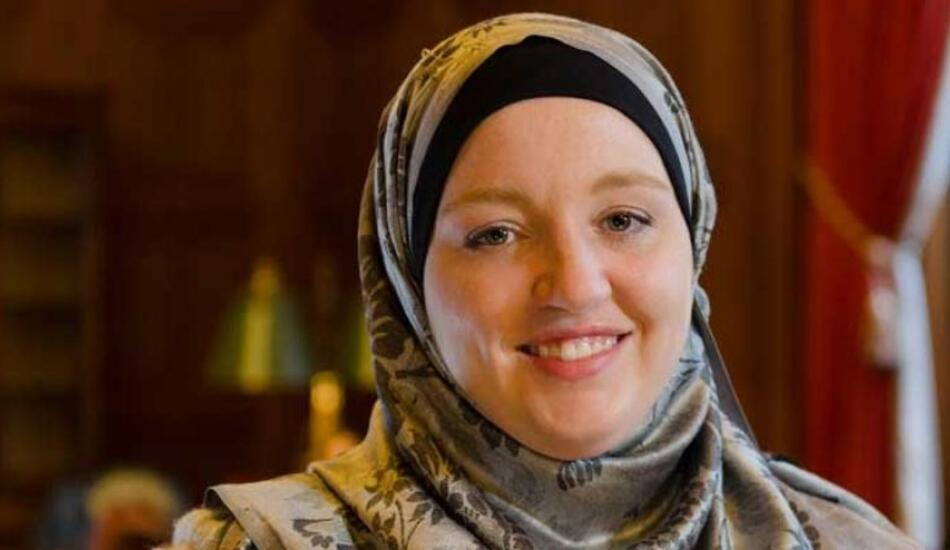 Andrea Cluck was raised in Bernie, Missouri, a town of just under 2,000 residents near the border of Arkansas. Growing up in a predominately Caucasian, Protestant area, Andrea became interested in learning about other cultures when she started attending Truman State University in Kirksville, Missouri. She met and asked questions of the few Muslim students there, in addition to minoring in religious studies. Moved by what she learned, Andrea converted to Islam in 2005 and decided to pursue an academic career in Islamic Studies. As a UMSI '14 graduate, Andrea plans to work as a religion or Islamic studies reference librarian to improve the quality of education Americans receive about a diversity of faiths, such as Islam.
"When you enter into a community, you also adopt the issues that community faces," Andrea said. "Following 9/11, American Muslims face so many challenges, such as misunderstandings and racism." Andrea hopes to combat negative dialogue and attitudes by making reputable, scholarly materials about Islam more accessible.
"One of the reasons I chose UMSI was because it is so large that I can tailor my degree around my specific interests," she said. "I've been able to hone in on the classes I really want to take and I've already completed two research assignments in areas I'm interested in."
For the course SI 581, Preservation Administration, Andrea worked at the Arab American National Museum (AANM) in Dearborn. "I had a good learning experience and got to know UMSI alumna Liz Skene, the AANM's curator. Plus, I feel I was able to make a tangible contribution to their archive by making suggestions for the preservation of a unique Arab American studies archival collection, ensuring the availability of these resources for future researchers," she said. For SI 647 – Information Resources and Services, she researched the status of libraries in Iraq.
In 2012, Andrea completed an M.A. in religion at the University of Georgia. Her master's thesis is titled "Islamophobia in the Post-9/11 United States: Causes, Manifestations, and Solutions." While attending the University of Georgia, Andrea worked as a graduate instructor. "As an instructor, my impact was limited to those students in my class," she said. "As a librarian, I'll have a broader impact via providing resources to the entire campus."
While at UMSI, Andrea earned an SI Merit Scholarship and an ISF-University of Michigan Muslim Alumni Scholarship. She was also awarded a Foreign Language and Area Studies fellowship from the Department of Education to study Arabic at UM's Summer Language Institute where she completed the equivalent of a year's study in eight weeks.