University of Michigan School of Information
Faces of UMSI: Novia Wong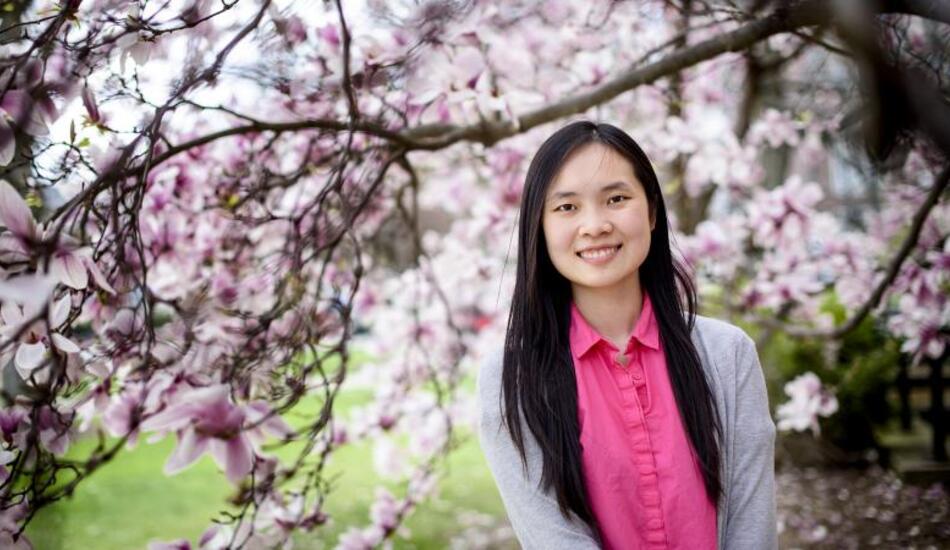 Novia Wong is implementing UX solutions in special education classrooms in order to help children thrive. 
If, while walking down a corridor at the University of Michigan you hear a piano, the source of the sound might be Novia Wong, first year MSI student. Novia knows where to find all the pianos on campus and has a keyboard of her own as back up. She also enjoys sketching, since "Art helps me think of new ways to do research." Ultimately, she believes "research is a way of helping those who normally aren't heard, getting their voices out to those who can create solutions and design."
The Master of Science in Information program's User Experience track, and its balance of design and research, drew Novia to Michigan. Originally from California, she was "half excited, half nervous" about the move. Yet, now "[Ann Arbor] feels like home, I love it here. Everyone is super friendly. It's definitely colder than California, but I love the snow, it's beautiful." Soaking up the change in scenery and culture, Novia and her friends spent the winter making snow angels and cheering at U-M hockey games. 
During her undergraduate studies at San Jose State University, Novia worked part-time as an Applied Behavioral Therapist at Autism Treatment Solutions. This experience spurred Novia to harness her knowledge of psychology and technology to benefit the special education community. 
She's not sure what shape her innovation will take since "Companies that can afford a UX team are marketing their materials to the population at large, not children with special needs or the parents of children with special needs. Not a lot of organizations have done research on that specific user group, so we don't know what they need." 
Novia mentioned the trend of using robots to help children with autism learn social interaction skills. Though she applauds the technological progress, Novia stresses that UX is the way forward. "Do they need a robot? Would a game be better? Or would it be helpful to have a better system for therapists to import data? These research questions are how I see the connection [between the MSI program and my future as a UX researcher]."
This year, Novia participated in UMSI Alternative Fall Break, Alternative Spring Break, an interdisciplinary design jam, and the Citizen Interaction Design Studio. In each of these roles, "I felt I was making an impact, working with a real person… They value the work we do and they need our help." 
Novia is an information mentor with the admissions office, Instructional Designer for the University of Michigan Library, and secretary of Learning, Education and Technology at the School of Information. "I really like the people here. The faculty, staff, my peers, the Engagement Center, Career Development Office, the people have made the program amazing… Everyone here is friendly and knowledgeable. And there are so many opportunities for us." 
Since joining UMSI she realized, "UX can be a field for everyone. Some of my friends are from accounting, communications, business, graphic design, psychology, computer science, and it's the same with the faculty… One of the unique aspects of this program is how big the cohort is. I feel like that'll come in handy, no matter what I end up doing."
The MSI program's focus on internships has been integral to Novia's plans for the future. "[The program] wants to make sure you have experience before going into the industry. I think that will help me prepare myself, and really get to know what it's like being a UX researcher." Novia is interviewing with Google and Cengage. Next semester, she hopes to secure an internship, become a GSI for SI 588: Fundamentals of Human Behavior, and participate in UMSI Service Week.
Next year, your profile could be here! Sign up for our interest list to receive:
Invitations to exclusive information sessions and events 
The opportunity to chat with current students 
More in-depth information about our degree programs
Tips and advice for creating a successful application 
Reminders for important deadlines