University of Michigan School of Information
Faces of UMSI: Meg Morrissey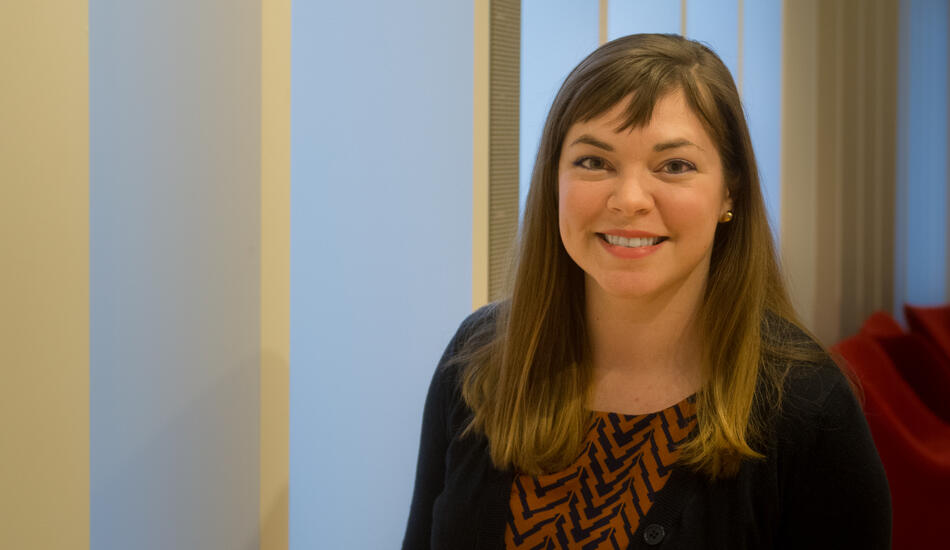 While working toward her bachelor's degree in playwriting at the University of Missouri, Meg Morrissey not only spent time studying in the university library, but was always intrigued by its special collections, where she came across unique things like items from Mark Twain and original Laura Ingalls Wilder book scripts.
"The one constant throughout my time there was how useful the library was and how cool it seemed to work with special collections," Meg says.
After working at a brokerage firm and noticing parallels between the electronic resources used in equities research and the technical tools being employed in libraries, Meg began looking at graduate library programs that actively incorporated technology into the curriculum. 
It wasn't until she arrived at UMSI and randomly attended a lecture on digital preservation that she decided to pursue a career in corporate archiving, where she wants to help companies realize what collections of old advertisements, marketing and research can do for them in the future. And in her second year as a preservation of information student, Meg has taken advantage of a number of internships and opportunities to gain experience in her field. 
This past summer, she interned at HathiTrust, the multi-library partnership that offers millions of digitized titles from libraries around the world and is led by U-M and Indiana University. She scanned peer websites, examined the documentation they shared, and made recommendations for the HathiTrust site.
"A lot of my recommendations were about usability and having a user-experience designer look at things," Meg says. "That's something I got from UMSI, that's not something you would learn in a library school."
Meg also participated in UMSI's Alternative Spring Break program in Washington, DC. She worked at the Georgetown Law Library to digitize papers of George Yamaoka, a lawyer appointed by Gen. Douglas MacArthur to defend accused Japanese war criminals after World War II.
Working with Archivist's Toolkit to digitize a sample of the documents, Meg helped develop a finding aid and crafted policies and procedures that student workers will use to finish digitizing the remaining 40-plus boxes of Yamaoka's papers.
Adding to her ASB experience was her decision to be a team leader in charge of raising money to support the program. With no fundraising experience aside from her time as a Girl Scout, Meg convinced students from diverse backgrounds and with little prior fundraising knowledge to join her team and helped coach them to reach their goal. 
"I was so proud of my team—to go from not knowing anything about fundraising to raising $300 in a month is awesome," Meg says. "Being able to persuade someone that your idea is worthwhile is a very valuable and extremely useful skill."
In addition to her HathiTrust and ASB experiences, she held another internship at Allied Vaughn, a vendor that indexed General Motors' design collection. She also has presented projects at the Michigan Library Association conference and QuasiCon, which she sees as a rare opportunity that UMSI offers its students.
"When I looked at other schools, I felt they encouraged students to attend conferences, but at UMSI, they encourage you to present," Meg says. "That's a huge difference and says a lot about what they expect of you."
Meg remains focused on making the most out of her time at UMSI, as she plans to work with a Chicago-based organization during next spring's ASB and has joined Chicago Area Archivists to get to know the community where she plans to land a job after she graduates in April.