University of Michigan School of Information
Faces of UMSI: Saskia DeVries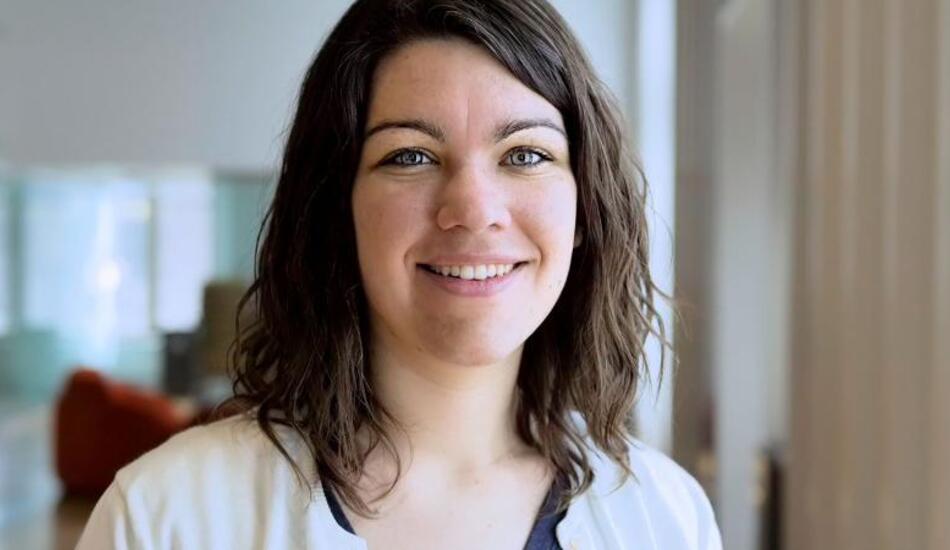 Saskia DeVries, a dual master's student in Information and Public Policy, joined U-M after spending time as a Statistician with the U.S. Census Bureau's International Programs and after taking a year off to volunteer with organizations that address poverty alleviation and women's empowerment.
Saskia graduated from Brown University with a concentration in Sociology and Applied Math. For the next five years, she worked with the U.S. Census Bureau, traveling abroad to consult with census organizations in countries including India, Nepal, Kenya, Tanzania, Jordan, and Armenia.
It was during this time that Saskia became interested in data visualization and how experts were communicating data.
"There seems to be a gap between how people are taught to communication information and how we actually absorb that information," Saskia says. "A lot of the census data are used by policy makers, but the analyses get wrapped up in technical reports. I wanted to create more user-friendly products so that the big questions could be answered quickly. Someone could look at a graph and understand what the big takeaway should be, rather than digging through a lot of tables."
Saskia realized that she wanted to become more involved in the policy making process.
"I was never part of a policy conversation because it wasn't an appropriate role for someone who was producing the statistics. It's very important that you keep those things separate," Saskia said, explaining that it was crucial for data collection to be carried out by an independent, impartial body. "It became clear to me, however, that that's not where I wanted to be long-term. I wanted to apply the information to make changes and find ways to communicate information that makes it actionable."
While working with the Census Bureau, Saskia began exploring poverty in the United States, something that she had always been interested in. She initiated a data visualization project, which compared two ways poverty is measured throughout the U.S. She wanted to communicate the differences between the measures visually to make them easier to understand.
Following her time at the Census Bureau, Saskia took a year off to volunteer for various organizations around Washington D.C. She worked with LIFT, a poverty alleviation organization, to assist low-income community members in setting goals for employment, housing and education. She recalls this being her first real exposure to the "digital divide."
"I started to see all these barriers in places when it came to accessing information," Saskia says. "A lot of the people I worked with were applying to jobs online. They had pretty rudimentary computer skills, so often the barrier wasn't taking the time to do the application, it was the form of the job applications – going through all of the different web pages, knowing where to click – people would come to us because we were able to move through it faster together."
Saskia explains that while many government services are provided online, they are not always accessible to the populations who need it. She hopes to work toward improving access through a user-oriented approach. "We need to be conscientious about who our target populations are, what their needs are and ways in which they want information communicated."
During that year, Saskia also volunteered with FEMEX (short for the "female experience"), where she facilitated a 16-week seminar on topics ranging from anatomy, sex and gender, to relationships, motherhood and women's experiences in the workplace. "We were encouraging women to not only think about these topics intellectually but to consider their own experiences and to recognize the experiences of others in these contexts."
In the fall of 2015, Saskia joined the University of Michigan for a three-year dual master's program with the School of Information and the Ford School of Public Policy.
"The University of Michigan stood out to me because of its emphasis on service," Saskia explains. "I think U-M does a great job with the Engagement Center, exposing students to all the different ways they can have impact with their work."
"I also like that the SI program has its roots in library science because the idea of access and social justice really comes through in the curriculum," Saskia says. "We're learning the skills and tools to reach people who might be left out otherwise – it's really important to design for those groups."
During her first year at UMSI, Saskia was active on the committees for Service Day and Alternative Spring Break (ASB).
"ASB is a really exciting program that UMSI offers, where students can volunteer their SI skills with a non-profit over spring break," Saskia explains. "I see it not only as a great way to give back to different communities but also to gain professional experience."
Saskia also explains that being part of a three-year program will give her an additional summer to explore internship opportunities at various levels of government.
"My background is federal, and through that international, but I'm excited to try state or local government to see what it's like and how the challenges are different," Saskia says. "I think state and local areas have more flexibility to try creative solutions as long as they are appropriate for the community. Although not everything scales up, it's great to be on the ground level and see people try new things, and if they are successful there are lessons that can be adapted from that."
Next year, your profile could be here! Sign up for our interest list to receive:
Invitations to exclusive information sessions and events 
The opportunity to chat with current students 
More in-depth information about our degree programs
Tips and advice for creating a successful application 
Reminders for important deadlines