University of Michigan School of Information
Faces of UMSI: Lily Samimi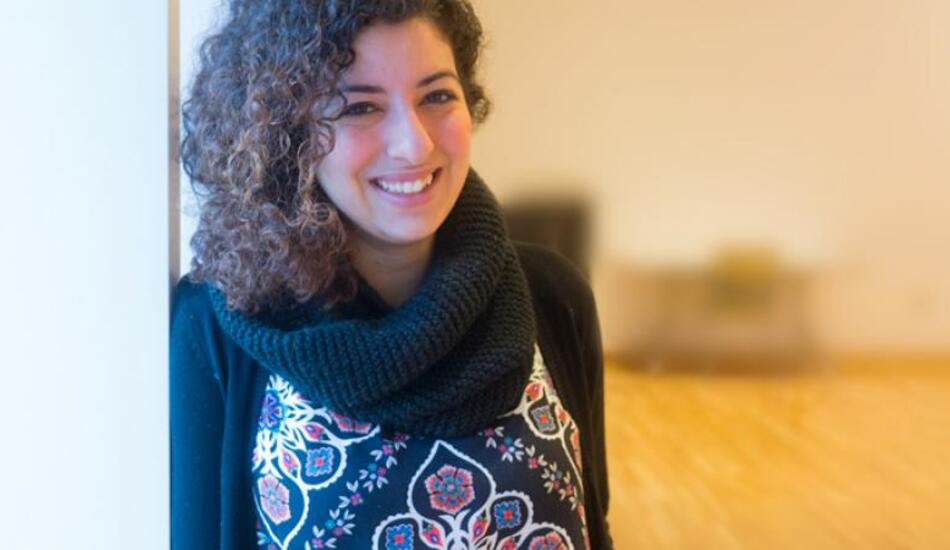 Lily Samimi describes the route that brought her to UMSI and spurred her interest in user-experience design as a "long and winding path."  
"I didn't know a whole lot about user-experience design before applying to UMSI," Lily says. "A friend told me about human-computer interaction, so I Googled it, researched jobs and what they entail, and found out about the user-experience field."
The second-year human-computer interaction student earned her bachelor's degree in commerce, economics, and global strategy from Montreal's McGill University in 2008. After graduating, Lily realized that an economic consultant position wasn't the best fit for her, so she took advantage of an opportunity to work for the Spanish government as an English teacher for students in Bilbao, Spain.
She didn't see herself pursuing a career in education either, but Lily used her time in Spain to research Iranian American advocacy work.
"My parents came to the U.S. from Iran in the 1970s and I always grew up with Iranian culture in my background," Lily says. "I wanted see where the Iranian American community was at and motivate people to get involved when it came to voting and being active citizens."
Lily returned to the U.S. to work for the National Iranian American Council (NIAC) in Washington, DC, where she managed the organization's online communications, fixed its website, created podcasts and videos, and crafted email marketing newsletters.
She was embracing her growing technical responsibilities at NIAC when her Google search on human-computer interaction led her to discover UMSI and the school's community-oriented environment, which she thought would mesh well with her advocacy and outreach background.  
"I think that was the biggest draw—other schools didn't have that" Lily says. "They seemed to be too theory-based rather than focusing on the UX implications on real world communities. This was more aligned with my career goals."
In her time at UMSI, Lily has not only begun to lay the foundation for her own career, but has helped to facilitate opportunities for other students. She has been working with Ehrenberg Director of Entrepreneurship Nancy Benovich Gilby to launch the UMSI Design Clinic, giving students the chance to provide consulting services to entrepreneurs in the Ann Arbor community.
Design Clinic offers UMSI students from all specializations the opportunity to gain real world experience and provide valuable community service to area organizations, all while solving design problems, marketing their skills, and gaining a better understanding of the entrepreneurial process.
"I think SI students have amazing ideas, but they might not know how to execute them, so hopefully this could help push them to get out there and be more confident," Lily says.
This past February, Lily took an idea she generated with fellow UMSI student Kruthi Krishna to the Interaction Design Association (IxDA) Conference in San Francisco and presented it at the conference's Student Design Challenge. The competition's theme focused on envisioning a wearable city, which led Lily and Kruthi to develop a concept for a wearable technology that a woman could use to alert others nearby when she encounters a dangerous situation.
IxDA received 80 entries from 135 students, and only five teams were invited to present at the conference. The experience allowed Lily to garner feedback from industry leaders and also to network in San Francisco, where she is moving in May after she finishes her MSI.
As an employee of General Electric since May 2014, Lily has gained experience working across various fields on a number of impactful design projects, including GE's Brilliant Factories initiative, which seeks to automate all 400 factories that GE operates in aviation, healthcare, energy management, and many other industries.
With her background and interests, Lily is looking to start her career in the Bay Area at a company that strives to deliver design solutions that have wide-ranging impact and help to drive innovation on a global scale.
 "I can apply what I'm learning—this way of design thinking—to possibly any field," Lily says. "That's what fascinates me about user-experience design, I can see myself working on a diverse set of innovative products that I'm passionate about."