University of Michigan School of Information
Faces of UMSI: Ellen Range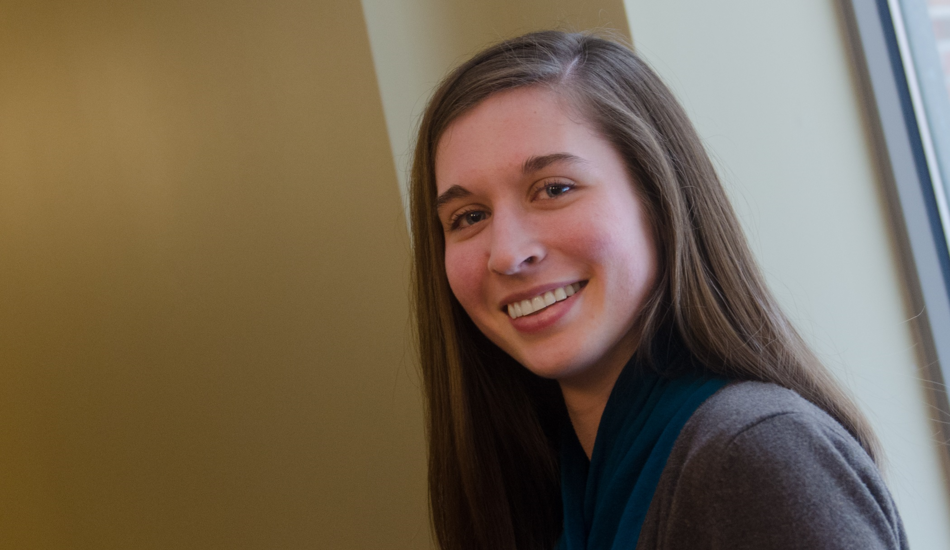 What do Tanzania, playing the French horn, and being a librarian have in common? For most people, there may not be an obvious link, but MSI graduate Ellen Range credits her eclectic interests and experiences with giving her the desire to build relationships and make connections for other people—qualities that helped shape her time at UMSI and influence her career aspirations following her April graduation.
In fact, it was a trip to Tanzania that helped inspire Ellen to become a librarian. As an undergraduate in English and religion at Wartburg College in Iowa, Ellen took advantage of a study abroad opportunity in the East African country. It was there that she discovered her "spark" to pursue a career in education.
While studying Swahili with her tutor, Ellen realized that as she was learning the language, she was also helping her tutor and his friends improve their English skills. That experience, combined with studying the native people, their culture, and African literature, made Ellen recognize that educating others was her passion. 
"To be able to see what a difference education, literacy, and being able to access the things you want to know is a powerful thing," Ellen said. "That experience is what helped me turn the corner from never wanting to be a teacher and work in that field—I thought I wanted to be a book editor and be at a desk behind the scenes—so, that was a bit of a turning point."
Ellen carried her enthusiasm for education to UMSI as she earned her teacher certification in school library media with a minor certification in English, in addition to specializations in school library media and library and information science. 
Ellen immersed herself in a number of activities that allowed her to interact with and educate others, including a job as a UMSI information mentor, where she provided guidance to prospective students. Ellen also worked for the Ann Arbor District Library and began student-teaching at Greenhills School in Ann Arbor. For the past two school years, Ellen also mentored middle school students through the Michigan Makers project, an after-school program led by UMSI professor Kristin Fontichiaro that encourages students to learn about, engage with, and create things using technology.
"Michigan Makers is a really robust program where mentors and students work together to make things, to think about what they want the world to be, and how they want to engage with the technology, ideas and tools that they work with," Ellen said. "It has probably been one of the most defining experiences of my time here and was always the highlight of my week."
The Minnesota native aspires to be a middle school or high school librarian near her home state. Ellen doesn't see herself merely shelving or checking out books in that role either, but nourishing student reading interests, teaching information literacy, collaborating with teachers, and helping to build research and technology skills. With the diverse background she has acquired at UMSI and beyond, she also feels qualified to work in other educational settings as a public librarian, an academic librarian at a university, or as a classroom teacher.
"If I can spend my days around students, learning, books, and other texts, I'll be a happy camper no matter what specific capacity it's in," Ellen said.