University of Michigan School of Information
Faces of UMSI: Kangning Chen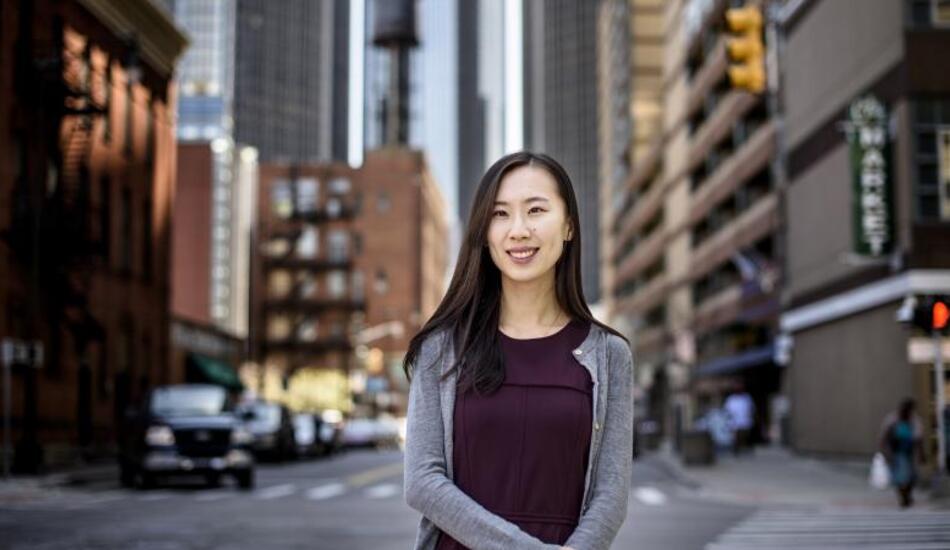 Kangning Chen is embarking on grad school and motherhood while working at the intersection of policy research and data analytics.
Kangning Chen left China at eighteen years old, in search of new experiences. "Back then, Chinese education was very lecture based… college in the U.S. focused on group work, projects, and discussion with classmates and professors. That's what I wanted."
She moved to New York and enrolled at the University of Rochester. When Kangning realized her passion for international relations, she transferred to Georgetown University, where she majored in International Political Economy and earned a bachelor's degree in Foreign Service. 
"After I graduated, I worked at a government policy research firm in D.C." She struggled with the ambiguity of her role, "when I made policy predictions, it was more like saying what I believe in, instead of using data to back my beliefs." With data analytics, "you can make well-informed predictions. It's technical, and you need a solid foundation to practice it. UMSI provides you with that solid foundation." 
This experience, paired with her desire "to expand on my undergraduate degree and do quantitative policy research" led Kangning to the Master of Science in Information program. "U of M and the Information School have a great reputation, but what brought me here was the flexibility of the program. Even though I'm set on the data science track, I have the option to take classes ranging from interaction design to web development." 
Last semester, she took SI 501: Contextual Inquiry and Consulting Foundations. "You get to work with a real client, very early on. I think that's very beneficial. Not only do you get that real world experience, it's something you can talk about when you apply for internships or a full time job." Moreover, "For my programming classes, we have projects" which are vital since "you don't know what you can do until you try." 
Kangning is an information mentor with the UMSI admissions office, where she helps process application materials and support prospective student events. She says the work is fun and allows her to help others as an information mentor once helped her. 
In November, Kangning's life changed with the arrival of her baby, Nicolas. "Before having him, I knew it was going to be hard but didn't know the specific ways it would be hard."
Kangning says the support of her mother, her in-laws, and the UMSI staff make juggling school and a baby possible. "I get a lot of support. That's what I like about this program. For example, for my programming class, you have GSIs, discussion sections, group office hours, professor office hours. You can also ask questions on Piazza… you have access to help almost every day." She went on to say, "It's a lot of support, and it makes me feel secure. I can handle my coursework. Even though I need to take care of my baby and sometimes don't have time to study, I have all the help I need." 
Kangning, her husband and their son live in Detroit. She commutes to class on the Detroit Connector, a University of Michigan bus service connecting U-M campuses. 
"I'm interested in the government budget… partially because of my experience living in Detroit, and seeing the crumbling infrastructure. The city is in need of money, and once they have money, they'll have to determine what the most urgent needs are…A city like this has so many needs, but scarce resources. How do you allocate those resources to reflect actual citizen preferences?"  
After she graduates, "My ideal position would be working at the intersection of policy research and data analytics and doing data driven work, whether that's in terms of public policy, working in government agencies, helping governments identify citizen preferences, or working in the private sector with political forecasting."
You can do what they're doing! Sign up for our interest list to receive:
Invitations to exclusive information sessions and events 
The opportunity to chat with current students 
More in-depth information about our degree programs
Tips and advice for creating a successful application 
Reminders for important deadlines