University of Michigan School of Information
Faces of UMSI: Mandy Wortz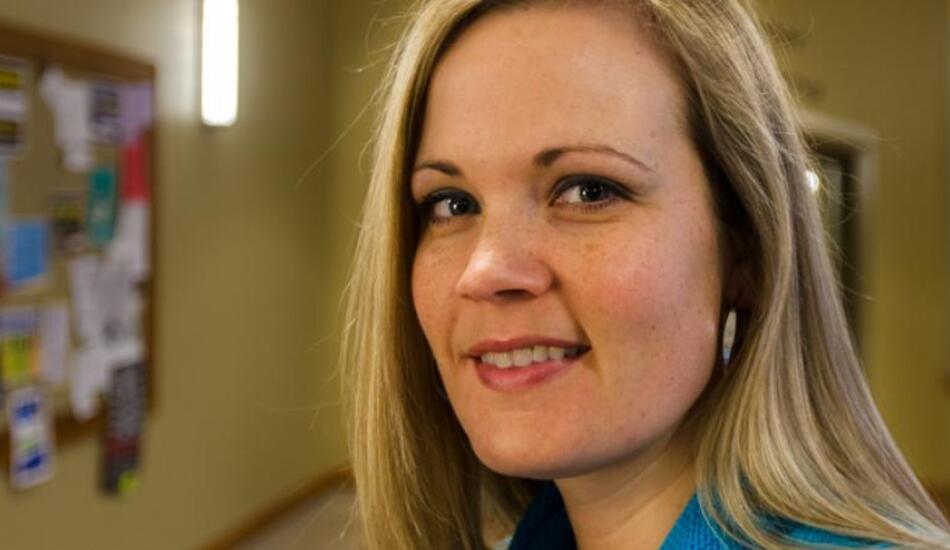 When Mandy Wortz was first introduced to computers and technology in the classroom, she didn't realize that she would one day be studying user experience research and design, database manipulation, natural language processing and the many other topics covered in her Human Computer Interaction specialization. 
"I grew up in a small town and I took a typing class. Then we had basic Microsoft Office classes and things like that," Mandy laughed. "I always enjoyed them, but it wasn't like it was something that I knew was going to lead to a next step for me."
Once she enrolled at Ball State University to pursue a degree in secondary education, Mandy realized she had more technological interests and ambitions. The program required students to create online portfolios and develop other technical skills, which led Mandy to add a minor in educational technology to her degree.
"That was the beginning for me. I had a place where I could start digging in and getting more skills" Mandy said. "I liked my classes and enjoyed my secondary education program, but I really enjoyed the technology part more."
After graduating, Mandy came to the University of Michigan to work as a database coordinator for the School of Social Work. She managed a broad database used to place more than 700 social work students in internships every semester.  She looked for ways to increase the database's usability for her colleagues. In one project, she worked with the school's web team to create a system that would allow agencies to report internship openings and placement details more efficiently.
As Mandy sought graduate programs that would help further develop her technical skills, she was advised by her supervisor and another coworker to check out the School of Information. She attended UMSI's Visiting Days and was impressed by the school's ability to combine social science and technology. Mandy was also interested in opportunities to participate in projects in developing countries, something she experienced when she spent a summer teaching technology to educators in Namibia.
Since enrolling at UMSI, Mandy has maintained her passion for educational technology, taking courses such as Associate Professor Barry Fishman's "Transformative Learning and Teaching with Technology," and helping to form the student group Learning and Education Technology at the School of Information (LETSI).
LETSI was developed from a project started by MSI student Adam Levick, who like Mandy and co-founder Stephanie Wooten, had a strong interest in education technology. LETSI promotes collaboration in the education technology field among designers, practitioners, and faculty members and seeks to build a community to connect them with students. Moving forward, the group is looking to team with sponsors and a similar group from the Ross Business School with the goal of hosting a conference to get students more involved in educational technology and entrepreneurial activities. 
"It's really about getting students connected to larger conversations and projects in the community," Mandy said. "We're looking to provide opportunities for students to work with businesses and give them a chance to spread ideas, collaborate, and create their own conversations."
With all she has encountered in her first year at UMSI, Mandy is looking forward to building on her experience and embracing many more opportunities as she moves closer to graduating next spring. This summer, she'll be working as a business process management intern at TD Ameritrade, doing contextual inquiry and user-experience research to improve the company's business processes. She is also eager to develop her graphic design skills, expand her programming abilities, and continue to immerse herself in UMSI's efforts to combine social science and technology studies.
"This sounds very cliché, but I am interested in using technology to help people." Mandy said. "Even if that's just working at a company and building positive interactions every day, I'd like to try to find ways to make other people's lives better."