University of Michigan School of Information
Faces of UMSI: Krishna Vadrevu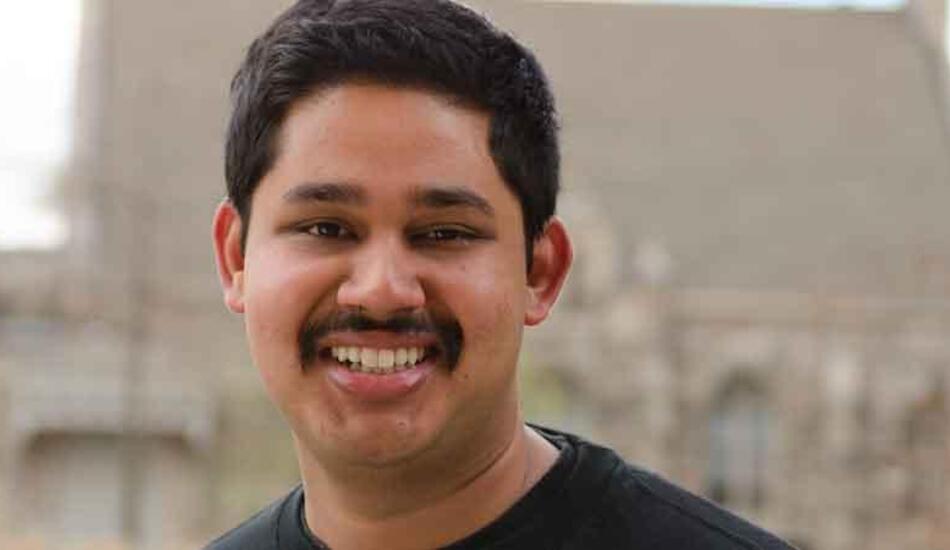 Being raised in four countries encouraged MSI graduate Krishna Vadrevu to take a keen interest in people and how they operate. His love of being around diverse groups of people inspired him to pursue his master's at UMSI.
Born in India, Krishna also lived in Malaysia and Singapore before coming to the U.S. at age nine. Krishna and his family had followed his dad, a telecommunications engineer, to California where his parents remain today.  "I embrace the differences in people, but also embrace what they have in common," said Krishna, who specialized in user experience research and design. "That's why [I came to] SI. I like to ask lots of questions and parlay that into a design. I think design is a science, a way of thinking."
Krishna participated in a one week, 50-plus hour Alternate Spring Break (ASB), which required him to "learn on the fly" as he improved Media Burn Independent Video Archive's lesson plans by making them teacher-friendly through information architecture and interaction design elements. "It's one of the more formative things I've done here," Krishna said. "I don't think middle school teachers will look for very specific topics for lesson plans. We created broad bucket categories and they can add in future lesson plans."
Krishna completed the Global Information Engagement Program (GIEP) at Digital Green, in New Delhi, India. Digital Green teaches agricultural practices to farmers to improve crop production. Krishna is using virtual training and other methods to help with Digital Green's upcoming expansion to other parts of India and countries in Sub-Saharan Africa. "They film local farmers doing different farming techniques then hold video demonstrations of techniques and have a question/answer format," Krishna said. "We wanted to see how technology can support people keeping in account many are low-literate to semi-literate users."
The GIEP students made the interface less text heavy and more video, picture and audio supported. Krishna got to visit his native land when he traveled to Bangalore and New Delhi to complete the project. "It's impossible for us to discuss this without being in front of the users," he said. "We will leave them with a prototype of what we think will be useful."
While serving as Executive Officer of The Student Organization for Computer-Human Interaction (SOCHI), Krishna organized Design Jams, in which companies come to UMSI with a problem and students design a solution. "It's a good way for them to network and possibly find jobs or internships," Krishna said. SOCHI hosts talks with alumni, offers peer advising on course selection, and organizes World Information Architecture (IA) Day. As a lead organizer of World IA Day 2014, Krishna located the venue and contacted information architecture speakers.
Krishna, who has a BS in Cognitive Science from the University of California Merced, is seeking a position in user experience research or at a design agency.