University of Michigan School of Information
Faces of UMSI: Jackie Cohen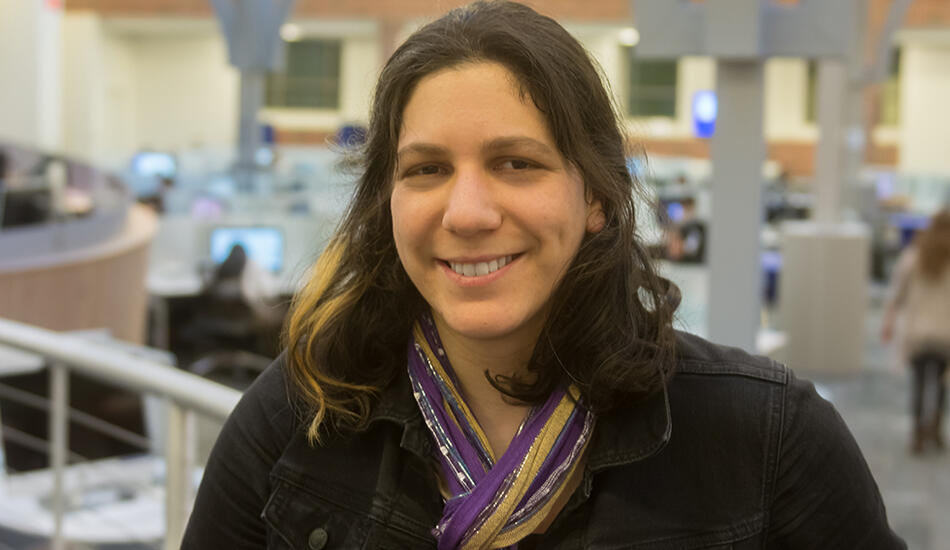 Jackie Cohen is passionate about educating others about data. Part of that education is alleviating fear and misconceptions about working with data and showing how data can be impactful.
"There's a lot of misunderstanding about what information analysis and retrieval can mean," she says. "I'm interested in using the social power of statistics and building programs that can help me to learn about people."
To show people that data doesn't have to be intimidating, Jackie served as one of the organizers for the 4th annual A2 Data Dive, which brings together local nonprofits and people with varying levels of skill—from students, data scientists, statisticians, consultants, coders and designers—for a weekend-long, hackathon-style event to organize, manipulate, calculate and visualize data. But this wasn't Jackie's first experience with Data Dive. She's been an attendee since 2012.
"I liked that Data Dive was about empowering people to not be scared of data and that they can then harness that information to make data-driven decisions."
Jackie's passion and commitment to Data Dive was apparent. Not only was she a part of a client team in 2013, but she also shared ideas on how to improve the event in the future, to that extent that Priya Kumar (MSI '13) asked her if she wanted to become involved as co-organizer. Jackie eagerly accepted the invitation.
"The focus on education and empowerment has become greater as time has gone on, and we really wanted to emphasize that shift with this year's event," explains Jackie.

Beyond the actual Data Dive weekend, Jackie also helped to organize the Data Dive Bootcamps that took place during the rest of the school year. The bootcamps, which previously centered on inviting experts to talk about data, focused on teaching people a new skill or allowing people time to practice within an hour session.
Jackie's love for teaching goes beyond Data Dive. For three semesters, she worked as a Graduate Student Instructor for SI 106: Programs, Information and People, an introduction to programming course.
"Teaching has been one of the highlights of my grad school experience," she says. "Being able to explain things so that people understand it; to see people struggle and then overcome and understand a concept is the most incredible and rewarding thing."
Jackie says she is able to empathize with her students despite having six years of programming experience. Prior to coming to UMSI, the University of Michigan 2011 alumna and Ann Arbor native spent a year working in New York and Boston as a software developer. Since earning her undergraduate degree, Jackie has worked at Open.Michigan, which encourages researchers, learners and instructors to maximize the impact and reach of their scholarly work through open sharing.
She interned there last summer leading their dynamic metrics and analytics project. The goal of the project was to look at usage data gathered through analytics platforms like Google and see who was accessing the material provided on Open.Michigan, and provide information to the creators of the open content.
After graduating in May, Jackie hopes to work in a data analysis or software development position. Utilizing her background, she wants to build things that people can use and hopes to continue teaching.
"Statistics is all about telling stories that people have to interpret responsibly. It's about finding a responsible, ethical and useful way to tell stories. Wherever I end up working, I want to keep in mind the social responsibility of doing stats."