University of Michigan School of Information
Faces of UMSI: Adaeze Ajoku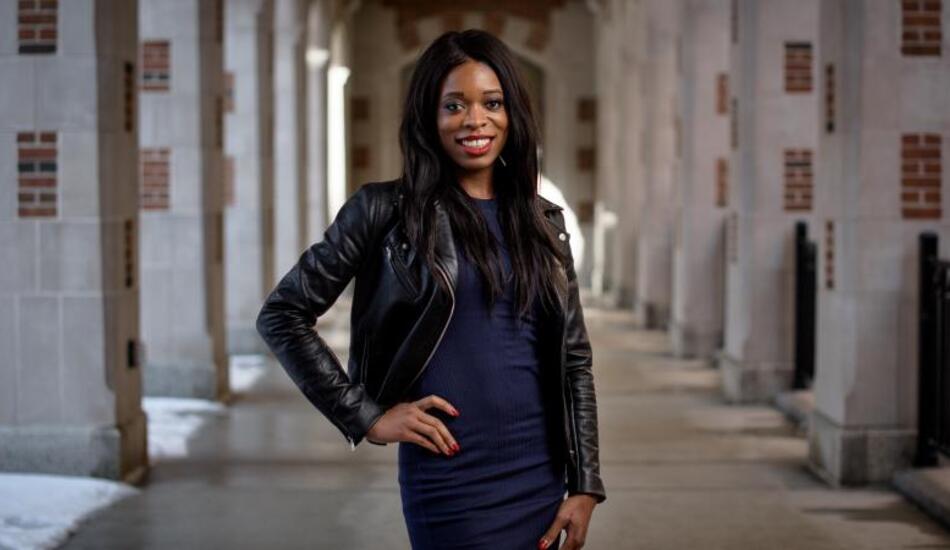 What do belly dancing, a passion for Nigerian cuisine and data analytics have in common? MSI student Adaeze Ajoku. 
After attaining her bachelor's degree in Math and Anthropology from the University of Miami, she worked as a math teacher and taught English in Chile. Then "I learned that analytics can be used in conjunction with user experience, that's how I ended up here."
She was excited by the interdisciplinary nature of the program because "I didn't really know what I wanted to do. I was thinking of doing the user experience track, called HCI at the time… then I decided I wanted to do data analytics. If I'd gone to a different program I would've been stuck in HCI, but this allowed me to switch. I also got great funding" with a UMSI merit scholarship.
Course projects are her favorite part of the MSI program because they "translate theory into something I can do." 
Past projects range from sentiment analysis on Twitter, analyzing queries from patients.info, analyzing data from a Parkinson's disease app, and mining survey data to determine if adolescents are at risk for depression. "There's not a lot being done with data and mental health because [mental health] it's so non-quantitative." She believes data science is the key to providing more mental health resources. "Ideally, people would have others in their lives to notice if their behavior is off, but we could automate that" so individuals are diagnosed and get help.
Adaeze's favorite project was with the multidisciplinary design program. "Kellogg's wanted us to improve the way they forecast shipments of cereals." Although she doesn't consider statistics her strong suit, she enjoyed the challenge. "I didn't know anything about forecasting before I started, and didn't like finance or supply chain analytics, but I got a deeper understanding of those processes and was able to add value to the company." 
The question had to be asked: does Adaeze eat Kellogg's? "We went to Battle Creek and got some free cereal… but we haven't been replenished since." So, "I eat cornflakes or Honey Nut Cheerios. I eat the competitor."
Though committed to the rules and rigidity of math and analytics, in her free time Adaeze enjoys the improvisation of dance. She knows how to swing dance, salsa and belly dance. Her passion for dance started in Florida and followed her to Michigan, where she takes classes at the Phoenix Center. When she's not busy with data analysis or dancing, Adaeze dreams of starting a fashion company or opening a Nigerian restaurant. Adaeze's family is from Nigeria, and she wants to share the delightful mixture of rice, root vegetables, spicy tomato sauce and fish with American diners. 
No matter her future endeavors, she'll use what she learned at UMSI to ensure success. "UMSI has given me so many skills." She went on to say, "If I had done a statistics or computer science program, there would've been less support. This school [UMSI] is not about competition, it's about learning together, collaborating. There are so many opportunities because the School of Information works with every department on campus."
Come June, Adaeze will be working as an Associate Data Scientist at Amway's research and development department in Grand Rapids, "supporting data needs across the company by being innovative, learning new methods and leveraging technology. It's the type of position where you're constantly learning new things." She continued, "I'm excited. I really like the city and I made connections with people there during my internship. I have family in Florida, but now I feel like I have family in Grand Rapids too."
Ultimately, "MSI has definitely been the right program for me, and what I needed to transition careers."
Next year, your profile could be here! Sign up for our interest list to receive:
Invitations to exclusive information sessions and events 
The opportunity to chat with current students 
More in-depth information about our degree programs
Tips and advice for creating a successful application 
Reminders for important deadlines