University of Michigan School of Information
Faces of UMSI: Sofia Gutierrez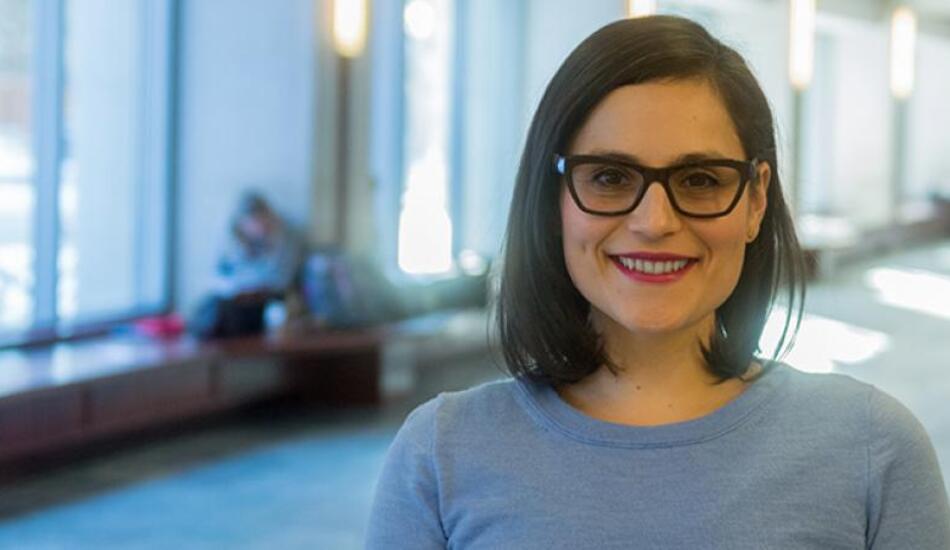 In the mid-2000s when publishing companies were struggling to adapt to the digital revolution, Sofia Gutierrez was feeling optimistic about how technology could provide a better experience for readers.
At the time, Sofia was working as an assistant editor for Abrams Books in New York City. Though she loved her work environment, Sofia admits it was a "tumultuous period for publishing."
"People were uncertain about what the future would be like; they didn't know how to transition," Sofia reflects.
Sofia's interest in how content could be restructured without the constraints of physical books led her to look beyond publishing jobs. As she was considering alternative career options, a friend recommended looking into information architecture. Sofia reached out to her alma mater, Carnegie Mellon University, and was informed about an internship opportunity with Siegel + Gale, a brand management firm. She landed the associate information architect role, but it wasn't long until Sofia was faced with a new professional challenge.
"I was editing financial disclosures," she explains. "I wasn't doing cool [digital] projects. I was told that I didn't have the skills for those types of projects."
Sofia decided going to graduate school could help her get the technical skills she needed. Though she applied and was accepted to several schools, Sofia was particularly interested in UMSI's mission to provide students with real world experience as they earn their degree.
In her first year at UMSI, Sofia interned with U-M's Medical School, where she and another intern were tasked with designing a mobile application of the student evaluation website, Clingrade. As a Community Information Corps (CIC) member, Sofia collaborated with other students to assess user experience and redesign the website for Dagbe.org, a non-profit organization that assists children in crisis situations in central Benin in West Africa.  She also helped organize the NorthQuad MakerFest with fellow student Stephen Liu and Clinical Assistant Professor of Information Kristin Fontichiaro. Inspired by the Michigan Makers organization, MakerFest is a one-day event of workshops for students, faculty, and staff to explore the latest technology and participate in other hands-on, non-technical creative activities. 
Sofia spent the summer after her first year in Seattle, Washington as a UX design intern with Amazon. As part of the Kindle Content Demand team, she focused on concept development to improve the user experience when gifting ebooks. Prior to her internship, Sofia felt unsure about her technical skills, but she realized that such skills can be learned on the job.
"The ability to pull from a variety of sources and figure out what's an ideal path for a user is really the most valuable skill," she says. "I think a lot of people who come from a humanities background are insecure about tech skills, but they shouldn't be intimidated. You can learn them. I learned Axure and Adobe Illustrator over the summer. Be patient with yourself and the process."
Sofia adds that her communications background has been valuable in her growth as a UX designer. "You are essentially selling your ideas when you are a UX designer," she says. "Being able to write and speak persuasively about your design choices is half the battle."
After graduating in May, Sofia wants to work for a company like Amazon as a member of a UX design team.