University of Michigan School of Information
Faces of UMSI: Cathy Chow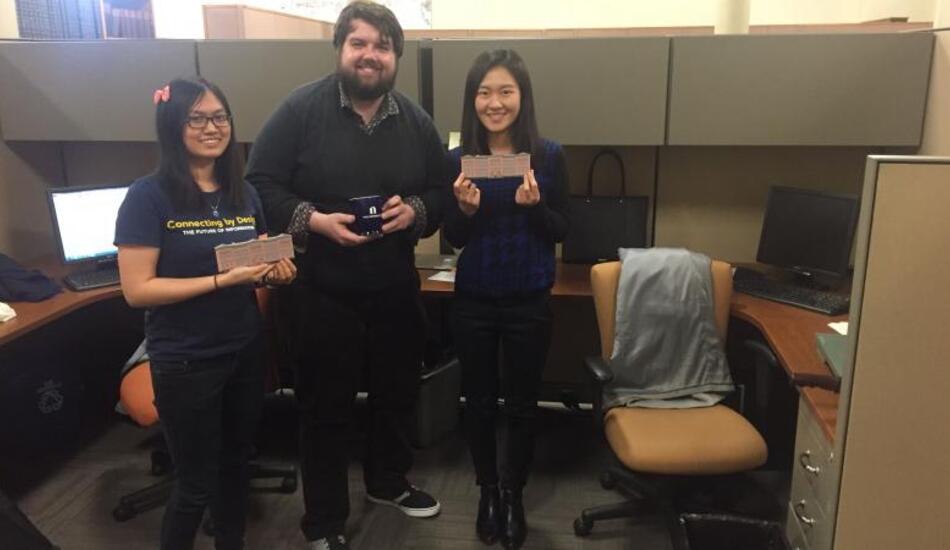 Cathy Chow (left) and Hungyu Chen (right) with their Chicago Newberry Library supervisor
For proof that MSI students come from all backgrounds, look no further than Cathy Chow. Cathy received her undergrad degree in German, with an environmental science minor, from U-M as part of PITE (program in the environment). She was a Fulbright recipient who spent 10 months in Germany.  Now that she's mostly mastered the German language with her immersive diplomatic stay in the country, she's on to mastering her next pursuit: programming. 
"I've always liked math but I think programming is more creative," Cathy says. "With math, there is one answer. With programming, you can have many solutions and you can have elegant solutions. I love the logic of that and that I can experiment."
Cathy Chow came to UMSI after turning down an acceptance from the University of Toronto.
She explains, "I'm from Toronto. I love the city, but I decided to choose the school instead of the city. Plus, the admissions team here was very active and I received a scholarship."
Cathy has always liked U-M's emphasis on diversity. She thinks it's one of the strong points of the MSI program.
"I've noticed how this program attracts students from different cultures and different schools and with different leadership styles. When we work as a team, we all bring various strengths to projects and, therefore, create a better deliverable. It's good for us and it's good for the client."
When you're a student in the MSI program, you're not just responsible to the teacher. The classes are structured so that you gain real world experience.
"I think it's important that we don't just read books and listen to lectures but we roll up our sleeves and do the gritty work. In some of my classes, we have real clients. We're realizing this is the work we would do if this were a professional job."
One venture Cathy had in a real-world setting was working for Chicago's Newberry Library for Alternative Spring Break. Along with fellow MSI student Hungyu Chen, her role was to update the library's donor and event registration pages for mobile accessibility.
"This was a good project for me because I care a lot about accessibility and making sure all people have equal opportunities. If someone can't access those library pages, and it means the library might not get a large gift or that interested people never sign up for an event, that's a disservice for the library and the people who want to participate."
She cites WhatsApp as an example of what does work. "It goes across platforms and across borders and it helps people. You stay connected no matter where you are or what kind of smartphone you use. That matters." 
She hopes to be a developer in her own right after earning her degree. "I want to help people. I'm driven by the satisfaction of creating a product that makes people's lives easier." 
In her limited free time, Cathy enjoys running. She's currently training for a 10K. She also likes hanging out with friends and attending school events.
You can do what they're doing! Sign up for our interest list to receive:
Invitations to exclusive information sessions and events 
The opportunity to chat with current students 
More in-depth information about our degree programs
Tips and advice for creating a successful application 
Reminders for important deadlines