University of Michigan School of Information
Faces of UMSI: Desiree McLain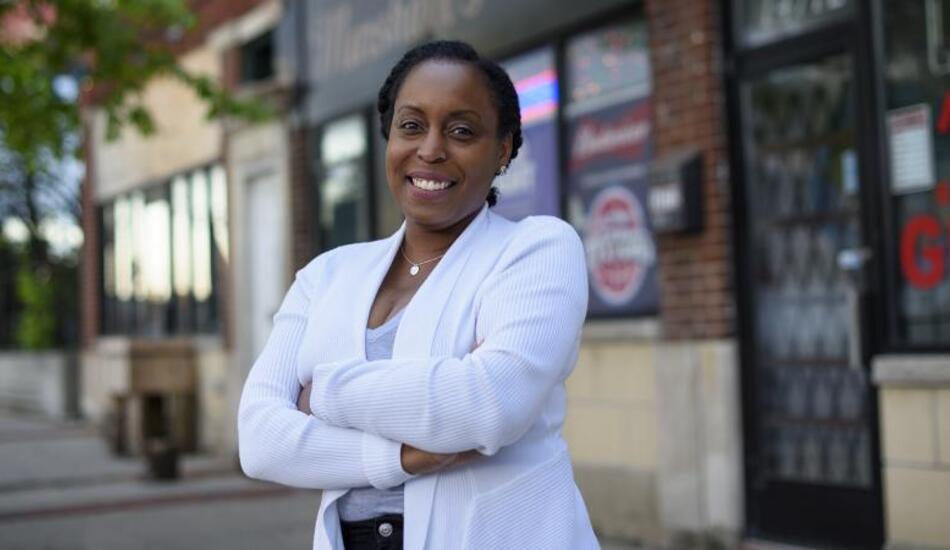 A Wolverine through and through, Desiree McLain (MSI '18) earned her bachelor's degree from the University of Michigan with a focus on Women's Studies, AfroAmerican and African Studies, then pursued a master's degree from the U-M School of Public Health, where she completed a Health Informatics Certificate.
When Desiree learned she'd been accepted into the University of Michigan Master of Science in Information program, she attended a talk by Associate Professor of Information Kentaro Toyama about society and technology. Intrigued, she asked Toyama if he needed assistance with his research. 
Desiree joined Toyama and Tawanna Dillahunt, Assistant Professor of Information, in their efforts to determine "Sociotechnical barriers to entrepreneurship in Detroit." The team studied Detroit's history and landmarks, then pitched the idea of city tours to citizens. Toyama, Dillahunt, and Desiree sought local volunteers. A group of elderly women agreed to lead the tours. 
During the prohibition, Detroit was a hotspot for smuggled alcohol. The eastside bootlegger tour visits historic sites on the city's lower eastside which were integral to smuggling efforts, including St. Martin's Catholic Church, Hare Krishna Mansion, Maheras-Bronson Gentry Park, Belle Isle Aquarium, a residential home, and Marshall's Bar (featured in Desiree's picture above). 
Toyama, Dillahunt, and Desiree collaborated with the volunteers to research Detroit's history, create a script and marketing strategy, and coach tour leaders. Launched in 2016, the pilot tours attracted full buses of patrons and yielded a profit. Tours are ongoing.
To Desiree, this project was important because "it helped bring to light, in this age of technology advertised as a quick fix, that there are different human factors, like encouragement and human social capital, which are still valuable… Technology is meant to assist us, not replace us or replace our relationships." After all, she says, "technology is only as good as the people who design it and the people who use it."  
A Detroit native, Desiree believes this work is especially poignant in the context of empowering a marginalized group. Equipping elderly African American women with the tools to lead tour groups in their city "was important research because it allowed us to tell our story from a first person, participatory perspective." 
The SI 501: Contextual Inquiry and Consulting Foundations course helped Desiree gain the skills to interview tour leaders and discover findings, which were later used in a paper she co- authored with Tawanna Dillahunt, Vaishnav Kameswaran, Minnie Lester, Delores Orr, and Kentaro Toyama. "Entrepreneurship and the Socio-Technical Chasm in Lean Economies" won a 2018 Honorable Mention from the Conference on Human Factors in Computing Systems (CHI), the premier international conference of Human-Computer Interaction.
"The school's climate made me think most things are possible. I was jaded before," admitted Desiree, "but in this school, with these brilliant but humble professors and students, everyone is using tech to make the world better, and it's super inspiring. They're go getters, if they want a certain position or to work at an organization… people say it, and a month later they've done it." 
The summer of 2018, Desiree is working with Assistant Professors of Information Robin Brewer and Casey Pierce, researching how the elderly use information and technology home devices (think Amazon's Alexa) to seek health information.  
In her down time, Desiree enjoys kickboxing, reading, taking cooking classes and volunteering at the D-Town farm and the Eastside Community Network in Detroit, helping locals with technology (think Apple genius bar). 
She hopes to pursue a PhD in healthcare and social services, then become an author, nonprofit director, or CEO. "The idea of using technology for social good has changed my life and what I see as possible; it solidified that I want to have a career in technology and information systems."
Next year, your profile could be here! Sign up for our interest list to receive:
Invitations to exclusive information sessions and events 
The opportunity to chat with current students 
More in-depth information about our degree programs
Tips and advice for creating a successful application 
Reminders for important deadlines