University of Michigan School of Information
Data Science/Computational Social Science Seminar: Hannah Metzler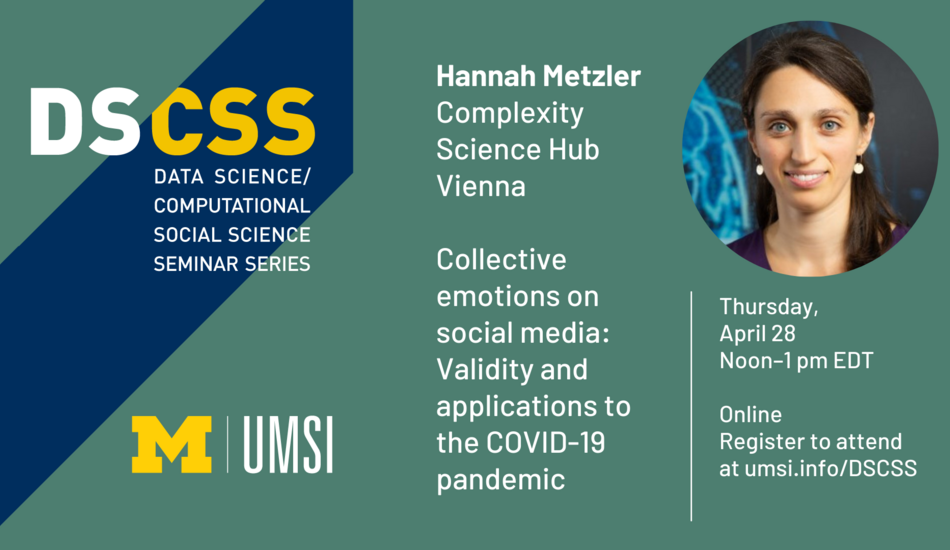 04/28/2022 Noon - 1:00 p.m.
Online
Collective emotions on social media: Validity and applications to the COVID-19 pandemic
Abstract:
In this talk, I will first present two case studies on the relationship between social media measures for emotions at the population-level with emotions reported in surveys. They included both dictionary- as well as machine-learning based emotion measures, and one included data from two different social media platforms. Overall, we found that social media emotion measures closely tracked emotions reported in surveys from the UK and Austria in a time period before and during COVID-19. The results show that daily and weekly social media indicators can represent emotional trends in societies at large, but also highlight the need for further validation studies. 
Second, I will present a large-scale study on collective emotions during the early COVID-19 outbreak. Social media emotion measures based on tweets in six different languages showed strong and enduring increases of anxiety and sadness expressions, together with decreases in anger expressions in 18 countries around the world. These changes were in part related to increases in COVID-19 cases and the stringency of measures against the spread of the virus. Taken together, these studies illustrate that social media emotion measures can provide added value in addition to representative surveys, in particular during unexpected crisis events.
Speaker bio:
Hannah Metzler (https://hannahmetzler.eu/) did her PhD at Ecole Normale Supérieure and Sorbonne University in Paris and has a background in psychology and social and affective neuroscience. Currently, she works as a postdoc with David Garcia in the Computational Social Science Lab at the Complexity Science Hub in Vienna. Hannah is a member of the open science community in psychology and strives to make research more transparent and reproducible. 
Her research investigates how emotions and social processes influence communication in personal as well as digital environments. In her current projects, she applies approaches from computational social science approaches to investigate emotions, mental health and misinformation spreading using social media data.
Register to attend DS/CSS events at umsi.info/DSCSS.