University of Michigan School of Information
Faces of UMSI: Matt Wiese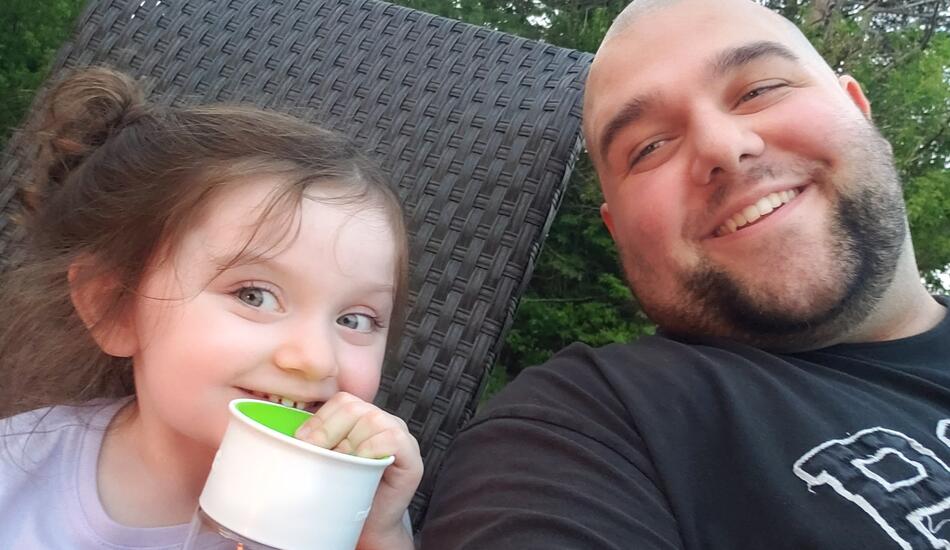 MADS student and math whiz Matt Wiese manages over 5 petabytes (equal to over 5,000 terabytes, or 5e+6 gigabytes!) of data as an intermediate Unix/SAN admin for Mid-Michigan's largest health system, all while investing in his education and taking care of a toddler at home. 
Now in his second year of the Master of Applied Data Science program, Matt has developed some deviceful practices to help him balance work and home life while pursuing his second master's, but he says that that balance begins with how flexibility is folded into the remote program at its foundation. 
With degrees in mathematics from University of Florida and Middle Tennessee State University, Lansing, Michigan-based Matt says he's particularly attracted to the mathematical components of statistics and applied data science, and also enjoys working with technology. So when his master's studies in mathematics came to a close, he decided to flesh out his education in stats and machine learning not only because it's an interesting field, but also to improve his job prospects. 
"Another major consideration was we had just had our kiddo and I was working full-time, so I needed a program that would be flexible with my demanding schedule," Matt says. 
After finding the MADS program through Coursera, Matt says he thought it would be a great fit to satisfy all of his requirements. 
"The MADS courses are great," Matt says. "The organization of the courses and the abundance of materials are well beyond what most other courses provide, and the instructors are available and friendly on Slack." 
Students and faculty in the MADS program use Slack as their main communication platform, Matt says, creating an open environment where interaction is encouraged and ongoing. 
"Both students and instructors can create channels, and every course has its own channel," Matt says. 
I'm continually surprised with how engaged the faculty are. They truly love the program and the interactions they have with students, and it shows.
"That was the major concern I had when enrolling," Matt adds, "considering the program is entirely online. How would we communicate with faculty? Would there be enough communication? There absolutely is, and everyone is so friendly and willing to help." 
Like many other MADS students, Matt enrolled in the program with goals of enhancing his career skill set. Even a year out from his anticipated graduation in 2022, Matt says he's already using the skills he has developed in the MADS program on a weekly basis at work. 
Matt put his newly acquired skills to the test on a recent project. After writing a report that provided a high-level overview of his team's backup environment, the team was able to significantly improve the success rate of their backup jobs and negotiate for further investment in data storage expansion. 
For those who might be worried about the difficulty of managing a full-time job and the MADS program, Matt says it might not be as hard as you think.
"Being that MADS is a remote program, I've been able to balance my work and home life quite well," he says. "The Coursera platform is a web app, so you can use it pretty much anywhere. Additionally, there's a Coursera app on Android and iPhone that allows you to download lectures to listen to while driving or at work. Since the lectures are recorded, I can study whenever I have free time." 
Matt says he's been able to take one or two courses per month while working full-time, and the flexibility of the MADS program has been a major benefit. When not working or studying, Matt says he's hanging out with his child and partner, or spending time studying his favorite subject ⁠— math.