University of Michigan School of Information
Faces of UMSI: Rachel Cokeley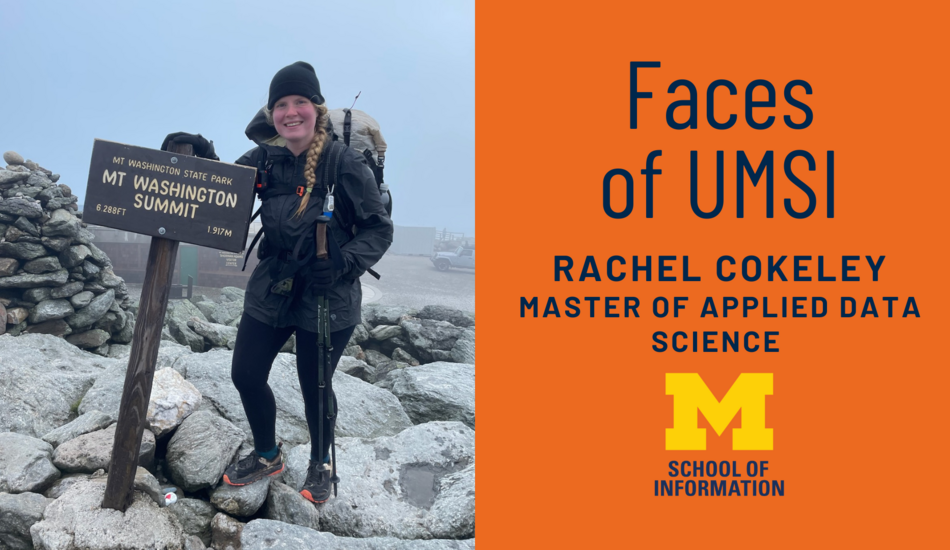 Master of Applied Data Science student Rachel Cokeley became interested in data science when she realized that she needed more of a technical background to tackle the business problems she wanted to solve. University of Michigan School of Information's MADS program has given her the skills to solve those problems and also communicate her results to stakeholders.
In this profile, Rachel discusses her favorite MADS courses, community in an online degree and the determination that allowed her to both successfully pursue a career in data science and thru-hike the Appalachian Trail.
Tell us a little about yourself.
I am from Charleston, West Virginia and currently live in Charleston. I completed my undergraduate degree at the University of Charleston majoring in business administration and minoring in graphic design. I completed an accounting internship at TC Energy, an oil and gas company, during my senior year of college and then accepted a full-time position as a business analyst with them. I worked in the business optimization department and really enjoyed working with the Microsoft Power Platform – Power BI, Power Apps and Power Automate. I became interested in Python and statistics and enrolled in the MADS program at the University of Michigan. 
This past summer I completed an internship with Dell Technologies, and I recently accepted a full-time remote position as a senior business intelligence analyst. My position will start June 5, one month after graduating from the MADS program. 
How did you first hear about the MADS program? What made you decide to enroll? 
I first heard about the MADS program while completing my online Python certification through the University of Michigan. I really enjoyed the online teaching style, professors, community and flexibility of the program. The flexibility of the program was the main reason I enrolled–I was able to defer my enrollment a year to thru-hike the Appalachian Trail and also take a semester off during the middle of the program to complete a data science internship. 
What is it about applied data science that interests you? How do you plan to use this knowledge?
I became interested in data science while working as a business analyst at TC Energy. I was frustrated with the limitations of low-coding tools like Power BI, so I taught myself Python and additional statistics. I realized that the business problems I wanted to solve couldn't be solved on these platforms, and I needed a more technical background. 
I am interested in applied data science because it's about understanding problems, using tools to solve problems and then communicating results to nontechnical users. My favorite classes I have taken in the MADS course are the data visualization courses and the "Communicating Data Science Results" course. I love using my graphic design knowledge to create effective data visualizations. I also really enjoyed the Causal Inference courses and "Data Science for Social Good" elective course.
I would say my strong suits are problem solving, networking with stakeholders and communicating results. I don't want a pure data science role and would prefer a hybrid business/data role, hence why I accepted a position as a business intelligence analyst.
Have you taken other online courses? How does the MADS program compare?
I have completed the python certification through Coursera. These online classes are very similar to the MADS structure.
Tell us about the ways you've been able to cultivate community among your peers and instructors.
When I first started the MADS program, I joined a beginner studies slack channel. I made a few acquaintances I have kept up with while completing the program. A lot of the students are on a similar track for graduation that you start with, so you will see familiar faces in other classes. Most MADS students try to help other students if they get stuck on homework assignments. I also try to attend office hours if possible. I plan on making a trip up to Ann Arbor to meet some professors in person!
Are there any projects (either at work or other activities) where you have been able to apply or benefited from what you've learned in your MADS courses?
I used a lot of the skills I learned in the MADS program during my internship. After only completing a semester of the MADS program, I was able to create data visualizations, communicate my results, create a random forest model, etc. The "How to be a Data Scientist" class taught me how to think through the problem they gave me over the internship.
Is there anything about the MADS program that has surprised you?
I was surprised how many resources are available to help you succeed. If you put in the time and show up to office hours when you need help, you can succeed in every course.
Can you tell us something unexpected about you?
I am a very stubborn and determined person. Due to the flexibility of the MADS program, I was able to defer my enrollment and complete a lifelong goal of thru-hiking the Appalachian Trail. When I decided I wanted to thru-hike the Appalachian Trail I had never backpacked before or even camped. I didn't know how to start a fire, filter my water, etc. But I finished all 2,193 miles by myself. When I decided I wanted to get a master's in applied data science, I didn't know how to code, I knew basic statistics, and I had never heard of machine learning. Now, I have a job offer from a major tech company. I am very grateful for the opportunities the MADS program has provided me.
Rachel expects to graduate in April 2023.