University of Michigan School of Information
Faces of UMSI: Ani Madurkar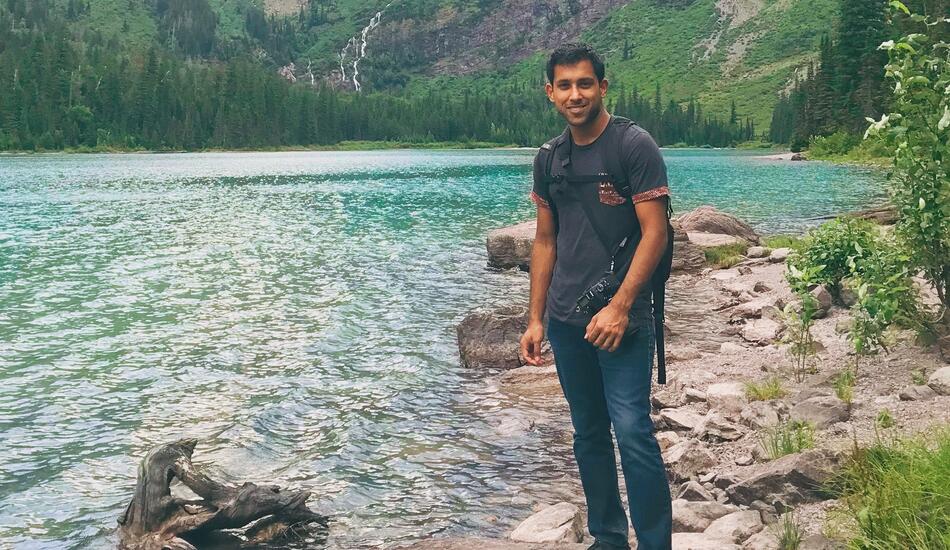 Ani Madurkar, an IT Data Analyst for Jackson National Life and part of the MADS 2019 cohort, is fascinated with storytelling and problem solving through data.
His interest in learning Applied Data Science peaked during a work competition where he and his colleagues were tasked with designing a sales solution for a client in just three exhaustive days. Madurkar's team lost horribly.
Appointed to serve as one of the team's technical leads, Madurkar said, "although I could understand complex algorithms quickly and how they connect to a potential solution for the business, I was nowhere near a true Data Scientist, which is what the team really needed." The experience inspired him to develop the hard skills he was missing.
Madurkar's introduction to data was during his undergraduate years studying philosophy at Wayne State University. He conducted neuroscience research at the School of Medicine, analyzing brain images to gather insight on psychiatric illnesses.
"That lab really set me down a different path because I found a deeper passion of working with data to experiment and critically solve problems in the world," he noted.
Madurkar revoked his medical school applications and began hunting for Data Analyst roles while teaching himself SQL. He landed his job with Jackson National Life and his passion continued to grow.
His current Data Analyst job, based in Okemos, Mich., involves consulting on data practices and telling data-driven stories with actionable insights to executives. Madukar intends to utilize his MADS education "to solve complex problems in the domains I'm fascinated by, and tell stories of these solutions to those who are in positions to create change in the world. The applications of this knowledge that I'm especially passionate about are Precision Medicine and Sports Analytics," he said.
Madurkar began researching master's programs after his work competition ended, and UMSI had just announced its MADS degree. It was the only program that had everything he was looking for: a reputed school online, a flexible schedule allowing him to continue work, a cutting edge research university and an applied focus.
To prepare for the program, Madurkar spent eight months and hours a day learning Python and Statistics. He was used to online learning after taking nearly 20 courses online about Deep Learning Specialization, Google Cloud Platform and Python 3 Specialization.
He started MADS during fall 2019 and has been taking two courses per month. Madurkar said, "It's the perfect pace for me to keep things challenging and also actually learn the content vs just speed through. I really love how innovative and engaging I've felt the content has been so far. It really is like no other education I've had before."
The biggest surprise of the program for him has been the connection he's formed with colleagues remotely. He's part of MADS Slack channels on Sports Analytics, Healthcare Analytics and Data Ethics. Investing the time in problem solving and networking with peers has proved rewarding.
Last year MADS students interested in Sports Analytics organized a trip to Portland to meet corporations and sports teams in the area and see what Data Science looks like in practice. Madurkar attended and noted: "It was an amazing trip, but the best part was the lasting friendships that came out of it. None of us had really met in person prior, but it was like meeting up with old friends simply because of the time each of us took to connect and help each other on Slack beforehand."
When he's not studying, working or getting to know classmates, Madurkar is behind a camera. He likes the way photography challenges him to experiment, think in multiple dimensions and create empathy through a new lens.
Regardless of the medium, Madurkar is invested in storytelling to create connection. "At the end of the day," Madurkar said, "no matter what role you're in, it's all about the value you're able to provide in the world around you."
- Kate Cammell, Writer UMSI