University of Michigan School of Information
Claire Weadock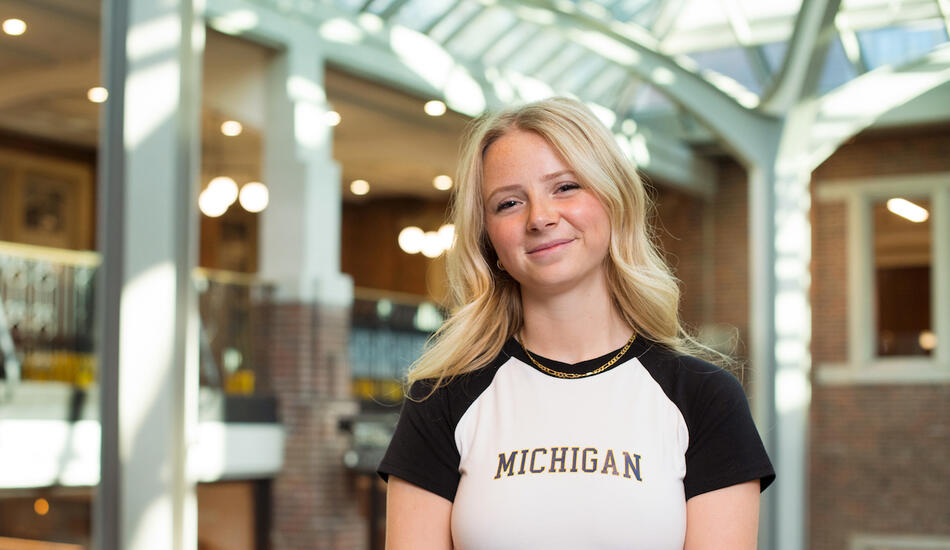 Alpha Theta Delta (ATD) featured member: Claire Weadock, vice president of membership
Degree: Bachelor of Science in Information, '23, focusing on Information Analysis 
Home: Ann Arbor, MI
Goal of organization: ATD is the University of Michigan's professional fraternity for multidisciplinary design, meaning that we focus on design in a wide range of media. We spend time learning from each of our members and their own design experiences, which include a lot of virtual design such as user experience, website and app interface design, along with physical design in terms of engineering and architecture, photography and other forms of art. We strive to empower our members with a solid foundation of versatile design skills that can be utilized in the real world.
Why I'm involved: While I love coding and the technical aspect of the Information Analysis path, I really wanted to be part of a more creative/design-oriented organization and I found that with ATD. I also love that the other members are involved in so many other types of design that I've been introduced to; it's really inspiring. The brotherhood is so close, and I feel like I'm actually gaining something from each chapter meeting, whether that may be from a resume workshop or internship Q&A panel, or through a workshop by another brother where I'm introduced to new skills and technologies, like Figma or React. 
Membership: Absolutely anyone can join. At Alpha Theta Delta, we focus on attracting and developing people of all grades and majors who share our passion for community, impact and creativity. We currently have a close-knit brotherhood of about 61 members.
Noteworthy: ATD is the second design-focused fraternity in America, encompassing principles that will educate future designers in digital and industrial aspects of tomorrow. 
A good reason to join: We offer you the opportunity to transform your views and the world around you. That could be through project work, upskilling yourself, championing inclusion, or getting involved in the community, to name just a few. Our people value different perspectives. They care about current events and shape the future.
Important events/activities: Weekly chapter meetings and workshops unite our brotherhood, as well as a variety of hands-on events like sushi-making, collaborative design jams, and more, to enhance the ideas of what design can be for you.
Meetings and activities: We have a weekly chapter meeting with exec board updates, usually a designer shareout from a brother,  and then a group project or workshop. We also have social events about once a month. Last semester, we did pumpkin carving, sushi-making, bar nights, and a formal in downtown Ann Arbor, all of which were super fun. This coming semester, we are planning on more social and professional development events, as well as a fundraising activity. 
Time commitment: Typically, about three hours coming to chapter each week, plus any additional time on personal projects for a designer shareout.
Interesting project: Last semester, I worked with two other brothers and we designed a mock ordering app interface for a local coffee shop. I really enjoyed this project because it was my first time using Figma, so I was able to develop a new skill through it.
How to get involved: We have two recruitment seasons: fall and winter semesters. The process consists of attending a mass meeting, submitting an application, and then invite-only design sprints and interviews. The design sprints are a way for us to see how you think and interact with others, as well as for you to get a taste of what ATD is about, while the interview is to get to know you more and see if you would be a good fit with us.
More information: You can contact us through our website or through our instagram @alphathetadeltaumich.