University of Michigan School of Information
Faces of UMSI: Emily Trumpower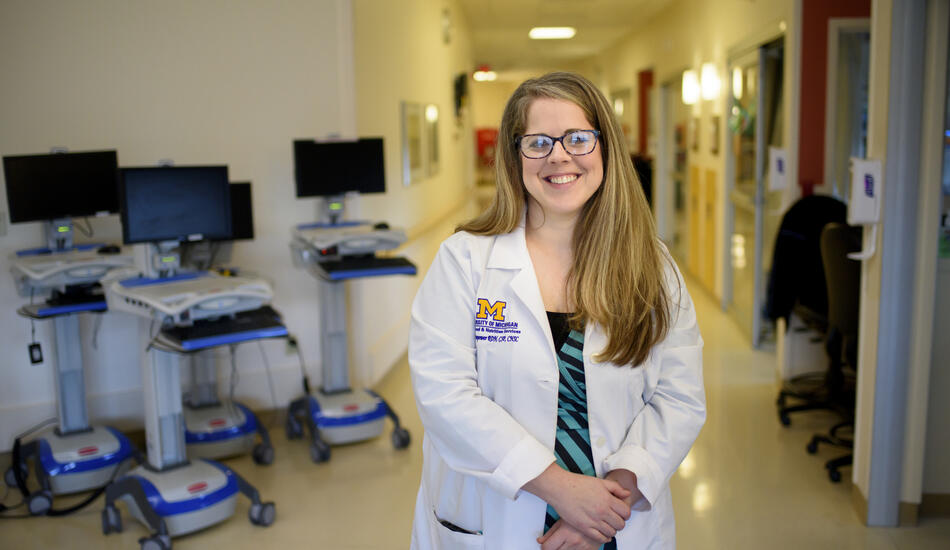 Emily Trumpower is learning how to use data analytics to improve NICU care.
Emily Trumpower had worked as a NICU dietitian for over a decade when she realized a problem in her field could be solved by health informatics. 
When working with adult patients, it is easier to conduct research. "In adult medicine there's a lot more things that are very concrete. You study them, you have an outcome, and this is how you practice," Emily said.
When working with infants, it wouldn't make sense to set up a randomized control trial in which one group of infants receives a type of care and another does not. Instead, there is data. Years of data, in Emily's case. Emily decided to get her MHI so she could do something good with it. 
Emily chose to become a dietitian while working towards her pre-med degree at Bowling Green State University. She initially imagined herself becoming some sort of doctor. She, like many who aim to become doctors, wanted to help people. 
After taking her first nutrition class as an elective and talking with her RA who was studying to become a dietitian, Emily realized there was a way to help people that would be better suited to her. Emily found the nutrition class intriguing in its own right, but also had a personal investment in nutrition at the time. "I went into it thinking I would do your standard nutrition counseling, weight loss management," Emily said. "Obesity is pretty strong in my family so I was personally trying to fight against that."
When fulfilling her internship requirement to become a dietitian, Emily had her first experience with pediatric nutrition. Emily grew discouraged by adult nutrition and the noncompliance of the people she wanted to help. Meanwhile, babies are cute, and caring for them requires some skills Emily likes to use. "To take care of infants nutritionally involves a lot of math and exact calculating; I really liked that," Emily said. 
After receiving her certification as a Registered Dietitian Nutritionist, Emily accepted a fellowship in neonatal nutrition at Baylor College of Medicine. During this fellowship, Emily had her first opportunity to work with premature infants specifically. It became her passion. 
Following her fellowship, Emily worked as a NICU dietitian at Driscoll Children's Hospital in Corpus Christi, Texas. "My hospital in Texas was a single standing children's hospital, it didn't have all of the resources that are at Michigan Medicine," Emily said.
Emily came to Michigan Medicine in 2012 because, as she began to have children, she wanted to be closer to her family in Ohio. She continued to work as a NICU dietitian during her first pregnancy, and had to remind herself of how many deliveries go right, because she saw so many families struggle with the challenges of premature births. 
As Emily worked as a NICU dietitian, she grew intrigued by the data she recorded. She talked about her curiosity with friends and coworkers, and learned of health informatics, and the MHI program. "I was like, oh, I didn't even know that was a thing. Yes, that's exactly what I want to do," she said. 
Since entering the program, Emily has learned of the many applications of health informatics beyond clinical health informatics, applications she didn't previously consider. "Everyone in the program has such different backgrounds," Emily said. 
Emily has been involved in a variety of research projects regarding premature infant health at Michigan Medicine since 2013. "The types of research I am involved in haven't changed yet," Emily said. "But the way I do research has changed as I develop more skills into data mining and data management."
For her internship, Emily is working to build a dashboard that communicates the status of quality improvement (QI) projects to leadership and care providers in the NICU. The team she is serving currently relies on paper. Emily and a clinical information specialist are making more information sharing possible by helping the team switch to a paperless approach. "It has given me insight into what kinds of data my unit is interested in and what they're doing in the background of QI projects," Emily said.
Emily has two sons: Liam, who is almost ten and Declan, who is three. Currently she is working full time, working towards her MHI, working the internship requirement for her MHI, and raising two children with her husband. In her free time, she likes to run. "If you have the right work environment, going to school and working is totally possible," Emily said. 
After graduation, Emily hopes to use her data analytics skills to continue to improve NICU care. "I would really like to work for MiChart or as a data analyst," Emily said. "I want to stay in the NICU world though." 
You can do what they're doing! Sign up for our interest list to receive:
Invitations to exclusive information sessions and events
The opportunity to chat with current students
Tips and advice for creating a successful application
Reminders for important deadlines