University of Michigan School of Information
Faces of UMSI: Alexis Castellanos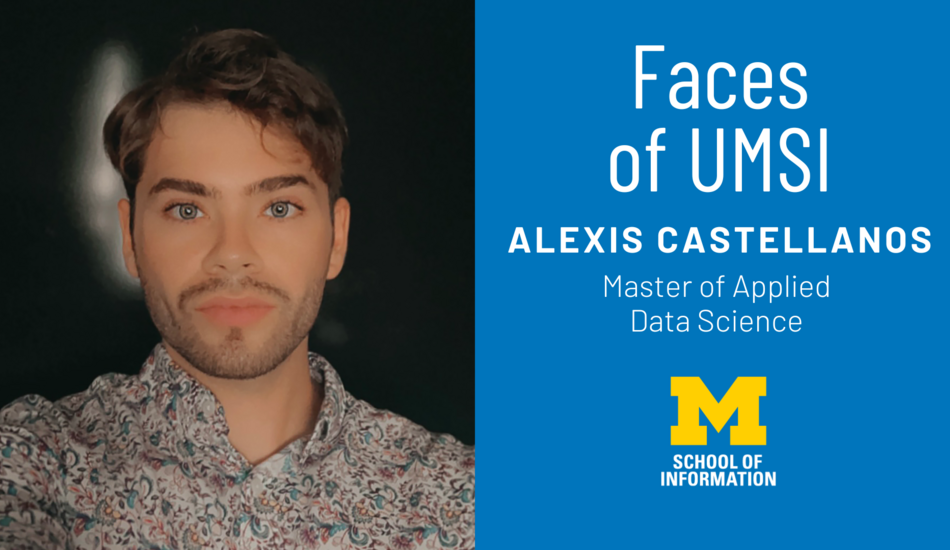 Alexis Castellanos enrolled in the University of Michigan School of Information's Master of Applied Data Science program a month after receiving his bachelor's degree so he could jump start his data science career. As a graduate student instructor, he has been able to cultivate a community of learning with his peers and deepen his own learning in the process. 
In this profile, Alexis discusses earning an Outstanding Graduate Student Instructor Award and other aspects of his experience in the MADS program.
Tell us a little about yourself.
I was born in Tijuana, Mexico. My family immigrated to Detroit, Michigan in 2003. I started second grade in the Detroit public school and continued my education in the Detroit public schools through 12th grade. After high school I started my undergraduate journey at Henry Ford College where I earned my associates degree in pre-engineering. Then, I transferred to the University of Michigan-Dearborn where I earned my Bachelor of Computer and Information Science. While at U-M Dearborn I worked in IT for the university. Previous to that job I worked in IT at Creative Solutions, a consulting technology company. All the while I have continued to live in Detroit. 
How did you first hear about the MADS program? What made you decide to enroll? 
I first heard about MADS through a friend who was studying at UMSI. I decided to enroll because I had just completed my undergraduate degree in computer science and knew that I wanted to jump right into data science. It's funny–I graduated from undergrad in December 2021 and started MADS in January of 2022. I didn't take a break. I've enjoyed the opportunities to work with big data and uncover meaningful insights. I plan to use the knowledge I have acquired through MADS to launch my career in data science. 
When do you expect to get your degree?
I am currently in the final stretch of my last semester to earn my MADS degree. I am expected to earn my degree in April 2023.
Have you taken other online courses? How does the MADS program compare? 
I have not taken other online courses. The MADS program was my first experience with online coursework/curriculum. I've found the structure of the modules to be focused with great learning objectives. 
How are you balancing school with work and home life?
I am currently employed as a graduate student instructor. I find it easy to balance school with work and home life because I love teaching and helping so it doesn't feel like work. I also benefit by teaching as it reinforces my learning and helps me to create new connections and find new areas of learning. 
Can you describe some of your experiences as a graduate student instructor?
It has been extremely rewarding to help students through my graduate student instructor role. When I was awarded the Outstanding Graduate Student Instructor Award I was honored and humbled. The role has given me the opportunity to explain difficult concepts in simpler terms and has challenged me to make sure I understand topics well enough to teach them. For those reasons I have dedicated a lot of time to creating meaningful material to present in my office hours. 
Tell us about the ways you've been able to cultivate community among your peers and instructors.
I have been able to cultivate a community of learning and positivity with my peers and instructors as a graduate student instructor. I've hosted office hours where I get to directly support my peers. I've also been active on Slack and LinkedIn where I've gotten to share more about myself and learn about my peers. I've also used Milestone I/II and the Capstone to work closely with my peers to accomplish successful research. 
What have been your favorite aspects of the role?
I enjoy the opportunity to work closely with the course instructors where I get to learn from them and share feedback with them. The role allowed me to be an advocate and supporter of my peers and my own learning. For an online program, MADS has so many ways such as GSI positions for students to feel connected and engage with the program. 
Are there any projects (either at work or other activities) where you have been able to apply or benefited from what you've learned in your MADS courses?
I hope to benefit from what I have learned in MADS through my career. Ever since I have joined MADS I have had many opportunities such as through milestones and capstone to showcase what I have learned.
Is there anything about the MADS program that has surprised you?
One thing that has surprised me about the MADS program is the value and amount of learning in 1 credit hour. When comparing 1 credit hour to undergraduate credits I have felt like I learn a lot more in the MADS single credit hour. 
Can you tell us something unexpected about you?
I never imagined I'd ever go to college let alone be graduating from a top university with a graduate degree. I am a first generation college graduate so it's been really remarkable pushing myself and setting a standard for my community and family.