University of Michigan School of Information
Faces of UMSI: Stephen Ontko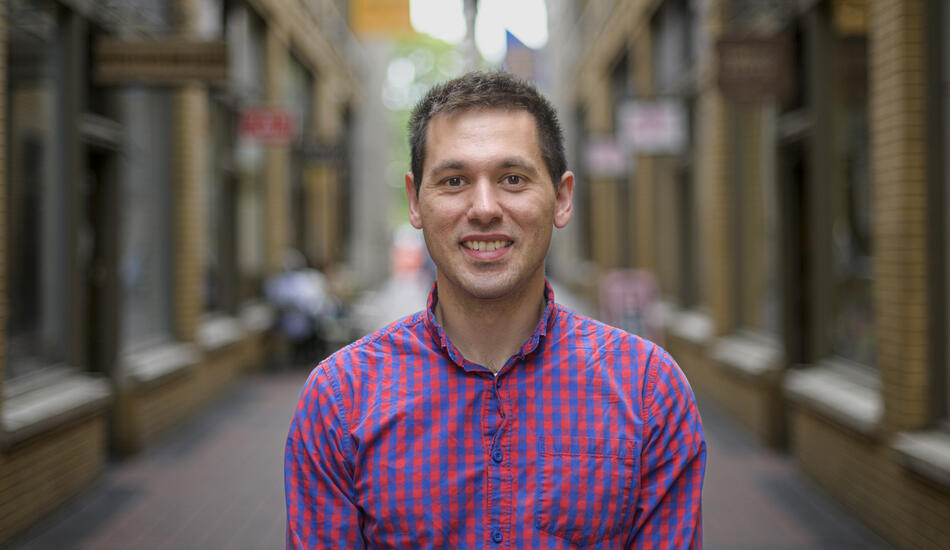 Master of Applied Data Science student Stephen Ontko discovered the MADS program while working as a business intelligence analyst at the University of Michigan School of Information (UMSI). In this profile, Stephen discusses how he has applied his coursework in his job at UMSI, found community in the MADS program and leveraged his data science skills into a new position as assistant director - data operations Analyst at Moody's Analytics.
How did you first hear about the MADS program? What made you decide to enroll?
I found the MADS program when searching for formal education that both related to the job experience I've gained working with data while also expanding the scope regarding how I work with data. In particular, I wanted to analyze and use data in order to accomplish goals and make decisions, not merely process data. 
What is it about applied data science that interests you? How do you plan to use this knowledge? 
I plan on developing data models in order to better understand the relationships and composition of the data I'm analyzing, such as financial data. Then, once the data relationships and metrics have been established, communicating the findings in an informative and effective manner. 
Have you taken other online courses? How does the MADS program compare?
Right before I even knew about the MADS program, I was taking Coursera Python courses, as some of my job tasks were better suited for Python over other reporting tools I was using. This helped me get acclimated to the Coursera format MADS utilizes, with MADS delving further into the academic content through lectures.  
How far along are you in the program? When do you expect to get your degree?
I expect to complete the MADS program in a year. Most of my remaining coursework are the milestone and capstone courses, so it really feels close - as if I were making a mad dash toward the MADS finish line.
Tell us about the ways you've been able to cultivate community among your peers and instructors. 
Slack has been a great way to foster discussion and reach out for support in the program. I also appreciate the MADS Michigan meetups - that has been the main way I've been able to meet peers in person, and I was heartened to see, from a quick Slack search, a few such groups across the U.S. and around the world. Given everything being virtual, I think being able to meet with peers in person helps make the program a little less ethereal and helps create a more tangible MADS community. 
If you're currently employed, how are you balancing school with work and home life?
I recommend taking one class a session, especially if you want to delve into and savor the material and not feel rushed completing assignments. Also, dive head-first into every course session and never procrastinate.  
Are there any projects (either at work or with outside activities) where you have been able to apply or benefited from what you've learned in your MADS courses? 
One area I've applied expertise from MADS has been stock price trend forecasting for both in and outside course projects. MADS was able to expand my understanding of time series analysis quite considerably for these tasks. One project entailed identifying topics from social media posts as a parameter to identify stock trends, a task I never would have even dreamed I'd be a part of before joining the MADS program.
Is there anything about the program that surprised you?
I appreciate the holistic approach the MADS program has undertaken toward data science. In addition to the data processing, pattern recognition, modeling and statistical aspects one might expect, further coursework delves into the presentation and ethical implications of data science, allowing students to become well-rounded as they apply their studies into practice. The ethical considerations, while often overlooked in the public domain, are no less important. Just like with Jurassic Park and the dinosaurs, with scientists being so preoccupied with whether they can bring dinosaurs back that they don't ask if they should. The same consideration needs to be made with data science - not to be so preoccupied with whether data sets and models can be used that the question of whether they should be is ignored, especially as their usage can have profound implications for individuals' personal wellbeing.
Can you tell us about something unique or unexpected about you? 
I'm trying to learn how to Gregorian Chant at church for Compline prayer right now. It's difficult for me - I'm not musically inclined. I also have difficulty understanding Latin.
Tell me about your experience earning your MADS degree while working for UMSI. 
As a staff member, I really enjoyed being a direct channel of feedback to UMSI staff about life as a MADS student while simultaneously applying what I've learned in MADS toward my work.
What did your role at UMSI entail? 
My role entailed either pulling data for reports or creating dashboards across various departments at UMSI. The data provided in the reports and dashboards included areas such as enrollment, budget, personnel and course registration, so as to provide UMSI units an overview of operations within the school. Additionally, I helped provide reporting on general UMSI metrics to survey organizations who specialize in monitoring engineering and data science research organizations.
Were you able to apply any lessons/skills from MADS coursework in your role at UMSI? 
There were definitely data processing and visualization techniques I learned from MADS coursework which I directly applied during my tenure as a UMSI staff member. Given the large quantities of data in the University of Michigan's database, there were requests I simply would not have been able to accommodate had it not been for the knowledge I gained in Python from the MADS coursework. Furthermore, MADS lectures on data visualization provided insights regarding how to create dashboards which were visually pleasing, informative and intuitive.
What did you use to your advantage from MADS while interviewing for Moody's? 
I was able to leverage both the technical and collaborative nature of the MADS program to aid in my interview at Moody's. As a MADS student with domain knowledge in capital markets, I was able to couple the technical skills I have acquired, such as Python, with the group projects incorporated into MADS, such as the Milestone courses, in order to demonstrate my ability to work in a team environment. 
What are you most looking forward to about working at Moody's?
I'm really looking forward to working with current financial data and models and to see how financial markets fluctuate, especially given all of the headwinds we're currently seeing globally. 
As both a staff member and student at UMSI, what do you value most about the community here? 
I admire the hard work and dedication of the faculty, staff and students at UMSI, who foster an environment of inclusion, respect and personal growth with the goals of harnessing the power of data to meet the global challenges of our age.