University of Michigan School of Information
Faces of UMSI: Allan Martell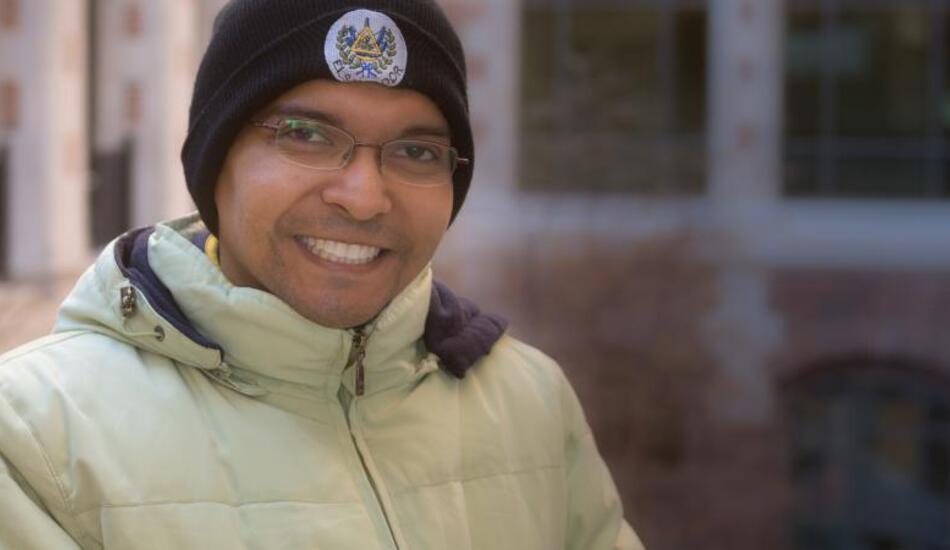 Allan Martell is working at the intersection of technology and human rights to share collective memory in post-conflict societies.
At UMSI, PhD student Allan Martell's work on collective memory in post-conflict societies builds on the interest in technology and human rights that led him here.
Allan studied journalism as an undergraduate and later headed to Georgia Tech on a Fulbright Scholarship for a master's degree in digital media. Upon graduating, he returned to El Salvador, where he trained Central American journalists about digital security, from using better passwords to adjusting to protocols for verifying identity in online chats.
At the back of his mind, though, was a field he had learned about from a Georgia Tech professor: Information and Communications Technology for Development (ICTD), which explores how these technologies work in low-income, low-infrastructure contexts. The professor, Michael Best, a leader in the field, knew some scholars at UMSI, so Allan looked into the school. When Allan discovered that two UMSI professors—Joyojeet Pal and David Wallace—had a project that involved human rights in El Salvador, he decided to apply for the PhD program here.
Coming from El Salvador—a country whose nearly half century of military dictatorship culminated in a 12-year civil war that ended in 1992—Allan's interested in human rights is longstanding. 
Once he arrived in Michigan, he began working with professor Margaret Hedstrom on projects involving collective memory—"the way that societies remember the past"—in post-conflict societies. 
His pre-candidacy paper, which focused on the collective memory of guerilla members and their supporters from the Salvadorian civil war, looked at an archive of oral histories of a rural community in El Salvador through Grounded Theory.
"One of my concerns and probably one of the reasons I decided to use Grounded Theory is, the literature in El Salvador basically focuses on secondary sources," he explains. But he wanted to go back to the people at the ground level and look at their stories, and the collective memory those stories reveal, firsthand.
Allan, who plans to go into academia, intends to continue to focus on collective memory in El Salvador in his dissertation. Sharing collective memory can be a big concern in countries like El Salvador, with 25 to 30 percent of its population in diaspora, including many people in the US, he says.
"Diaspora, especially people who were born here, don't really have access to the stories of their own country because their parents don't want to talk about them," he explains. Since collective memory is an important marker of group identity, "it's a tremendous loss in terms of identity and heritage."
That's why Allan wants to explore ways to share these group memories online. To this end, he has earned a certificate in museum studies from U-M alongside his doctoral studies. "I think if the archives are the way to ensure that you preserve memories, museum exhibitions can give you an idea of how to represent the memories," he says.
He hopes his understanding of how museums represent collective memories physically will help him find ways to represent them digitally, a less developed area of study.
In a similar vein, he and a group of colleagues have been working on a paper looking at technologies of representation--"computational systems that are designed in partnership with a community in the Global South to capture the ways in which this local community perceives its own self" socially, economically and politically. They're in the process of submitting that work to a conference.
This student has graduated! This information was accurate at the time of publication.
You can do what they're doing! Sign up for our interest list to receive:
Invitations to exclusive information sessions and events 
The opportunity to chat with current students 
More in-depth information about our degree programs
Tips and advice for creating a successful application 
Reminders for important deadlines