University of Michigan School of Information
Faces of UMSI: Carl C. Haynes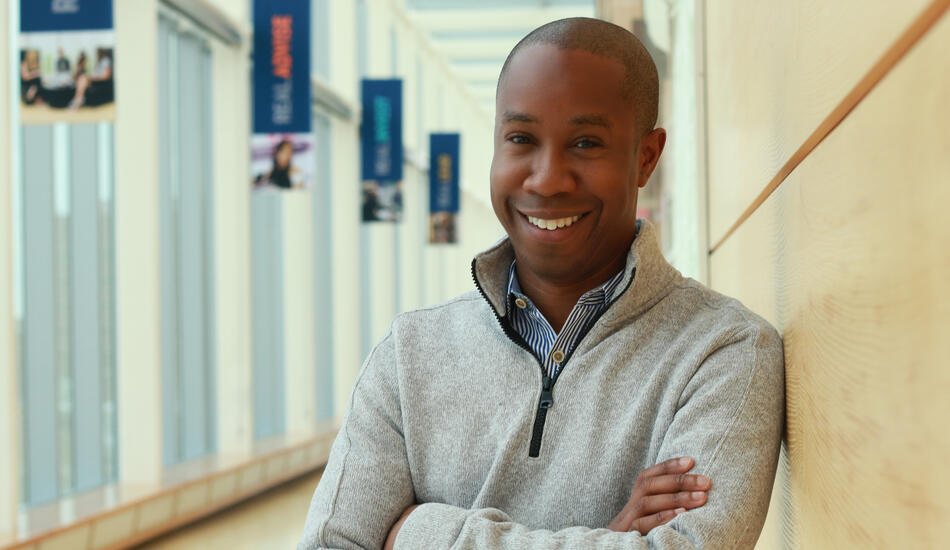 PhD candidate and Rackham Merit Fellow Carl C. Haynes goes where his curiosity takes him, which is how Carl says he ended up studying learning, information, and Human-Computer Interaction (HCI) at the University of Michigan School of Information.
Born and reared in New York City, Carl began his academic career earning a bachelor's degree in English with a concentration in writing from the College of Staten Island CUNY. He landed a part-time job at the college's library to help pay for his degree and developed an interest in library and information science while working with Chief Librarian and Professor Wilma L. Jones, whom he still considers a mentor.
"While working at the library, I got to explore different areas through circulating microfiche, microfilm, and periodicals, reimaging laptop computers, and managing databases," he said, "Working with Wilma, I learned how to bridge information with service by volunteering for Nah We Yone"—a non-profit organization that provided culturally informed programs for the children of African refugees and asylum seekers.
From there, he went on to earn a Library and Information Science (LIS) master's degree from Syracuse University's School of Information Studies. Carl developed an unyielding interest in research related to learning, information, and HCI while taking courses, working at Bird Library to serve people with different information needs, administering a learning management system for the Institute for Veterans and Military Families, and engaging in research on assessment and instructional design with Dr. Megan J. Oakleaf. He also served as LIS student representative and worked with the Library and Information Science Student Assembly to host a mini-conference called Day of FiTs (Filling in the Spaces) that "offered students a chance to explore ideas and topics that were outside of the traditional library science curriculum".
Carl visited UMSI for the first time as part of the Research Experience for Master's Students (REMS) summer program, where he was inspired by the breadth of research areas. While researching a topic in Human Information Interaction and Retrieval (HIIR) with Dr. Soo Young Rieh, Carl realized the next step of his journey for the first time and applied for doctoral programs in the fall. His hard work that summer resulted in the publication of his first conference paper.
He likes to say that, "If someone told me when I was younger that I'd be getting my PhD, I would laugh, but I would believe them because I've always wanted to go far." Carl is a first-generation college graduate.
Here at UMSI, Carl is researching how people learn to program. He uses human-computer interaction, information science, and learning analytics to try and improve tools developed for learning and assessment—with an eye toward accessibility for all kinds of learners and neurodiversity.
"Learning to program is like learning a language and like learning how to write, which I've studied as well as developmental psychology and neuroscience. In a lot of programming courses, when you learn how to code, students are asked to write code from scratch—a task that can be cognitively demanding."
Instead, Carl and Dr. Barbara J. Ericson are investigating how to scaffold students' learning using code writing problems and "adaptive Parsons problems"—a type of puzzle that requires learners to place mixed-up code blocks in the correct order in order to solve them.
"What they have to do is sort through code blocks and arrange them in the right order. It's a unique way to teach programming to beginners that I am helping to further develop. The idea is that students can learn the basics of a programming language more efficiently and have the system adapt to them to keep them in the 'zone of proximal development.' We use past performance, distractors, and help-seeking features to scaffold their learning. I take an ability-based learning approach."
Carl spent the fall semester preparing conference papers on his research findings, mentoring undergraduate researchers, and instructing a graduate-level UMSI course—Fundamentals of Human Behavior—in which he taught a module on memory, learning and individual differences. A long-term interest in learning, philosophy and the Socratic method make the classroom one of his favorite places and he hopes to continue a career in academia after he receives his doctorate.
"I taught a Needs Assessment and Usability Evaluation course where students worked on projects with clients inside and outside of the university. It was great because it had an immediate real-world impact. You'd hear how the students interacted with companies like Google or a local company and learn about how their work had a positive impact on the development of a new or existing service or product."
"I experienced something similar as a master's student at Syracuse, where I worked with a group of peers to draft a plan for Onondaga County Public Library's new makerspace. Our work aided the library in being invited to apply for a $150,000 capital grant."
This semester he's serving on the SSD (Services for Students with Disabilities) Director's Student Advisory Board, mentoring LGBTQ+ students for the Spectrum Center's MaPPS (Mentorship and Professional/Personal Support) program and mentoring  incoming doctoral students at UMSI while continuing his research.
When he isn't doing research or teaching, Carl likes to keep up his many hobbies. A former cross country runner and editor of a literary magazine in his undergraduate years, Carl says he spends his free time "reading, writing, and doing HIIT (High-intensity interval training) workouts with his partner."