University of Michigan School of Information
Faces of UMSI: Kathleen Marinan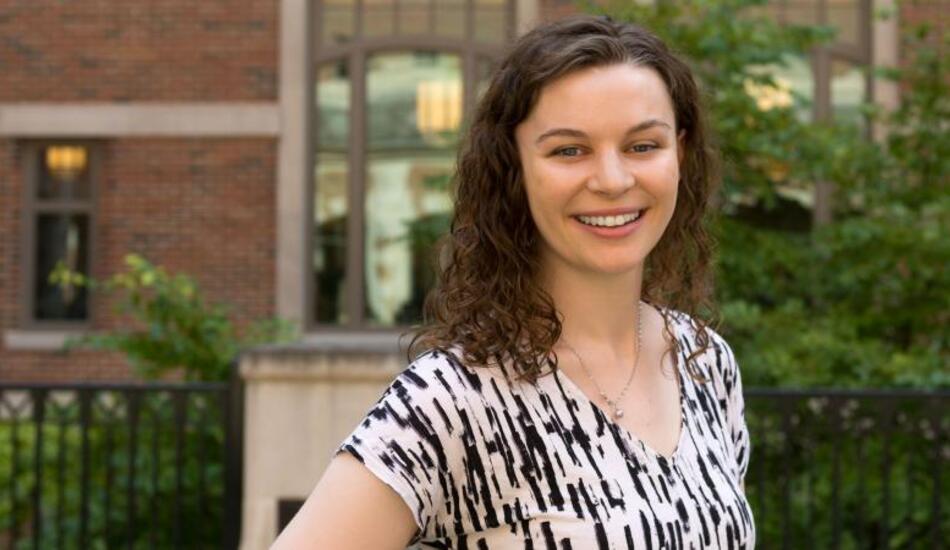 With a B.S. in Bioinformatics from the University of Pittsburgh, Kathleen entered the MHI program with a broad foundation in biology, computer science, chemistry, and statistics.
Following her sophomore year, Kathleen completed a summer research fellowship with her university's Models of Infectious Disease Agent Study (MIDAS), in which she analyzed disease infection models to assess the cost-effectiveness of different tropical disease interventions.
Throughout her junior year, Kathleen continued to work with MIDAS to evaluate the value of a proposed mode of application for the influenza vaccine, and ultimately found her work included in a publication in the journal Vaccine.
However, it wasn't until her internship with Explorys, a healthcare data analytics company, after her junior year that she was drawn into the healthcare space.
At Explorys, Kathleen started to work with healthcare data and to see glimpses of the problems facing the healthcare industry, including matters of interoperability and data sharing between different healthcare organizations.
"Working with Explorys, I realized that I didn't have a solid background for all the [health informatics] issues that the company was dealing with," Kathleen said. "I found this program, and I figured that it was a really exciting space, with lots of opportunities. The MHI had the mix of theory and application that I was looking for – it not only provides context around the issues but also prepares you to implement solutions."
As a second-year MHI student, Kathleen is focusing on data analysis and data policy. She plans to work within the clinical data space, taking existing data and making it possible for others to utilize the data for analyses, visualizations, and aggregations. She also animatedly discusses the topic of data integrity, explaining how her electives in UMSI help her integrate these ideas into her work.
"There's so much data out there," Kathleen explains. "But how much of it is noise? How much of it is actually meaningful? How much can we actually leverage and make sense of to make people's lives better? Or to drive down costs, or to make it actionable?"
Kathleen considers these ideas at large and looks for ways to connect them to her work within the healthcare domain.
"We all recognize that healthcare is a big space," Kathleen says. "There's room for everybody to succeed. There are a lot of problems that need to be solved, and everyone brings a unique perspective to the table."