University of Michigan School of Information
Faces of UMSI: Danielle Culberson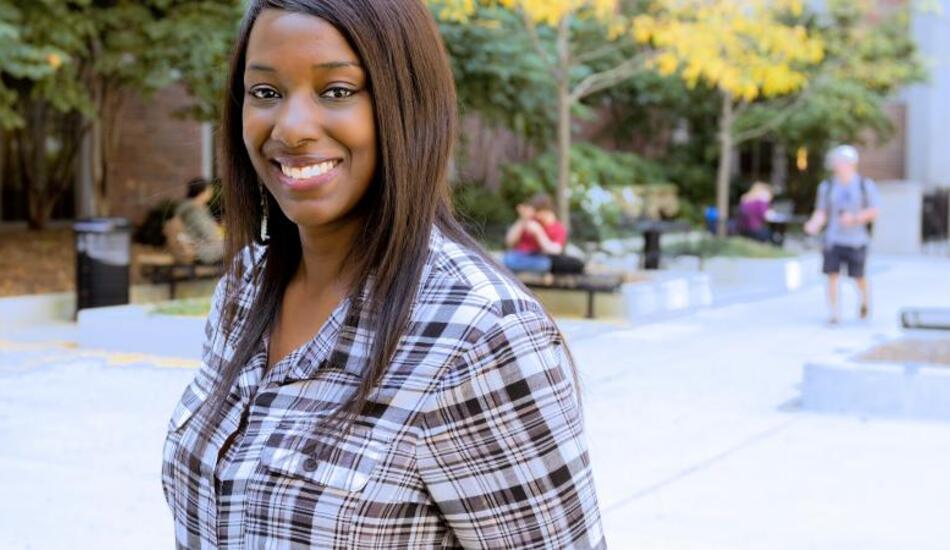 Michigan native Danielle Culberson began her journey into health informatics while working at Blue Cross Blue Shield. After graduating from Northwood University with a degree in Advertising Marketing Management, Danielle accepted an opportunity to work in retail and banking before joining Blue Cross Blue Shield in May of 2013.
At Blue Cross, Danielle specialized in working with State of Michigan and retired teachers contracts. She recalls receiving inquiries from customers asking about their healthcare plans, many of whom did not understand how their plans were determined and why certain services were considered benefits, and others not. 
"I would tell customers to speak with their employers because that's who made these decisions," Danielle said. "But when I thought about it, these decisions really come from an insurance perspective, and I was thinking, 'Who really makes these decisions?' and 'Why did they make them?' That led me towards health informatics because you need information to make these decision, whether it's about pricing, benefits or something unrelated to insurance and part of medicine as a whole."
With a developing interest in informatics and little opportunity to explore the field within that position, Danielle began exploring options for graduate studies in health informatics.
"I was looking at the MHI website which explained all the changes in the medical field and what we could do to be on the cutting edge of these changes," she recalls. "And it just made a lot of sense to me. Plus, with the students, professors and U-M being one of the best research universities in the world, why wouldn't I take advantage of this opportunity? So that's exactly what I did."
Danielle explains that after working at Blue Cross Blue Shield, she had the advantage of understanding how informatics plays a role in the current healthcare landscape, which inspired her to consider how it can be used to improve healthcare services. 
"Just dealing with the changes in healthcare and dealing with patients, customers, doctors and clinicians helped me realize the value of informatics," Danielle says. "It's still such a wide open field that innovation is needed. It's also not just limited to one specific field in medicine, but rather it's applicable to community hospitals, physicians' groups, pretty much anyone affected by medical information."
She explains how health informatics also appeals to her for its strong analytical element, citing one of her classes this semester which will provide her with the tools and training to manage data in Microsoft Excel and Access.
"In my previous positions, I was in more of a do-er role, than an analytical role," Danielle explains. "But I wanted to know more about where information was coming from."
Outside of class, Danielle works as a Research Assistant for the U-M Medical System's Interpreter Services Division, where she gathers data on the translation services offered through the U-M hospitals. 
"I look at whether there's growth in any of our services," Danielle explains. "This involves looking at charts and creating visualizations for our usage rates. Just seeing the changes in the growth of information – that's what inspires me to keep going, because it's always changing."
This spring, Danielle will be attending a convention hosted by the Health Information and Management System Society (HIMSS), which will be held in Las Vegas. She is serving as a program assistant for the event, helping to host more than 25,000 attendees, which include vendors, physicians, and professionals in the medical field.
While still a first-year student in the MHI program, Danielle envisions working in data analytics or consulting after graduation.
"Even if I'm not gathering the information, I would want to work with information and see how it can be used to help clinicians, customers, insurance companies and hospitals," Danielle said. "I want to create better situations for them because with so many changes in the health field, any type of information that can be used to give you an advantage will be useful."
Next year, your profile could be here! Sign up for our interest list to receive:
Invitations to exclusive information sessions and events 
The opportunity to chat with current students 
More in-depth information about our degree programs
Tips and advice for creating a successful application 
Reminders for important deadlines