University of Michigan School of Information
Faces of UMSI: Dane Jacobsen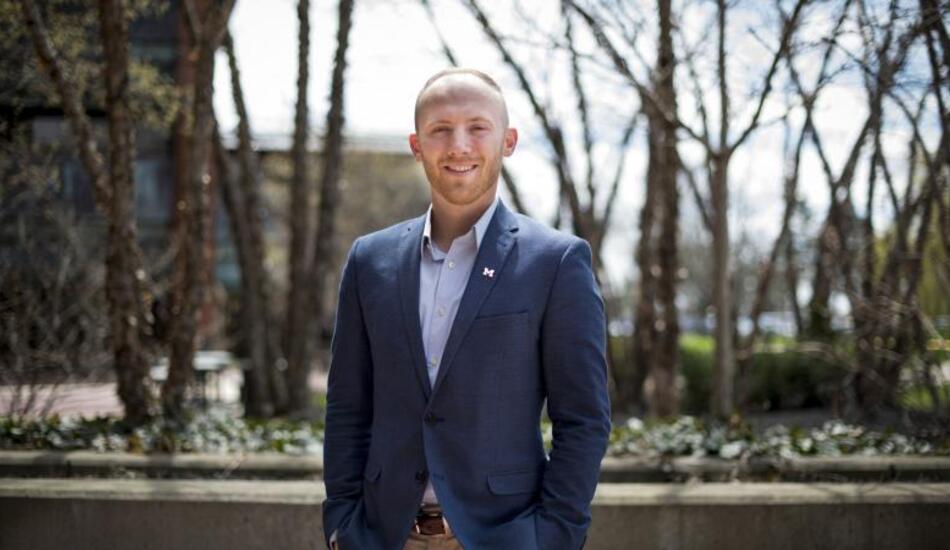 In 2016, Dane Jacobsen moved with his wife and two-month old son to Ann Arbor from Utah to pursue his MHI. Since, his course load and family have grown. He is now working towards a dual degree and is the father of two boys. 
Dane first realized he wanted to work in the healthcare industry as an undergraduate at Brigham Young University (BYU) when he attended an executive lecture series that illustrated the link between the business and healthcare realms. "It blew my mind that there was this world of the business side of healthcare that I hadn't really considered before," Dane said. 
As an undergrad, Dane was able to work as a Patient Experience Intern for Intermountain Healthcare and as an Internship Coordinator for HCA Healthcare through a partnership between the healthcare providers and BYU. "That really solidified my desire to be in the healthcare industry," Dane said. 
After graduating from BYU, Dane worked for Revere Health—a large multi-specialty medical group—in a rotational leadership development program. "One of my rotations was in data analytics, and it was there that I was able to glimpse the potential of data and technology to transform healthcare," Dane said. Dane decided that to be an effective leader in an increasingly-digital industry he would need to gain technical knowledge and skills.
The University of Michigan provided the perfect blend of what Dane was looking for: a progressive health informatics program and a prestigious program in health services administration. Dane was accepted to both with the intention of pursuing a dual MHI/MHSA degree. However, this combination of degrees had never been attempted before, and Dane was initially was told he needed to choose one or the other. "I decided to come to the University of Michigan anyway," Dane said, "determined to create the educational experience I was seeking." He enrolled in the MHI program, and during his first semester put together a proposal for the dual degree. The proposal was approved by both programs.
Though doing a dual degree lengthens the amount of time before graduation, it's worth it to Dane to learn as much as possible about the healthcare industry, including health informatics. "It is very important for me to understand how computers work and how data is structured and organized to be able to make good decisions," Dane said.
In SI 506, Dane learned about recursion, the instance of a function calling itself. He saw a connection between what he learned in class and a book he read for fun— Jurassic Park. This connection slightly altered how Dane sees the world. "I want my life to look like a fractal," Dane said. "I want to be the best possible version of myself today, and have that scale out. When I reflect back over my life, I want it to look like a decade, which will look like a year, which will look like a month, which will look like a week, which will look like a single day."
To interact with his peers in a non-academic environment, Dane has joined a variety of intramural teams. He has played volleyball, soccer, ultimate frisbee and softball. "It's a way for me to build relationships with my peers, and my family can come to the events," Dane said. 
In the summer of 2017, Dane worked as an Administrative Intern at the Cleveland Clinic in Ohio. There he led a quality improvement project to decrease readmissions for kidney transplant recipients. He involved himself in many parts of the process, and even watched a kidney transplant occur. "Not only did I learn a lot from the project I was working on," Dane said. "I learned a lot about the Clinic and the healthcare industry from some of the industry's best."
Since returning to Ann Arbor in the fall of 2017, Dane has worked for IHA as a Planning and Development Analyst. In the summer of 2018 when he was able to work full-time, Dane served as project manager for the design, development, and implementation of IHA's enterprise data warehouse. Dane's work enables the executive team to better access data about patients to understand growth and population health, and inform better decision-making. 
After graduation in May 2019 Dane will participate in the inaugural year of the Launch Leadership program of UnitedHealth Group's OptumCare. After spending three months at headquarters in Minneapolis for training, he will move his family to Las Vegas to work in OptumCare's Mountain West Region.
You can do what they're doing! Sign up for our interest list to receive:
Invitations to exclusive information sessions and events 
The opportunity to chat with current students 
More in-depth information about our degree programs
Tips and advice for creating a successful application 
Reminders for important deadlines