University of Michigan School of Information
Faces of UMSI: Jasmine Jones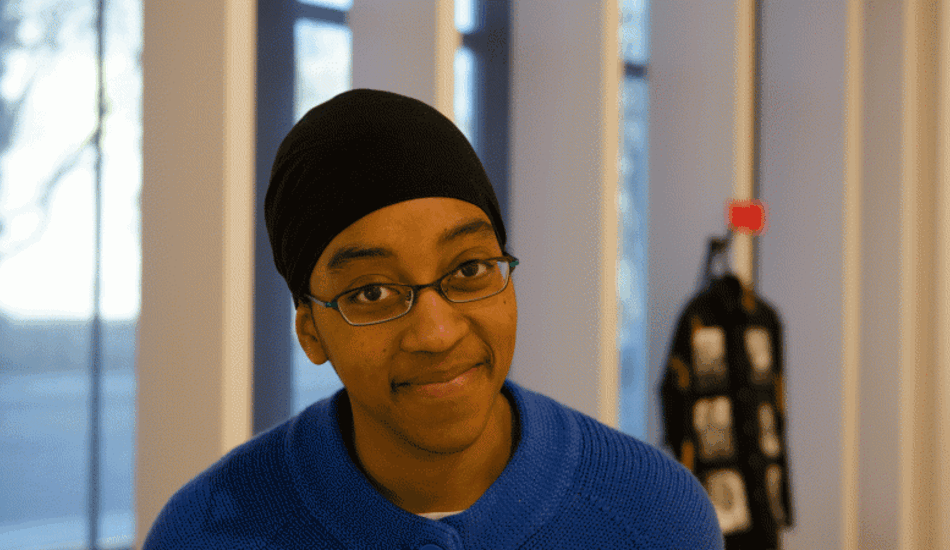 UMSI PhD candidate Jasmine Jones's long-term goals align perfectly with the UMSI mission: to use technology to give life to people's imaginations and allow them to construct their worlds in new ways.
She also wants to "understand the impact technology is having in people's everyday lives and in society in general," she says.
Her ongoing project, Designing the Memory Toolkit, demonstrates this drive fully. It focuses on using pervasive computing in the home to support families' collective memory practices, especially memory sharing across generations.
Pervasive computing technologies are computer-based devices that people don't interact with as computers, Jasmine explains. They take more discrete forms and can even be embedded into everyday objects. Two familiar examples are fitness-tracking devices and smart thermostats.
Jasmine is particularly interested in how family members who live far apart, especially in different countries, share memories. "How do you make it possible to share memories, especially across generations, when they're not co-located?" she asks.
For example, maybe part of a family has immigrated but the rest of the family still lives in the country of origin, and the members have to communicate across languages and cultures in order to share memories. "So the memory-sharing practices are different," she says. She's interested in how pervasive computing can be used to share memories across this potential barrier.
Jasmine's interest in the intersection between technology and international and cross-cultural contexts is longstanding. Since high school, she has looked for ways to combine technology and cultural studies, and during her undergraduate years, she created her own course of study to earn an interdisciplinary BA in Human-Computer Interaction in an International Intercultural Context in addition to her BS in Computer Science. 
This interest has also taken her to Africa twice, in both research and service capacities. As a researcher in 2013, she used ethnographic methods to explore how people with disabilities in Sierra Leone perceived and used assistive technology in their daily lives. 
More recently, she spent part of the summer of 2015 in Liberia, where, with other graduate students in UM's Society of Women Engineers, she co-developed and co-taught a leadership camp for undergraduate women studying engineering. Drawing on her own experiences and academic journey, her work furthered UMSI's mission of creating and sharing knowledge to help people build a better world through information and technology. "This project was important to me especially since it's a way to get more and diverse women in that creative process," she says.
Jasmine, who plans to graduate in 2017, is interested in ethnographic and interpretivist approaches to research because they allow you to go deeper into issues to answer the "Why?" questions, something that HCI is interested in more and more, she says. "To get into the hearts and minds of people, you have to go ask them."
This student has graduated! This information was accurate at the time of publication.
You can do what they're doing! Sign up for our interest list to receive:
Invitations to exclusive information sessions and events 
The opportunity to chat with current students 
More in-depth information about our degree programs
Tips and advice for creating a successful application 
Reminders for important deadlines