University of Michigan School of Information
Faces of UMSI: Allison Tyler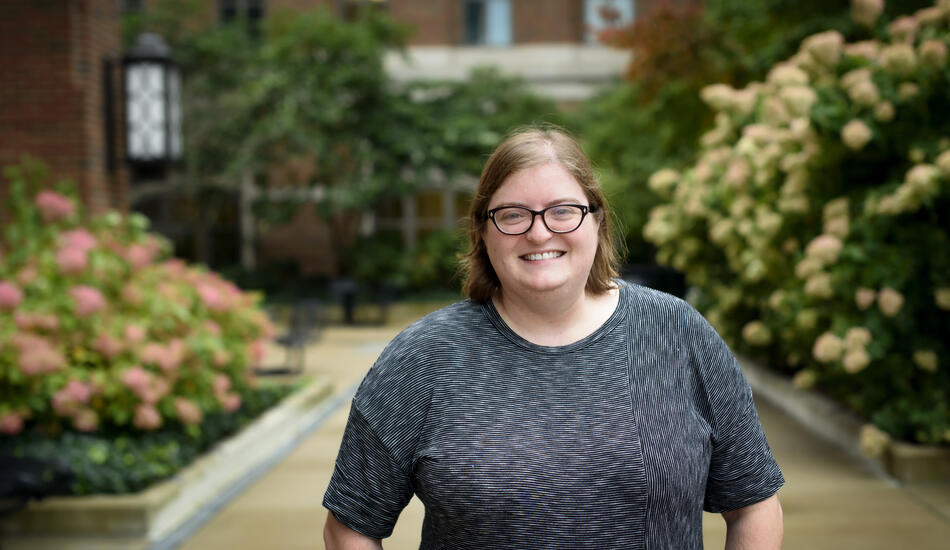 Allison Tyler wants to make it easier for researchers to access information repositories, revolutionizing the way researchers reuse data.
Fourth-year PhD student Allison Tyler's first foray into information science began with a grudge. "It started with me wanting to access imagery from NASA and not being able to," she said. This hiccup in her first master's thesis uncovered for Allison a dimension of information she had never encountered, and thus her journey to UMSI began. 
In her dissertation research and her work as a graduate student research assistant with the Inter-university Consortium for Political and Social Research (ICPSR), Allison is looking at how and why people use or are unable to reuse data. However, she said that if she had been told as a college freshman she'd be doing a PhD in information science, she wouldn't have believed it.
Allison joined the Navy during her senior year of high school and earned her bachelor's degree in mathematics from the United States Naval Academy. She took her five years of mandated active duty service post-graduation as an opportunity to consider the trajectory of her education and career going forward. "I'd always kind of told myself that for my first master's degree, I would just do something that I wanted to study," she said. "And I loved astronomy." 
Allison completed her master's degree in space studies and planetary science at the American Military University during her final few years of service. For her thesis, Allison planned on working with imagery taken by satellites but was unable to access valuable data from NASA. She ended up adjusting her topic to finish on time as a result. "They got back to us six months after I finished and submitted my thesis," she said. NASA's informaticians explained that there had been a problem with metadata. "At the time, I was like, 'What is metadata? I have no idea what this thing is.' … That kind of spurred my interest in this. Wanting to access imagery from NASA and not being able to. And holding a grudge." 
Allison followed that interest ⁠— and that grudge ⁠— to the University of Denver after she got out of the Navy. There she earned a second master's degree, this time in library and information science. DU's program, she said, didn't quite answer her questions. "Their program focuses more on academic, public and school libraries than it does information science. … I realized that I wanted to learn more and do more about issues with data repositories and data reuse." 
UMSI's diversity of study and eminent faculty attracted Allison to the school's PhD program, but once she got here, she was most impressed with the extensive opportunity to engage in hands-on research from start to finish. As a graduate student research assistant, Allison said, she essentially designed an entire project at ICPSR looking at how different data repositories coordinate whether or not users can access restricted data. "I came in after the grant was approved … but it was basically given to me to determine what data we were going to use, how we were going to get it, whether we were going to do interviews or observations or document analysis, to do all of the analysis, to be the one to come up with the findings and the results. That was an incredible experience that I didn't think I was going to get until I started my dissertation. It yields a huge sense of ownership." 
In addition to projects at ICPSR, Allison is hard at work on her dissertation proposal, which centers around how privacy regulations affect the reuse of qualitative social science data. Her research considers data repositories in the US and internationally, and she's interested in how data protection regulations in the EU impact European repositories. She plans on completing her dissertation in Germany next year, so she's also been studying the German language intently and applying for funding for the last nine months. 
After graduating with her PhD, Allison hopes to work as a data manager for NASA or a similarly substantial repository or archive. "I don't want to be the one using the data, but I want to work on those problems of reuse," she said. 
Allison says she'd like to change the general perspective that data science is just about using data. "There's more to it than just crunching numbers," she said. "People tend to think we only do stuff with data, we don't do stuff to data. There's more to information science than working at Google or Facebook. Some of us want to work at NASA. Some of us are just interested in why we couldn't access those images we needed five years ago." 
"You don't have to have a computer science or technical background to do this. I have a math degree. I have a minor in Arabic. I studied astronomy. I'm interested in history. I'm learning my fifth language. It's possible to do all that and still end up here."
To see more recent updates on this student, visit their profile page.