University of Michigan School of Information
Faces of UMSI: Erin Cardwell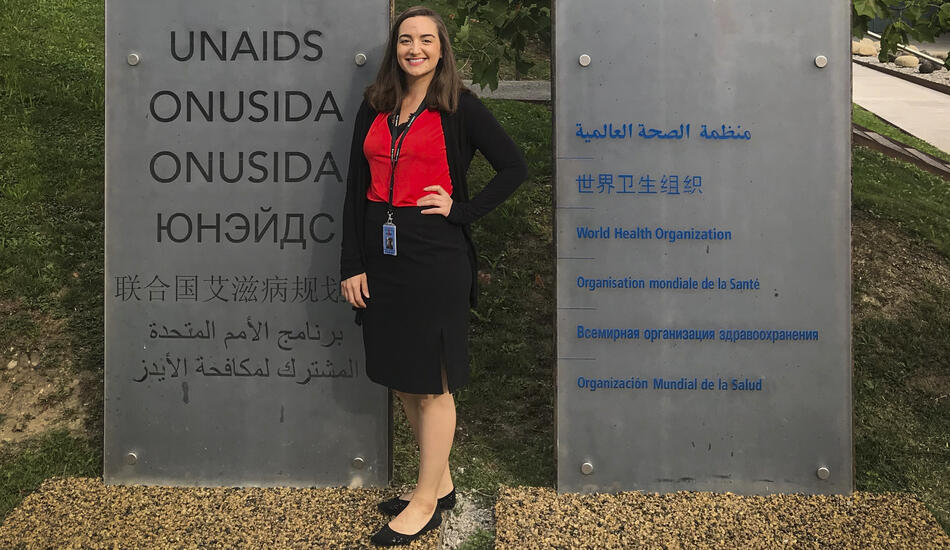 For second-year MHI student Erin Cardwell, it's all about health. 
"Understanding the underlying reasons why people in certain groups and geographies tend to experience health issues at a higher rate than other people relates back to the things I'm passionate about, which are justice and equity," she said. 
Erin, an avid traveler who loves immersing herself in new cultures, got her bachelor's degree in hospitality business at Michigan State University. After working at a travel agency for a couple of years after graduation, though, she was drawn outside the industry. 
"I realized that I wasn't fulfilling my real passions, which are working with underserved populations and trying to create a more just and equitable world," she said. 
She decided it was time to follow her lifelong ambition of joining the Peace Corps. She applied and was accepted, but her placement was continually delayed over the course of two years. Once she finally hit the ground in the village of Houégbo in Benin, a country in western Africa, her work took off in all directions. 
"I had a girls' club, a soccer team, a radio show," she said. 
Erin's main projects were centered around community economic development. However, she said that self-driven experiences—serving on the Benin Against Malaria (BAM) and food security committees, training people in entrepreneurship with Dare to Innovate⁠—were pivotal. She credits those initiatives and their supporters with sparking her interest in health informatics and human-centered design. 
As an attendee of a Stomping Out Malaria in Africa bootcamp in Senegal, Erin was especially inspired by one study presented. The study centered around a region of Africa whose residents were not using freely distributed bed nets. 
"They were trying to figure it out and finally realized maybe we should ask people why they're not sleeping under these nets," explained Erin.
Communication revealed that the bed nets discomforted people because they resembled burial shrouds used widely in the region. A simple switch to blue nets caused usage rates to skyrocket.
"How do we let the context in which we're operating explain to us what needs exist?" Erin said. "They're the experts. Maybe we can make things happen because we have more resources or access, but they're the people with real knowledge of what's happening on the ground. This was the birth of a passion for human-centeredness." 
Immediately after returning to the U.S., Erin seized an opportunity to become a fellow at Challenge Detroit, an organization that pairs community-driven leaders with host organizations advancing local initiatives. They placed Erin with Level One Bank to work on community reinvestment. 
"That was the point at which I learned the power of data," she said. "I was able to create our strategic priorities. I could use information to tell a story and advocate for things I really believed we should be investing in.There was a point at which I realized this is both fun to me and I get to see real-world impact and value." 
 She decided to pursue formal education in information science. She was drawn to U-M's School of Information because the department offers the Coverdell Fellowship, which grants funding to returned Peace Corps volunteers. After discovering and researching the MHI degree, Erin said the program's marriage of health and information science seemed tailor-made for her. UMSI's emphasis on the human center of the information field also appealed to the values she cultivated in the Peace Corps. 
Since enrolling in the MHI program, Erin has continued to apply her drive and passion for public good across the globe. Through the Global Information Engagement Program (GIEP), she and a small interdisciplinary team traveled to Cape Town, South Africa to develop a tool to report instances of city government forcefully removing people from their homes. From there, Erin was granted funding from UMSI to travel to Geneva, Switzerland and work with UNAIDS on their community mobilization team. Her internship there focused on elevating the voices of marginalized communities impacted by AIDS in the organization's work to eradicate the disease.
Erin plans on graduating in the spring of 2020 and hopes to work with organizations seeking to understand their data to accomplish missions surrounding social justice. 
"I want to use data to elevate the voices of people who need to be heard and issues that need more attention," she said. "That is the core of it."