University of Michigan School of Information
Faces of UMSI: Etiowo Usoro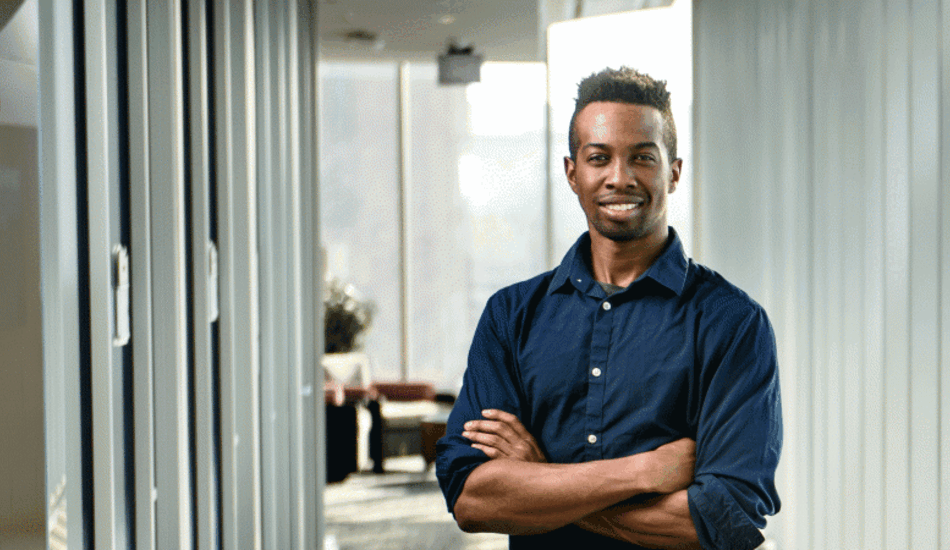 In Ibibio, Etiowo's first name means good man. His middle name, Nkeneke, translates to non-conformist. Together, these names mean "never being afraid to do the right thing," even when doing so doesn't fit the status quo. "I was born, the name was chosen, the path was set." Etiowo decided the best way to be a good man was by pursuing health informatics. 
Resisting the sports rivalry, he transitioned from Michigan State University where he received his bachelor's degree in physiology, to the University of Michigan master's degree in Health Informatics.
"I spent a lot of time between this program and undergrad thinking about ways I can help the world. I know that sounds cliché, but, my mom is a nurse, my sister is a doctor, my other sister an engineer, my father is an engineer. They're all making an impact." Etiowo wondered how he could make a difference. "I discovered that by combining data analysis and information… I can impact the way people interact with their health." 
He was drawn to the opportunities at UMSI. Currently, he's working with associate professor Joyce Lee as a data analyst for diabetes patients. He's also working on a prostate cancer clinical decision dashboard with assistant professor Karandeep Singh and health services research fellow Greg Auffenberg.
Before U of M, "I thought these things were out of reach, especially coming from a natural science background. I wanted to become more analytical, wanted to think about these issues, but I thought that was reserved for computer scientists. It was nice to come here and realize I didn't need to have prior technical training to invent."
Ultimately, Etiowo wanted "to bring my macroscopic systematic point of view down to the individual level, then traverse back and forth." A Medical Informatics Internship in Complex Care Management allowed him to do just that. At Kaiser Permanente in Seattle, Etiowo developed interactive dashboards to address the management of medical costs, readmission risks, and health system utilization for over 800,000 patients. Meanwhile, he worked with medical and administrative employees to identify information gaps and find solutions. 
"I got to ask people 'what's the hardest part of your job,' and simplify it. One woman said monthly reporting took a full day to complete, and I wrote a script so all she has to do is press a button." Etiowo says much of his work is about giving people the tools to make better outcomes.
When he's not working, he photographs landscapes or visits friends and family. Family is big for him, not just at home, but at school. Of his three sisters, two graduated from the University of Michigan and one is attending as an undergraduate. 
In his spare time, he volunteers. He says helping others isn't a big commitment. "It's something simple I can do, expending a half hour to an hour daily to help relieve struggling." In the past, he volunteered for Northwest Harvest Food Bank and Special Days Camp. 
At UMSI, Etiowo likes to organize peer study groups. He values his relationships with MHI students and the diversity of his cohort. "We have people, international and domestic, who come from nursing, industrial design, medicine, statistics, natural science and everything between." He continued, stating "They have a broad spectrum of skills, and that's the kind of person I want to be." 
Etiowo hopes to become a population health analyst or data scientist working to reduce the cost of healthcare. He'd like to work in a big healthcare system, and says Kaiser is at the top of his list. "The healthcare industry needs more advancement. There's a lot of potential, and I'm hoping to raise the bar."
When asked to reflect on his time at UMSI, he said "It's funny to see how far I've come. I never would've thought I'd be able to create new ways of thinking about healthcare." He elaborated, "I always wanted to be an inventor. Now I realize I'm achieving that goal by being able to innovate."
You can do what they're doing! Sign up for our interest list to receive:
Invitations to exclusive information sessions and events 
The opportunity to chat with current students 
More in-depth information about our degree programs
Tips and advice for creating a successful application 
Reminders for important deadlines