University of Michigan School of Information
Faces of UMSI: Alexis Villafranca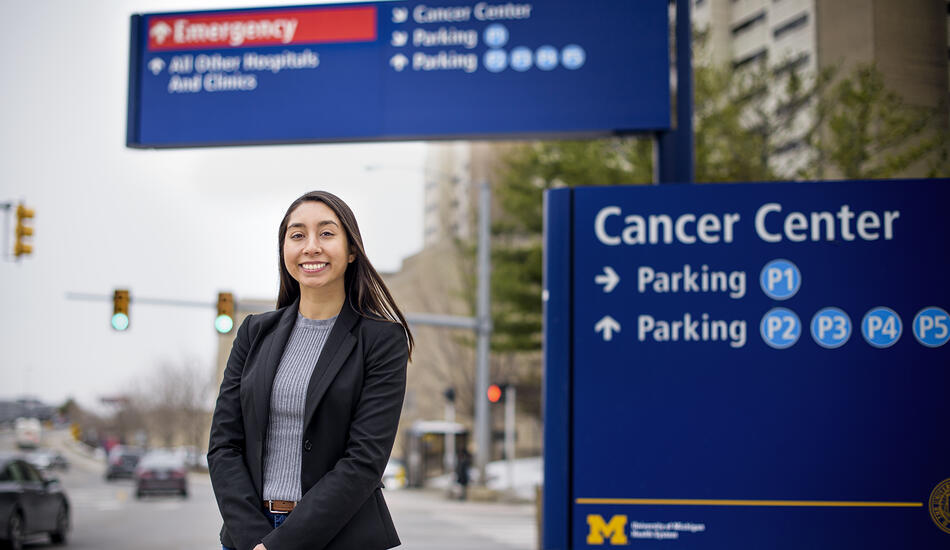 At UMSI, second-year MHI student Alexis Villafranca has found a niche within the health care system where she's best able to leverage her skills to make positive social impact. 
Guided by core values of accessibility and equity, Alexis's work in public health and health informatics centers around resolving health disparities within marginalized and vulnerable communities. 
"I hear a lot about how health care is kind of stuck and we need reform, we need changes, and innovation," she said, "but I don't feel like I ever really see that." 
As an undergrad on the pre-med track at The University of Texas Rio Grande Valley (UTRGV), Alexis got a glimpse of the inequities and pitfalls in clinical care. She said that going into her bachelor's program, she wasn't really aware of careers in health care beyond being a doctor or a nurse. By her sophomore year, Alexis said she felt stuck and unexcited in the pre-med track, unsure how to meaningfully address the social issues she cared about through direct clinical care.
The summer before her senior year, a friend in Alexis's major suggested she consider going into public health. 
"She explained that it's not necessarily direct clinical care … it tries to get at those root preventative issues that get people sick in the first place," Alexis said. 
They talked about an internship her friend had recently completed at U-M with the Future Public Health Leaders Program (FPHLP) funded by the CDC. Intrigued, Alexis applied to the same internship and was accepted, and the path to a new kind of career in health care opened before her. 
Alexis pointed to the Future Public Health Leaders Program as one of the most impactful experiences of her college career. The program is designed to increase the diversity of the public health workforce by providing students with opportunities for growth, learning and awareness in the field. Alexis said that during her ten weeks on U-M's campus that summer, she was excited by all the university had to offer. 
"That summer showed me the amount of change I could make if I were to get a degree here," she said. 
Through FPHLP, Alexis learned about the health informatics program at UMSI and was interested in its unique approach at the intersection of data and people-first design methods. The fall after she graduated with her BS from UTRGV, Alexis enrolled in the program and moved from her hometown of Brownsville, TX to Ann Arbor. 
For Alexis, the direction of the MHI program was a much better fit. "A skill set that the School of Information has really put out there is going into communities that you're not from and recognizing what you can bring to them but also recognizing your limits," she said. 
"In SI, it's important to be people-oriented and able to recognize when technology causes problems. Sometimes stepping back from that technology is the solution." 
With a team of classmates, Alexis proved the value of this approach while making recommendations to streamline a confusing pager-based waiting room system at Michigan Medicine's emergency department. By replacing the tech with a human attendant, the department was able to better address the needs of the community they served. 
At an internship the following summer at Intermountain Healthcare in Utah, Alexis further narrowed the kind of work she's interested in doing. She says she learned a lot from the leading health system, which incorporates value-based care and social determinants of health in decision making processes. 
Through her internship she used data analytics to see health trends at a population level, but she felt disconnected when speaking about people in the thousands. She realized she wanted to do on-the-ground community work, and she wanted to be able to recognize and talk to the people she was serving. 
After that internship, she got the chance to work directly with her own community in Brownsville as a participant in a weeklong interview-based public policy project examining the immigration crisis at the southern US border. 
In her work experience, Alexis has sought opportunity to broaden her horizons and inform her skillset with diverse perspectives. She said the MHI program afforded her ample space to bring that exploratory, interdisciplinary nature to her education. 
"My advice is, if you can, take a course outside of your school," she said. "There's so much value in hearing others' perspectives from different schools all over the university." 
In her penultimate semester at U-M, she's taking classes in librarianship, nonprofit work, urban informatics and app design. 
"I've been able to incorporate my interests in health disparities and marginalized communities in how I want to do health care," she said.
Alexis wants to put her versatile skill set to work reforming government systems like the ones surrounding health care and immigration. Human-centered design methods, she said, can be applied to broken government workflows. 
"If after graduation I'm able to do work redesigning some type of major government construct …, that would be amazing," she said. 
She wants to rectify the disconnect between public health leaders, policy makers and the communities they're affecting. 
"Sometimes giving a community an app isn't what they really want," Alexis said. "It's important to listen to the community first and foremost over what you think will solve their problem based on your own ideas."