University of Michigan School of Information
Faces of UMSI: Simi Talkar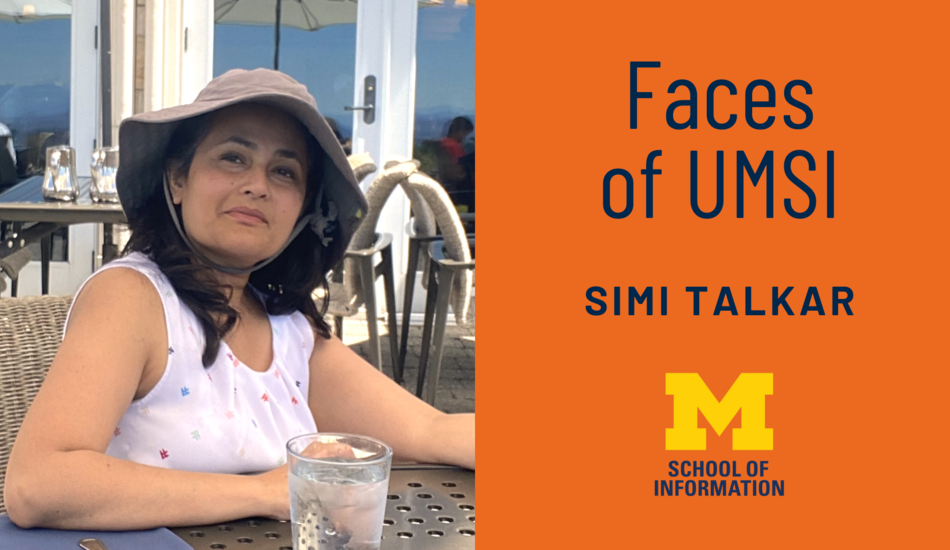 Master of Applied Data Science student Simi Talkar has been able to immediately put the skills she's learning in the program into practice in her position as an analytics consultant. 
Simi began her career as a software engineer and then took a twenty-year break to raise her children before getting back into the field as a support database engineer. Then, she decided to move into data analysis.
"The analysis bug bit when I found that as an engineer, I could not provide satisfying answers to inquiries just with a table of numbers, no matter how well formatted," Simi says.
Simi had been taking courses on Coursera and EdX, so she was familiar and comfortable with online education. However, at a certain point she came to the realization that, "I needed to step out of my comfort zone and truly engage with where technology has arrived in the past few years and where it is headed." This led her to The University of Michigan's fully online Master of Applied Data Science (MADS) program.
"When a remote program of this caliber became available, I had to grab the opportunity."
Since her work is directly related to what she is learning in her courses, Simi has been able to benefit immediately from the classes she takes. She also shares things she has worked through on her company's blog and in articles on Medium.
Simi says, "Communication is key as a consultant. Gently prying out requirements in a qualitative enquiry, shaping a hypothesis and delivering meaningful action items are skills I perform in parallel in my coursework and as part of my job role."
In addition, Simi has been working on a groundwater prediction project with another MADS student. As part of their collaboration, the two of them meet up every other week to discuss ideas, design data visualizations and do research into deep learning techniques. 
Simi has been able to find a sense of community as a student in an online program through the MADS Slack. She uses Slack to discuss coursework with her peers, as well as to learn more about her classmates and their interests through the Random channel. Her fellow students include engineers, statisticians and domain experts, and the questions they pose can extend Simi's learning and research into directions she might not have considered. 
"Slack has completely masked the distance from the campus and is truly the platform I depend on," she says. 
The MADS faculty have also been responsive and helpful. She has been able to attend office hours with many faculty members, and if she has a question that hasn't been answered on Slack, she can message the instructors for help. MADS faculty member Chris Brooks also took time to help Simi and her partner on their groundwater project, even though neither of them were currently enrolled in any of his classes.
Simi didn't learn to swim until she was 35, and she looks at her transition into data science from that perspective: "If I can learn to swim this late in my life, I believe I can ride and crest the data science wave as well."
Simi plans to graduate in May 2023.