University of Michigan School of Information
Faces of UMSI: Veena Panicker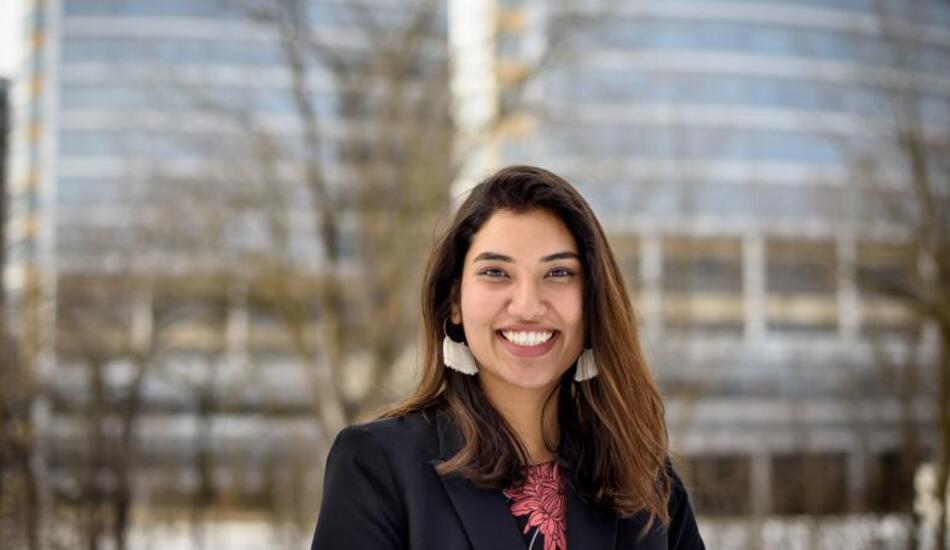 Veena Panicker received her introduction to health informatics when the clinic where she practiced dentistry in Mumbai adopted a new Electronic Health Records system. As she became familiar with the new system, she became curious about health informatics. Her curiosity took her to Michigan for her MHI. 
Veena has always been interested in biology and anatomy, and knew she would want to work in the medical field in some capacity even as a young child. "Taking care of people and working with people was always something I was interested in," Veena said. 
When Veena was eleven, she needed to have some dental work done. "My dentist was so amazing that I realized [dentistry] was actually cool," Veena said. "She inspired me to become a dentist." 
Though she enjoyed the work, Veena knew she didn't want to be a dentist forever. "I wanted to learn more and do more," she said. Veena only applied to the University of Michigan. The first international flight she went on was the one that took her to the United States to begin the MHI program. 
Veena chose the University of Michigan because she wanted to be exposed to different fields within health informatics. "You learn a little bit of everything," Veena said. 
Veena enjoys learning from her peers, peers who may be more familiar with different aspects of health informatics due to their previous experience. "You learn as much from your classmates as you do from your program," she said. "Because we have very diverse backgrounds." 
Veena has a GSRA position as a UX researcher at Michigan Medicine. As UX researcher, Veena interviews healthcare professionals and administrative staff  in the OB GYN department  to understand their needs. She is working with Dr. Zach Landis-Lewis to improve the feedback reports that doctors receive. "We are trying to tailor [feedback reports] so that they include actionable feedback and information doctors want," she said. Veena's research supports the development of software that will make the tailoring process available to other departments within the hospital. Veena has been working as a research assistant since last January, and completed the internship required to complete her MHI degree over the summer through her position as a UX researcher. 
Veena is also working on a process improvement project with C.S. Mott Children's hospital to improve the workflow within the scheduling and billing office for the EEG and Epilepsy department. She began the two-semester project in the fall of 2018. She works alongside students from the School of Public Health, and is the only MHI student working on the project. Her goal is to identify changes that could be made within the scheduling and billing department to render the department more efficient. "Unless you go looking for the problem you won't be able to come up with a solution," Veena said.
Veena serves as treasurer for the School of Information Master's Association (SIMA), an organization that supports cross-collaboration between tracks in the School of Information through fundraising and events. She also volunteers at St. Andrews some mornings, assisting with their daily breakfast program.
Veena enjoys UX research and aims to find a position in the United States as a UX researcher after graduation. She also is interested in process improvement, and is open to careers in that field. "I want to improve people's lives through technology and through understanding," Veena said.
Next year, your profile could be here! Sign up for our interest list to receive:
Invitations to exclusive information sessions and events 
The opportunity to chat with current students 
More in-depth information about our degree programs
Tips and advice for creating a successful application 
Reminders for important deadlines