University of Michigan School of Information
Faces of UMSI: Youyang Hou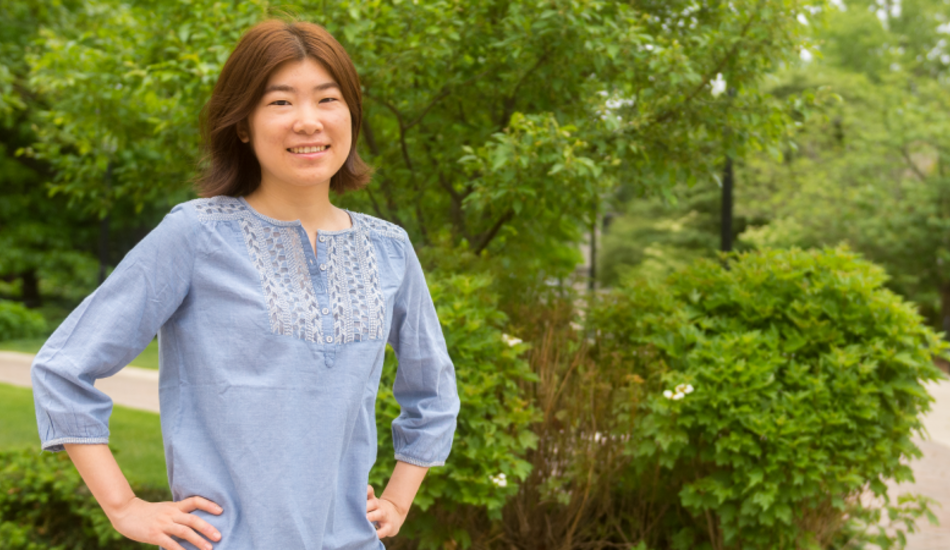 With a bachelor's degree in psychology from China's Peking University and a master's in psychology from Michigan State University, third-year PhD student Youyang Hou sees how her education and background apply to her current research in human-computer interaction and social computing.
She notes that her previous research in psychology combined data mining and analysis of neural and physiological signals. It was during this time that she was taking computer science classes to learn more about data analysis and mining techniques, which led her to explore HCI PhD programs.
"I found some information about HCI, and thought, 'This is something I can do,' because a lot of it is about psychology," Youyang says. "It's about people's motivation, what makes them do something, how they interact with others, and how we can motivate them to make changes in their health or behavior."
Youyang's current work focuses on how social media can help non-profit organizations (NPOs) to accomplish their goals. She seeks to understand the impact of social media and web technologies within environmental non-profits and is exploring the strategies these organizations implement when utilizing social media platforms. 
Small NPOs are increasingly using social media sites to help them meet public engagement goals. Through interviews with 26 small NPOs, Youyang learned that many NPOs are not using social media to its full potential to build communities and mobilize followers. 
Her study suggests that social media platforms designed to support public engagement need to include more effective performance measurements and address issues such as diversity and fluidity of workforce as well as constraints in time, staffing, and expertise that can heighten organizational politics and inconsistencies with public engagement goals. 
Another aspect of her research focuses on how information technology can better support civic engagement, particularly how public sector and government entities can leverage technology to better engage citizens. 
Youyang is exploring how government and other organizations can combine online and offline practices to interact with the public, using efforts like temporary places (farmers' markets or summer concerts) and placemaking—the idea of creating public spaces that promote people's health, happiness, and well-being.
"I want to see how this technology can better support communities and organizations, and whether it can help them keep a closer connection with people," Youyang says. "If you go to an event, you probably won't meet those people again, but if you move them online, you could keep in touch better."
Youyang hasn't settled on her dissertation topic just yet, but plans to continue researching civic engagement practices with a hope that her dissertation will somehow be related to her advisor Cliff Lampe's Citizen Interaction Design project. Lampe, an associate professor of information, launched the project in 2013 as a partnership between UMSI and the city of Jackson, Michigan that allows graduate students to develop information tools such as mobile apps and social media sites to help Jackson's citizens interact with their local government.
Youyang sees a lot of opportunities to continue her research in civic engagement once she finishes her PhD, as she notes that many governments around the world are interested in sharing data and providing information and technology that can help make people's lives more convenient. Until then, her plan is to finish her time at UMSI by continuing to do good research.
"We have a great program and great professors in almost every aspect of information science, plus we have great opportunities to collaborate with urban planning, engineering, and so many other programs across campus," Youyang says. "There's a great community here, with so many PhD students and faculty that are always willing to help and share their experiences."
This student has graduated! This information was accurate at the time of publication.
You can do what they're doing! Sign up for our interest list to receive:
Invitations to exclusive information sessions and events 
The opportunity to chat with current students 
More in-depth information about our degree programs
Tips and advice for creating a successful application 
Reminders for important deadlines