University of Michigan School of Information
Faces of UMSI: Olubisi Ajetunmobi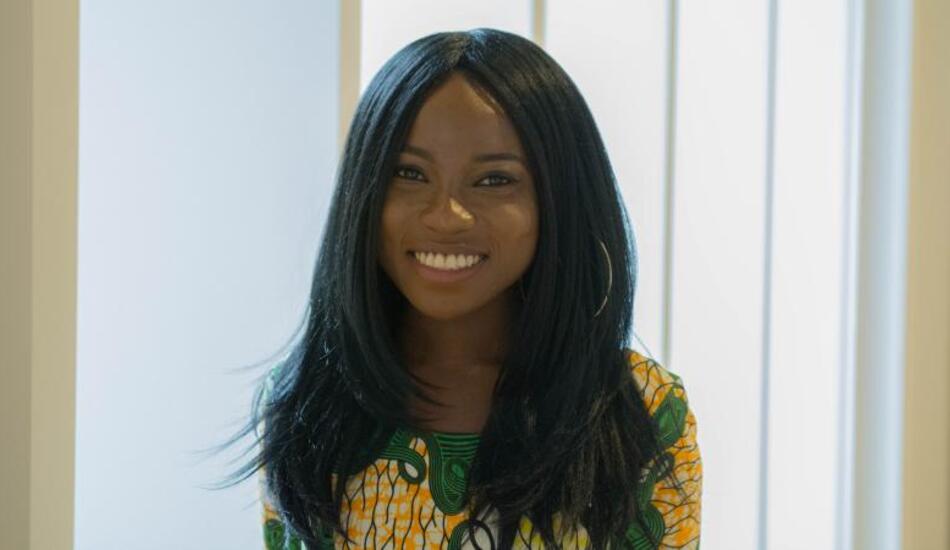 Olubisi "Bisi" Ajetunmobi was born in Nigeria and immigrated to the United States with her family when she was 8 years old. As a child she struggled with chronic health problems while living in low-income communities in both Oshogbo, Osun State, Nigeria, and Inkster, Mich. She was never given a clear diagnosis of asthma until she came to the United States. That introduction to health care and its inequities is what triggered her interest in medicine.
Bisi saw first-hand how people suffered with preventative conditions. Unsurprisingly, she admired those doctors who could prevent, diagnose and treat illnesses. Yet she was unsure if the pre-med track was the right one for her.
"I realized it's more than caring for and helping individuals. Yes, there is great medical care in Nigeria but other factors influence the medical care citizens receive. I was part of the health care system here and in a developing country and I saw how the government, environment and opportunities are all interconnected."
Bisi received a degree in international studies from U-M with an emphasis on global environment and health. Then she took a year after graduation to work as a research assistant in Ghana. She assessed hundreds of women about their antenatal care. That experience showed her there was room for IT and policy improvement related to doctor's care. 
For her, the MHI program made sense. "I received a generous scholarship, which helped. The program itself seemed personalizable in that I could study what I wanted; the staff were personable from day one; working in public health and information was just the perfect mix for me."
She has been extremely pleased with the MHI program so far. "I can pinpoint hard skills I've acquired. I've learned about coding, graphic design and programming. I could already take these skills to potential employers. As far as the professors, I've had great conversations with Kentaro [Toyama, a UMSI professor]. He gave me helpful suggestions for global health class ideas." 
"I think global health work should be done by people who are culturally competent and who genuinely care about the people they work with. People in developing countries are intelligent and might already be doing the work we hope to do. So we must go abroad with an open mind and a willingness to partner with locals. That takes a certain sensitivity."
After receiving her master's degree, Bisi is undecided if she'll pursue a PhD or work in the field. "I believe health care is a fundamental right. I would love to go back to Nigeria and make an impact. I want to work on policy. I want to partner with individuals. At the end of the day, these issues affect all of us."
Bisi has a lot of creative hobbies. When she's not studying, she's probably styling her own hair, experimenting with wigs, sewing or trying to perfect Nigerian dishes. She loves jollof rice and claims her version is delicious even if it's not winning any awards. 
Bisi is determined to be optimistic while she carves out her own path. "I know if I put my mind to anything, I can do it. If I try something and it works, it works; if not, oh well, there's always another day and at least I tried."
You can do what they're doing! Sign up for our interest list to receive:
Invitations to exclusive information sessions and events 
The opportunity to chat with current students 
More in-depth information about our degree programs
Tips and advice for creating a successful application 
Reminders for important deadlines