University of Michigan School of Information
Faces of UMSI: Wenbo Yang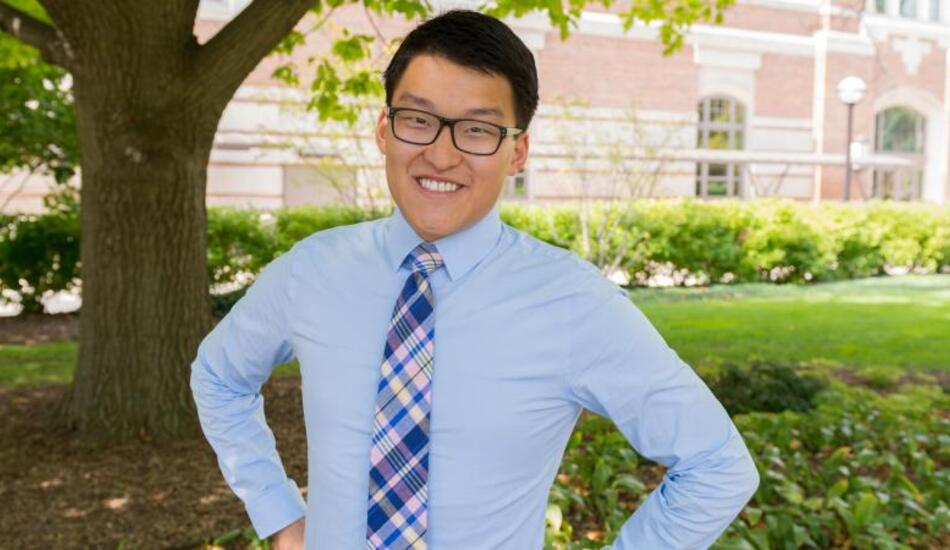 For Wenbo Yang, his journey into health informatics was sparked by a desire to pursue a profession in helping others. Wenbo initially started college with a focus on pre-med: "I saw this virtue in helping others, and I saw medicine as a very humble way to pursue that."
A growing affinity for technology, however, led him to seek out a major that integrated both science and technology, and Wenbo discovered that convergence within U-M's undergraduate bioinformatics program.
"At this point, I still didn't see public health as something that had an immediate impact as compared to medicine," Wenbo said.
His perspective soon changed as Wenbo became involved in U-M's OptiMize social innovation challenge, in which teams of students were asked to address an existing social issue. Wenbo and his team chose to focus on the topic of women's health, specifically finding ways to improve women's lactation accessibility in public.
Following this opportunity, Wenbo joined the U-M Work-Life Resource Center, just as they were forming a committee to improve lactation accessibility across campus. "This really raised my awareness for public health," Wenbo said. "From then on, I had an increased understanding of what public health was able to do, which was to better the lives of many."
Inspired by the possibilities of technological innovation within public health, Wenbo entered the MHI program with a strong interest in consumer health and product design.
"I wanted to design things," Wenbo said. "I love the ideation process. But I realized it wasn't necessarily right for me – there was just something missing about design."
During a required core class, Managing Health Informatics, Wenbo finally discovered that missing element – data and analytics. He also discovered that his interests and professional goals aligned perfectly within the sub-field of population health.
With this in mind, Wenbo completed his summer internship in population health management at The University of Vermont Medical Center, where he applied predictive modeling to improve the distribution of primary care. "It was very analytically driven, and that solidified my appreciation and admiration for population health analytics," he said.
Currently, Wenbo discusses with enthusiasm the possibilities within this field for helping others by reducing healthcare costs and improving healthcare processes.
"I really enjoy process improvement and looking at how population health ties into that," Wenbo says. "How do we improve the healthcare delivery process, or how do we improve primary care or preventative care by taking into account people's characteristics? How do we keep people healthy and out of the hospital? That's essentially what I'm interested in doing."
The MHI program, Wenbo explains, is challenging but never discouraging, as it prepares students to approach modern healthcare issues with a problem-solving and innovative frame of mind.
"The professors here are not necessarily teaching you how to solve problems," Wenbo says. "But rather, they are asking you the right questions and seeing how you would solve these problems. It's not that these problems have solutions yet, which is the exciting part, because they are training you to potentially solve these problems in the future."