University of Michigan School of Information
Faces of UMSI: Andy Lee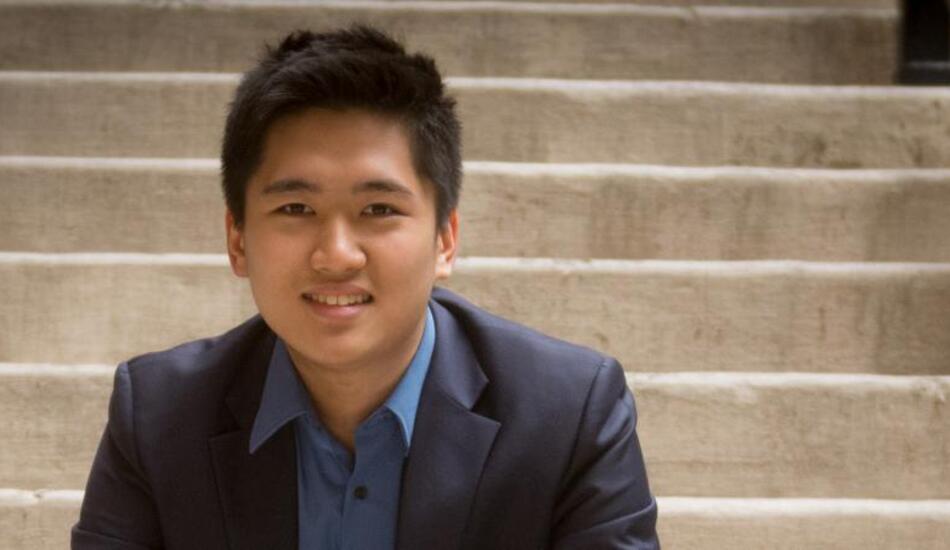 By the time he turned 18, Andy Jinseok Lee knew he wanted to start his own company one day.
A native of South Korea, Andy moved with his family to Indonesia when he was about 10 years old and later to Singapore. He studied at international schools along the way, earning an international baccalaureate diploma from Singapore's United World College of South East Asia.
His father suggested he look at engineering schools in the United States in order to build the technical skills he would need to start his own business. While pursuing his bachelor's degree in computer science engineering at the University of Michigan, Andy realized that many of his interests and projects centered on health-related topics, prompting him to think his startup might one day be in healthcare.
This fall, Andy will enter the Health Informatics master's program offered through the Schools of Information and Public Health and has been working with Predrag Klasnja, an assistant professor in both schools.
As the lead developer on Klasnja's Heart Steps project, Andy is helping to develop an application that would aid cardiac patients as they manage risk factors like physical inactivity, smoking, and high-fat diets after their rehabilitation programs end.
Heart Steps would gather contextual information from users—where they are, the weather they are experiencing, as well as their calendar events and physical movements—and send them messages that would encourage them to exercise or engage in another healthy activity that adheres to their rehabilitation regimen.
Heart Steps isn't the first health-related project that Andy has worked on at U-M. As an engineering student, he collaborated with fellow student Josh Kim and Michigan alumnus Bhargav Sri Prakash on a game called Fooya, which was developed through Sri Prakash's startup FriendsLearn. Fooya is a 3-D food fight game designed to teach kids about diet and nutrition.
Last fall, Andy's senior design project integrated IBM's Watson supercomputer, wearable technology and mobile devices to diagnose sepsis at an early stage. He and his co-creators were chosen to represent U-M at IBM's Watson University Competition for student entrepreneurs.
Moving forward, Andy is enthusiastic about following his dream to become an entrepreneur. His entrepreneurial motto is that there is no such thing as a million-dollar idea. Only execution brings that million-dollar idea into reality. He also is embracing the opportunities that the MHI program presents as he seeks to make an impact on the healthcare industry.
"Getting into the MHI program gives me this hope that I'll be able to exert a great influence on patients' lives, even without having a medical degree," Andy says. "The thought of a computer scientist becoming a doctor is really exciting."
You can do what they're doing! Sign up for our interest list to receive:
Invitations to exclusive information sessions and events 
The opportunity to chat with current students 
More in-depth information about our degree programs
Tips and advice for creating a successful application 
Reminders for important deadlines