University of Michigan School of Information
Faces of UMSI: Nhan Le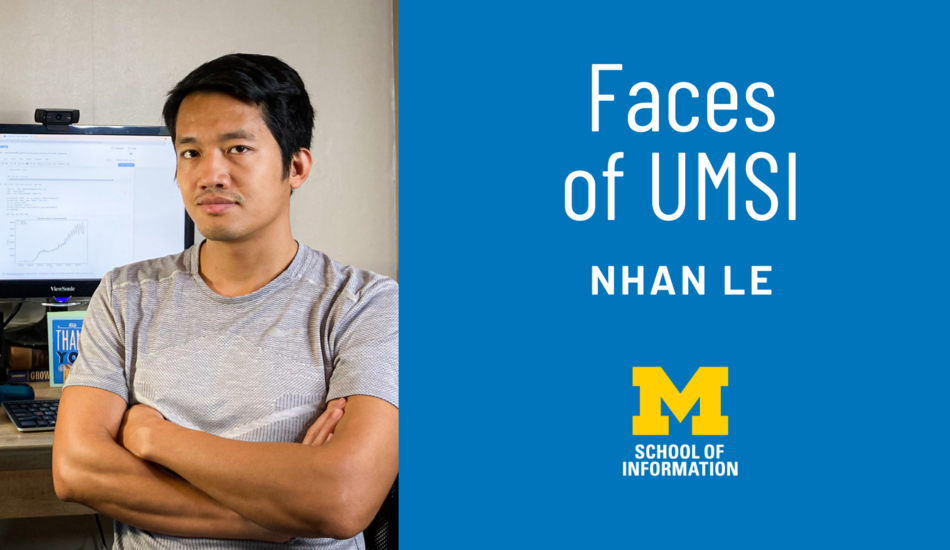 Nhan Le is living proof that a professional background in coding and computer science is not the only route to success in the University of Michigan School of Information's (UMSI) Master of Applied Data Science (MADS) program. Nhan was a teaching economist at Alma College in Michigan when he began his degree in fall 2020. He joined the MADS program with the goal to harness data science technologies and leverage his quantitative skills in economics.
Now a data scientist for Virginia-based healthcare company Gainwell Technologies, Nhan's first breakthrough experience with data science was his internship at Nike Inc. in summer 2021. As a graduate data science intern, he helped build a predictive model for Nike members' lifetime values based on their engagement with the company's digital applications. He was able to use his economics experience in this work, as well as new skills that he's honed through the MADS program. 
"The foundational MADS courses were instrumental for my internship," says Nhan. "They taught me the skills required to become quickly confident with the technology at Nike, which enabled me and my mentors to focus on the machine learning and business aspects of my internship project."
In addition to his internship and changing full time roles, Nhan was also part of a team that competed in and won the MyVoice Data Challenge as a MADS student — and he's also been a "part-time stay-at-home dad" since his wife started working in-person full time. 
One of the factors that has made it easier for Nhan to juggle all of these commitments is the flexibility of the MADS program. The monthly course schedule makes it possible for him to change his plans quickly without having to ask for special accommodations.
"As a former educator, I realize that it is essential to make time and space to truly enjoy my own learning," Nhan says. 
Another benefit of MADS has been the community that Nhan has cultivated. He's found many opportunities to get to know his fellow students and professors, from posting on Slack to visiting office hours and setting up one-on-one Zoom sessions with colleagues. These interactions allow him to get help on assignments and also provide an outlet for MADS students to learn more about each other and become friends.
This community has been beneficial to Nhan in a networking capacity, as well. "Some of the contacts I made in the MADS community have already helped with growing my data science career," he says. 
One of his classmates referred him for his new role at Gainwell Technologies, where he will be helping states leverage data science methodologies to optimize their Medicaid services. 
"I feel lucky that one of my contacts in the MADS program referred me to the Gainwell job," Nhan says. "The program's global reach enables me to learn from people's extraordinarily diverse set of talents from around the world. I want to let their motivation inspire my own growth, and I want to cheer them on their data science journeys."
As with his internship at Nike, this new role will allow him to combine the data science skills he learned in the MADS program with his existing economics background. Nhan says, "Organizations are not just looking for capabilities with tech. They are also looking for my unique expertise and experience to understand the subject matter beyond what the data alone could reveal."
Nhan plans to graduate in December 2022.