University of Michigan School of Information
Faces of UMSI: Anna Myers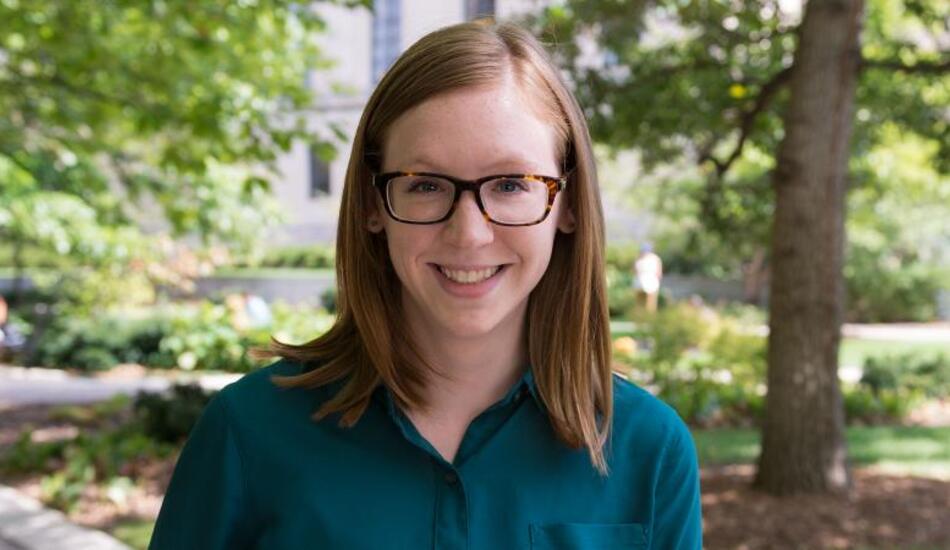 With a B.S. in neuroscience from the University of Michigan, Anna was drawn to the challenge of using information technology to improve healthcare in creative and innovative ways. As a second-year MHI student, Anna is focusing her degree towards user experience design and health communication.
Anna discovered her interest in user experience design during her first-year elective class, Introduction to Interaction Design. She said it introduced her to a new way of thinking about how the design of systems and interfaces for web, mobile and other information resources can be tailored toward end users.
"In that class, I was able to go through the whole process of finding a problem, generating ideas and iterating the design of solutions to come up with a prototype at the end," Anna said. "I enjoyed that creativity, which was lacking in my previous work, so I wanted to pursue that further."
As an undergraduate at the University of Michigan, Anna was a member of the Michigan Marching Band and the Michigan Winter Ensemble, an indoor competitive winterguard team. She was also a camp counselor three years in a row at Camp Kesem Michigan, a student organization that runs a free summer camp for children of cancer patients and cancer survivors.
Following her entry into the MHI program, Anna helped organize last year's "Day of Design Thinking," a community-driven design event that connects graduate students in health and information programs with local non-profits. During the day-long event, design professionals and educators guide students in designing solutions to problems presented by the non-profit organizations.
Most recently, Anna completed an internship with UMSI's Global Information Engagement Program (GIEP) in Bangalore, India. During winter semester, Anna worked in a team of four students to design a comprehensive website with medical information for senior citizens in India. The team then spent seven weeks in India implementing and testing their design.
"The experience of actually living and working in India was a fantastic learning opportunity," Anna said, adding that it was her first time traveling abroad. "It really pushed me out of my comfort zone, learning how to live and work in such a different environment, but also having to design a product for a user base that we weren't familiar with – we grew a lot over the process."
Currently exploring user experience design within the realm of clinical healthcare, Anna aims to study the improvement of EHR usability for healthcare providers.
"Looking at the different EHRs that are out there, I see many usability challenges for providers," Anna explains. "Some of the more popular EHRs are designed in a way that isn't conducive to their work flow. There's a huge amount of information that's not necessarily organized in the most meaningful or efficient way. This can be a substantial roadblock in providing the best quality care, especially when providers have such limited time during a patient encounter. I am very interested in working to improve the user experience of EHR systems for providers."
Ann also discusses two electives that she is taking this semester – Risk Communication, within the School of Public Health, and Graphic Design, within the School of Information – she points out the synergistic thinking that her classes have inspired.
"How can we apply these graphic design principles to risk data presentation?" Anna asks. "How can we make resources that are easy to understand but also inherently meaningful and convey the message that we are really trying to get across? To be able to have the creativity and the room in my classes to innovate and to come up with new solutions to these types of problems is very exciting."